Christmas is going to be here before we know it. So, there's no better time than now to start planning for gifting, decorating, and celebrating. There's also no better time to pull out your cutting machine and put it to good use! Cutting machines are awesome and can help you to create amazing decor, personalized gifts, and so much more!
The possibilities of Cricut & Silhouette Christmas ideas and projects are endless! You can create Christmas signs to decorate your home. Use your machine to make personalized Christmas gifts. And of course, you can use your cutter to create your own unique holiday apparel. The list goes on and on.
I've gathered a huge list of easy Christmas projects you can make using your Cricut or Silhouette (or any type of cutting machine you might have). Not only are there step-by-step instructions for all of these projects, but you can also get the SVG file I used in each project for free (click on each project for more details). So, dust off that machine, put on a Christmas movie, and let's start crafting!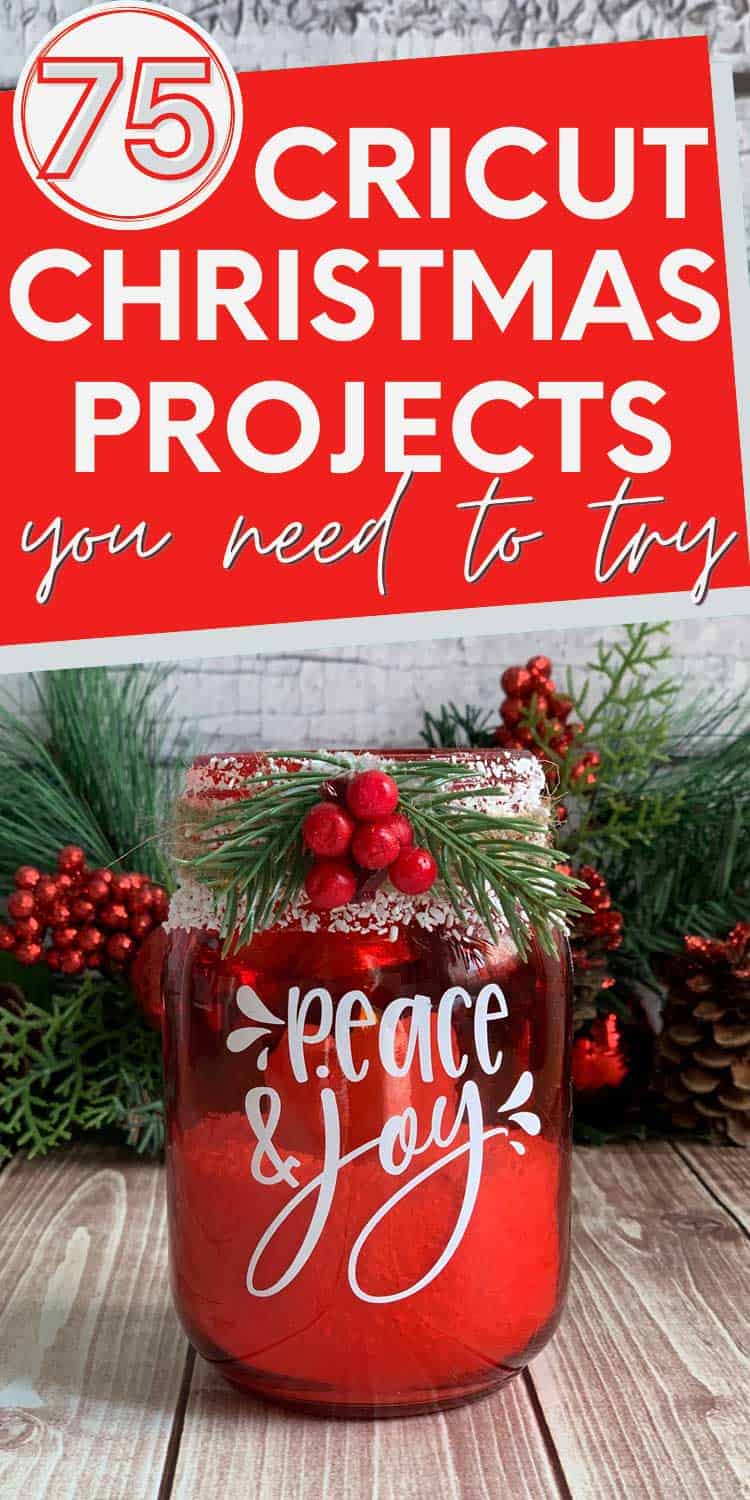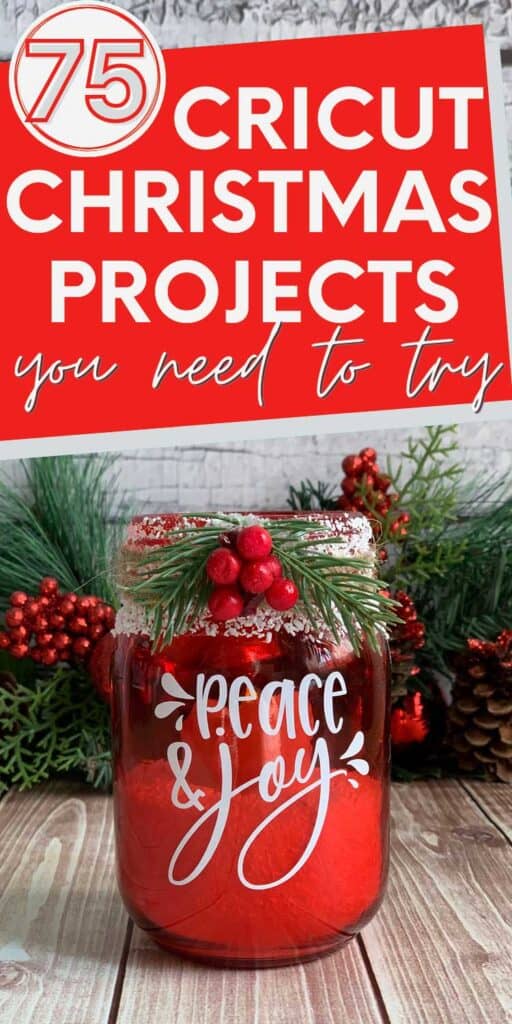 This cute tree is the perfect decoration for Christmas.  Use your Cricut or Silhouette to stencil a fun Christmas phrase onto the front of the tree.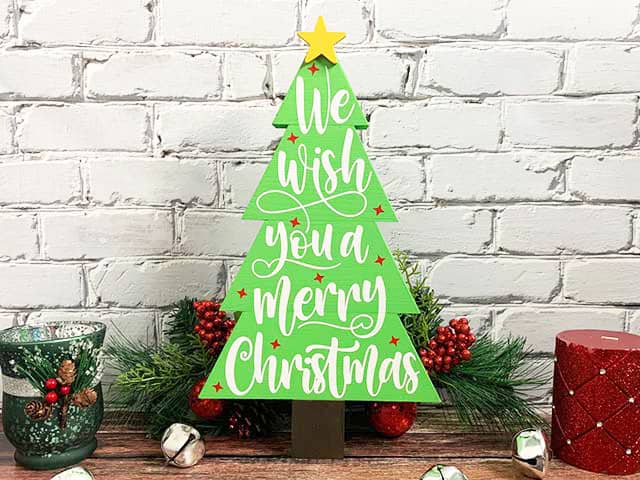 Make this easy pallet sign with your Cricut or Silhouette.  Those ornaments down at the bottom are the perfect finishing touch! I used a premade pallet sign, so this sign was super easy to create.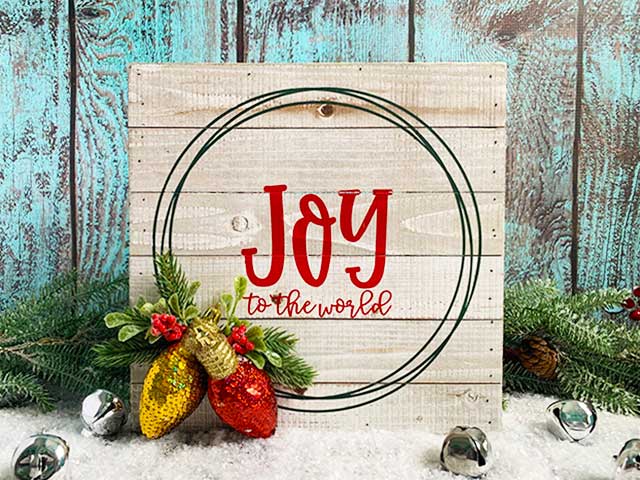 Welcome family and friends to your home during the holidays with this cute Christmas door hanger.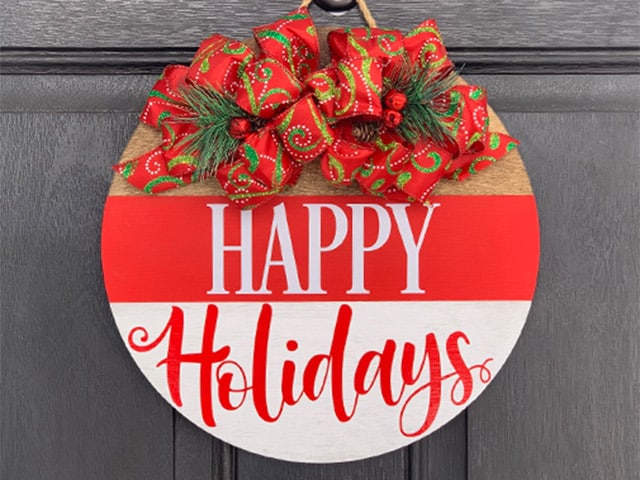 This super cute pallet sign looks adorable during the day and ever better at night when it's all lit up!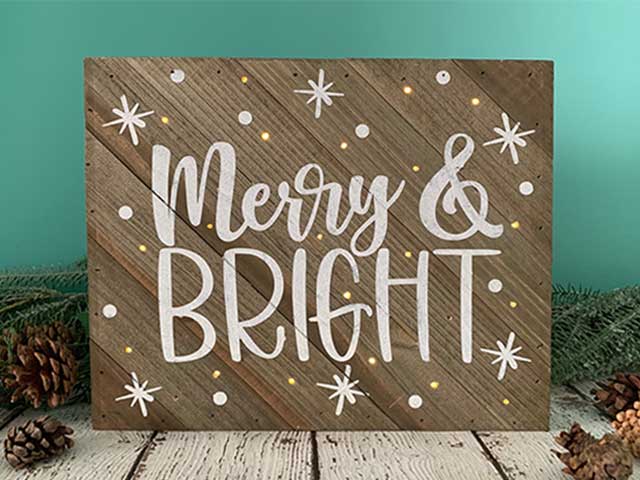 The vinyl on the sign is etched glass vinyl. It's sparkly and a little bit transparent (the camera doesn't do it justice). It's so pretty and makes the glass look etched without all the work of etching cream.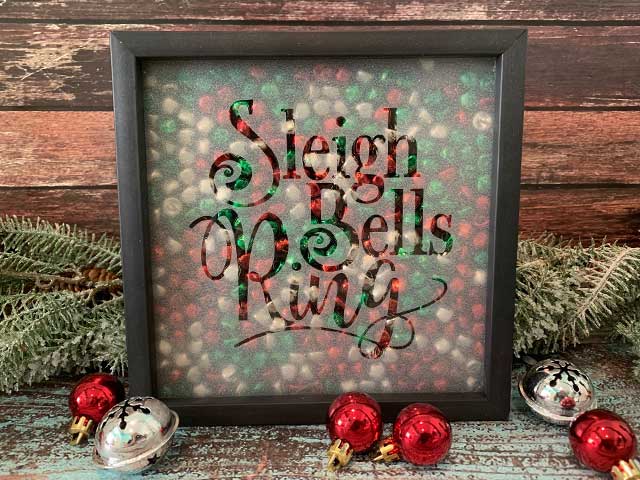 This project is a fun alternative to vinyl…it's glass etching! I love etching projects. They always turn out so pretty and people are absolutely amazed it's a DIY project.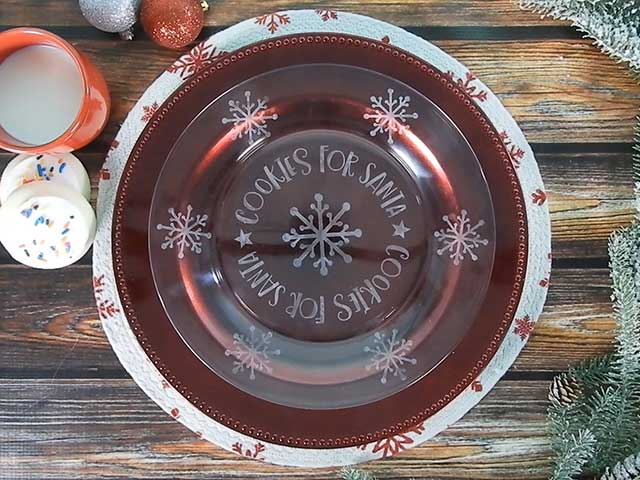 This is one of the easiest countdown signs you will ever make.  You just need a few supplies, along with your Cricut to create this quick and easy countdown sign!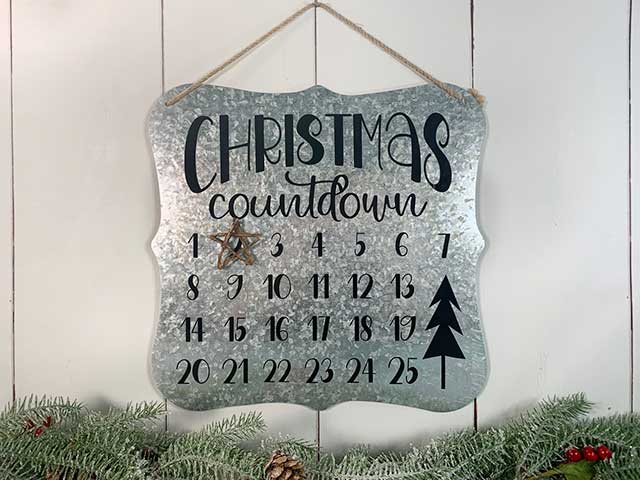 Kids can count down how many sleeps are left until the big day arrives.  This sign is easy to use, all the kids have to do is draw an X over each number with a piece of chalk.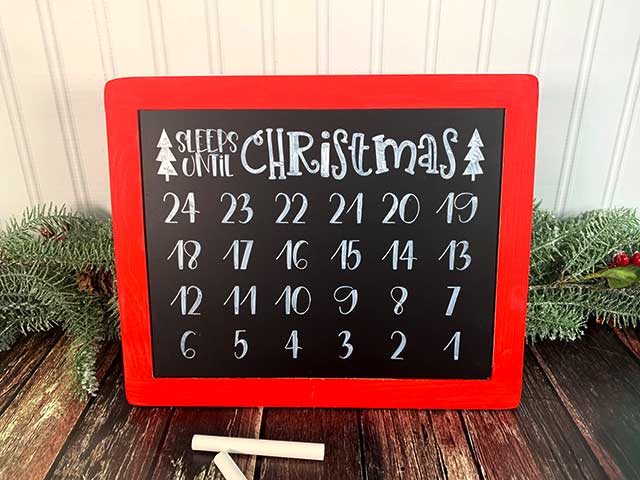 This pillow is made with heat transfer vinyl (aka HTV), The coolest part is the black HTV is chalkboard HTV. Isn't that awesome?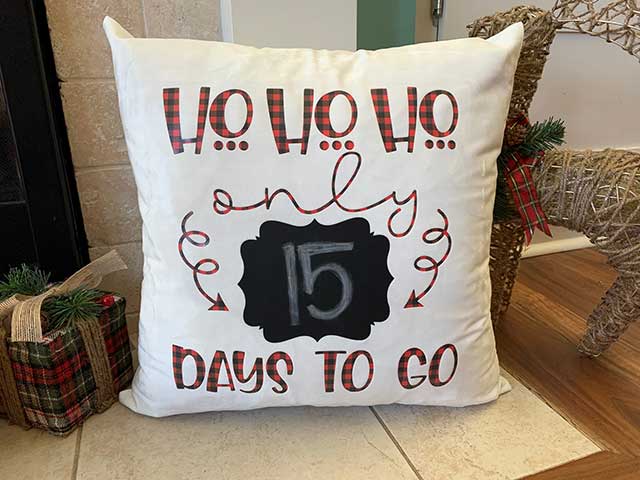 I love the look of glitter HTV, it is SO pretty!  I also love it when I can use it on non-apparel items, like this sign.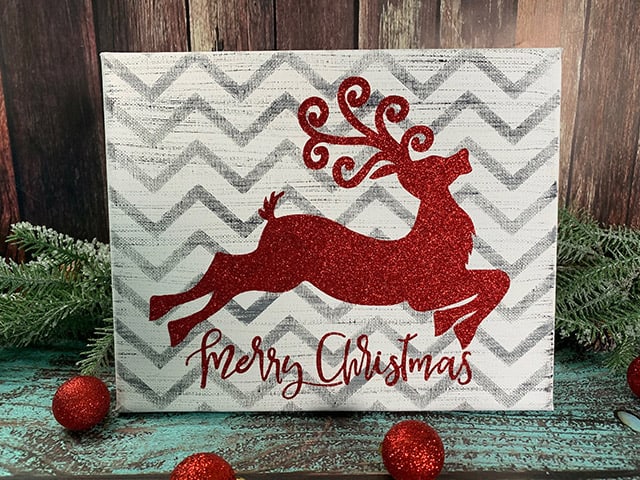 I love embossing, I love the extra dimension and shine it adds to a project.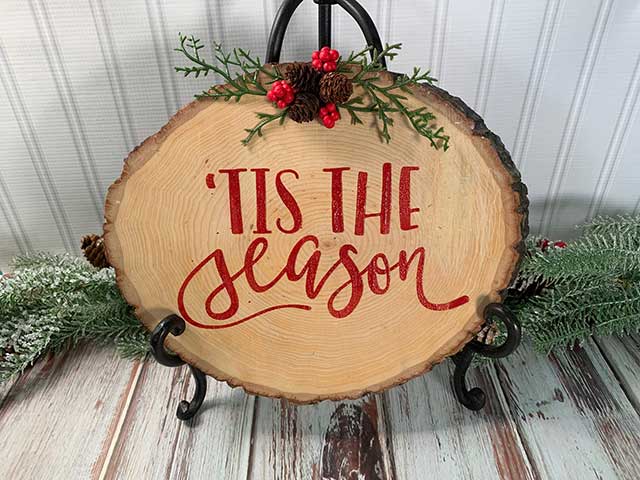 With just a little bit of paint, glue, and vinyl, this project can be completed in under 30 minutes!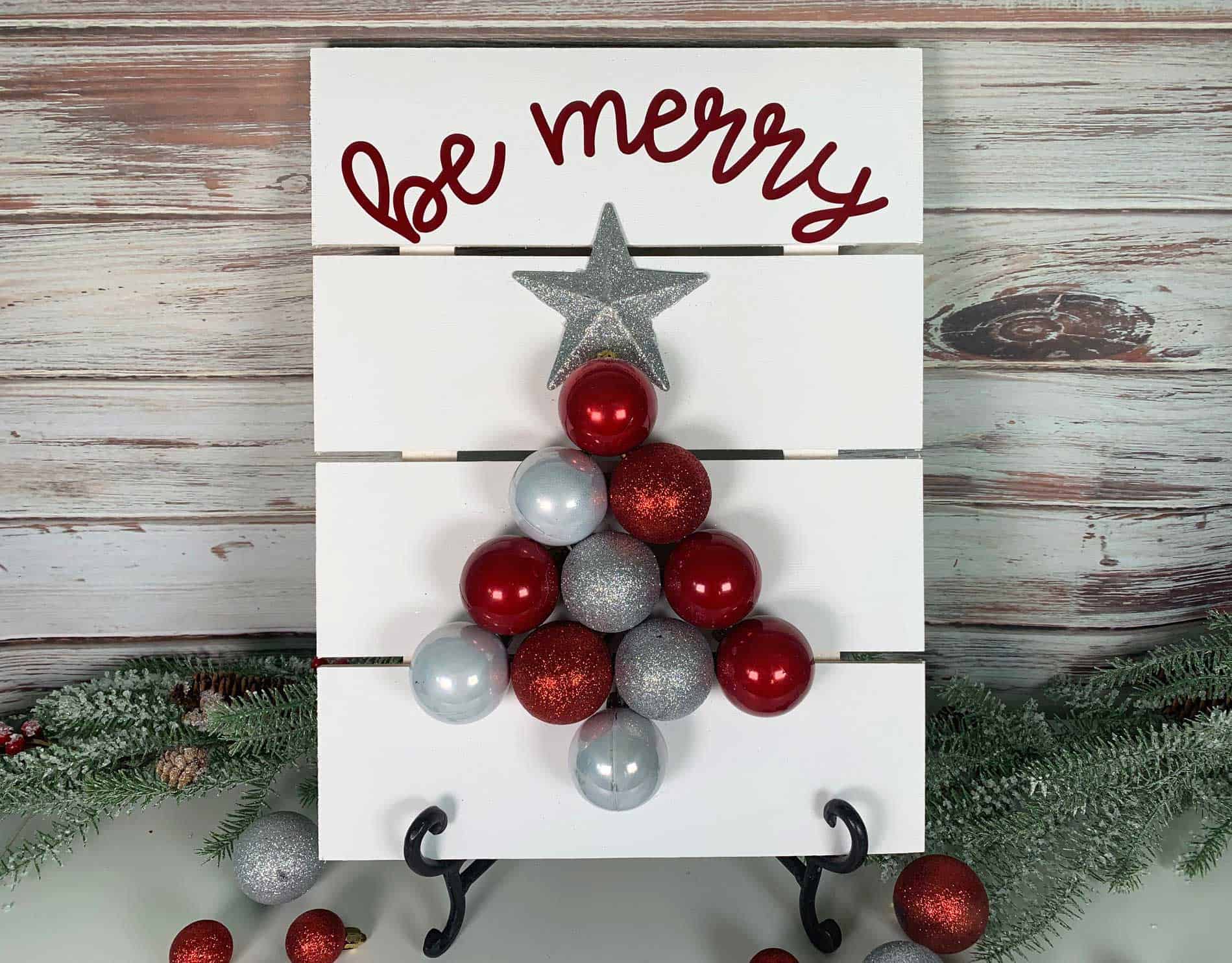 This project is so cute because you can use your Cricut to personalize it with your own name and address. How fun is that?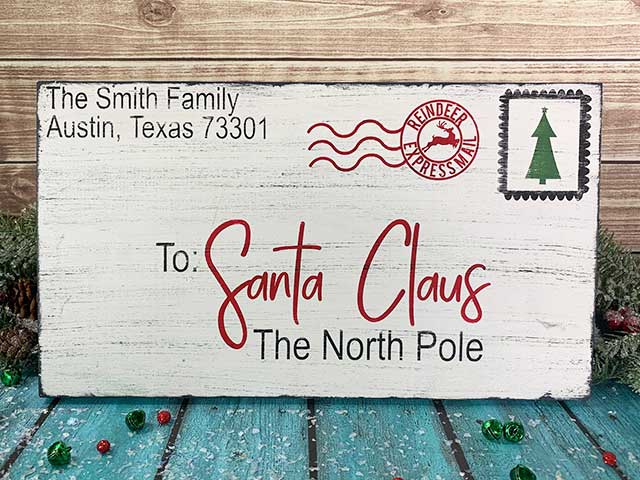 Cut out Christmas sayings with your Cricut to make these cute mini signs.  They are great for gift giving or to display in your own home.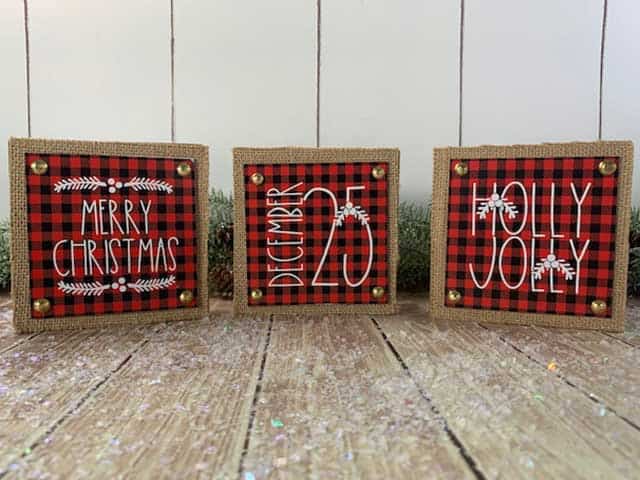 I like this kind of countdown calendar because the numbers are already in place.  All you have to do is move the cute magnet from day to day.  Plus, it makes a cute Christmas decoration to hang on your wall.
Laser cut wood ornaments are incorporated into this countdown sign and I just LOVE how it turned out.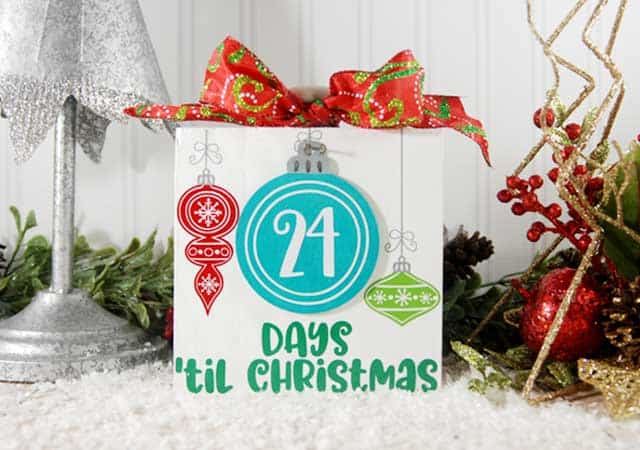 If you want a countdown sign that will hold a little toy or treat, this is the one for you! It will look great all season long and can be used year after year!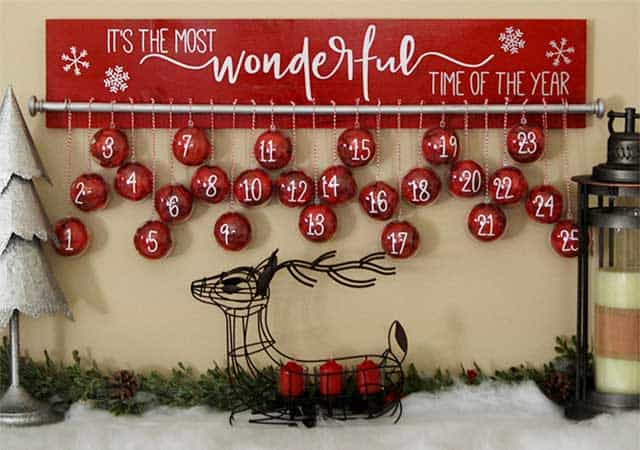 I love making holiday themed doormats! They are such a fun way to dress up your front porch.  This step-by-step tutorial shows you how to use your Cricut to make your own Christmas doormat!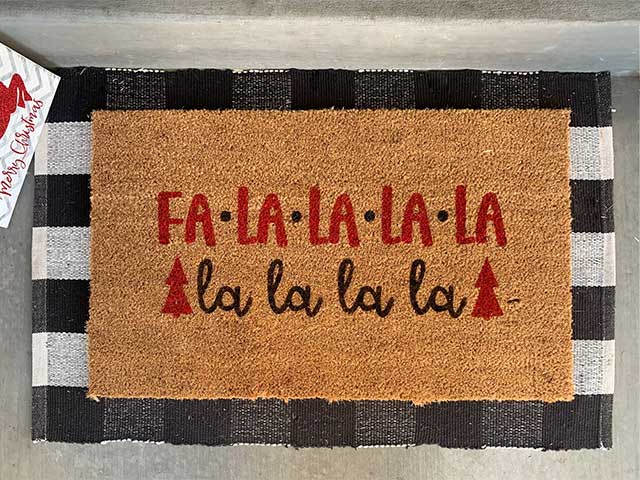 This rustic Christmas countdown sign is a a unique spin on the traditional countdown sign. It's perfect for a farmhouse style Christmas!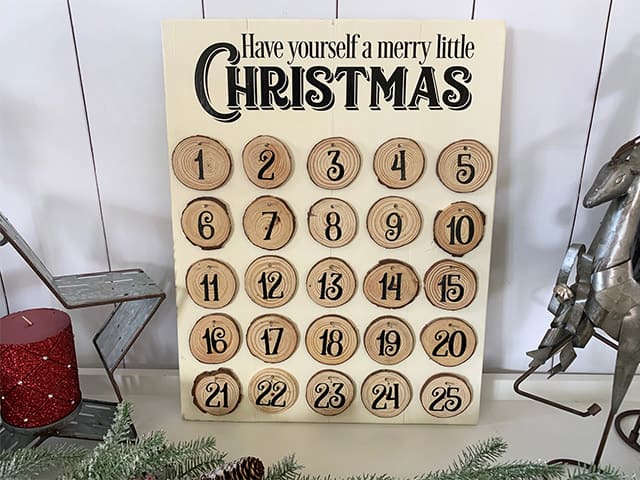 Framed signs are incredibly popular right now.  Usually, you'll see quotes and sayings, but this tutorials shows how to create a framed Christmas tree countdown sign!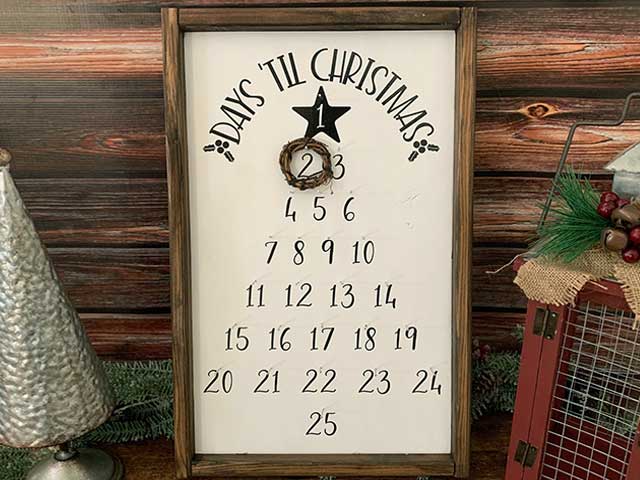 This Christmas countdown house turned out to be my favorite countdown project!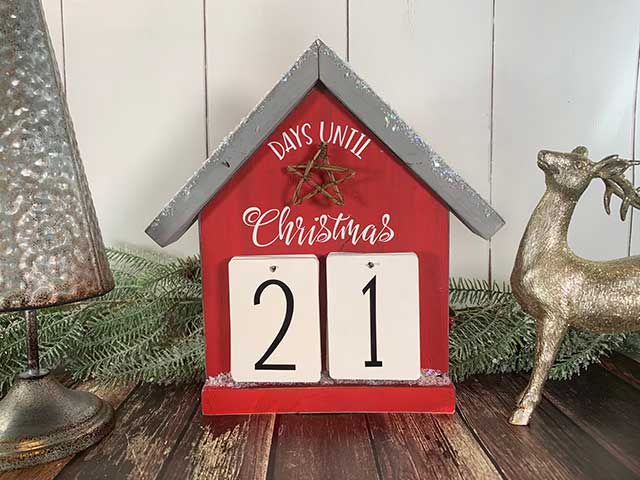 The DIY ornaments are super popular right now and are so easy to make with your Cricut machine. You can customize them with any phrase or image you choose!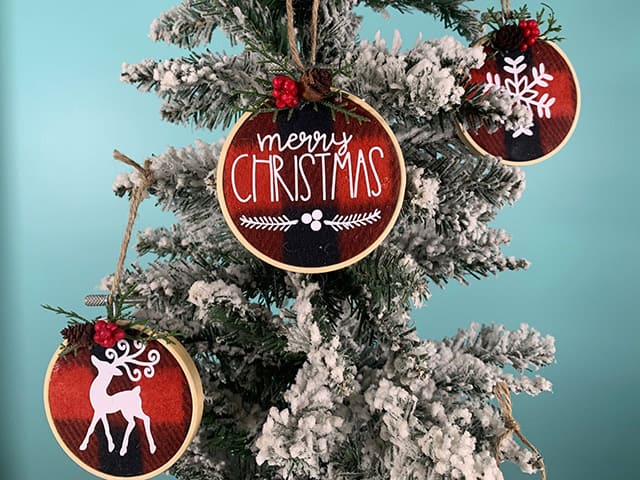 The glitter HTV is so pretty on this garden flag and looks amazing when the sun is shining on it.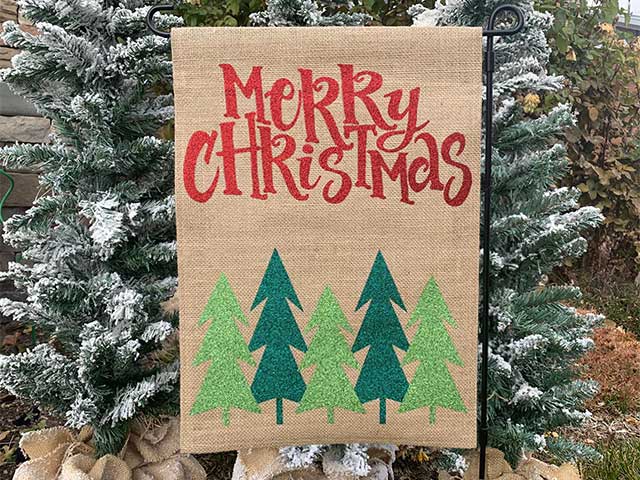 Mason jar projects are super popular and this is just a quick and easy way to dress them up for Christmas. These jars make great gifts when you fill them with candy or layered mason jar recipes.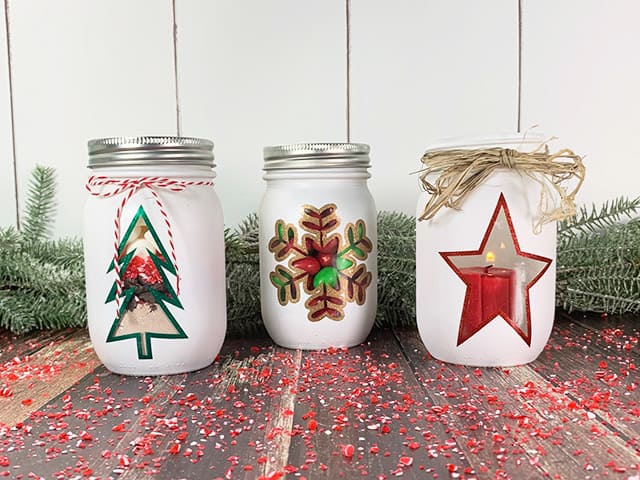 This is such a fun and unique project idea. You'll use your Cricut to cut out a vinyl stencil.  Then, you'll use a wood burning tool to burn the design right into the cutting board.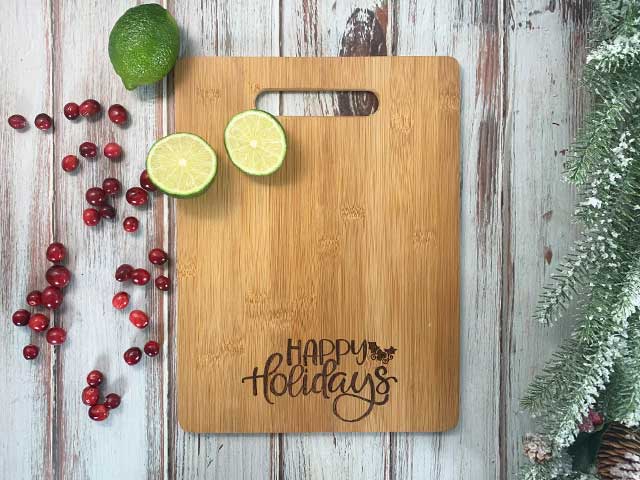 These blocks are so cute and really inexpensive to make, especially if you have scrap wood laying around. They are great for gift giving or to use for your own holiday decor.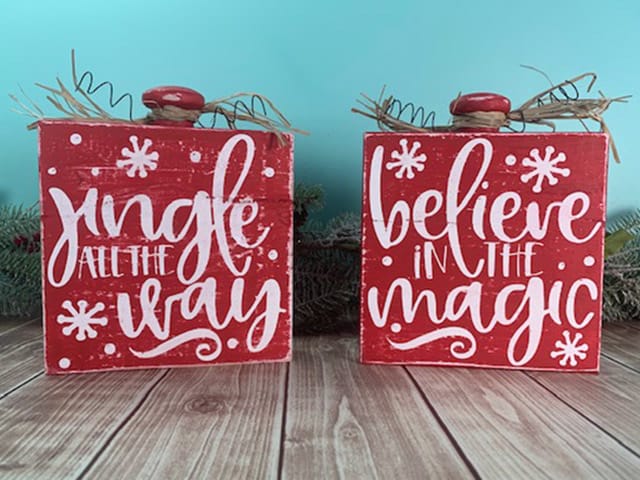 This door hanger is easy to make and is a fun way to dress up your door for the holiday season.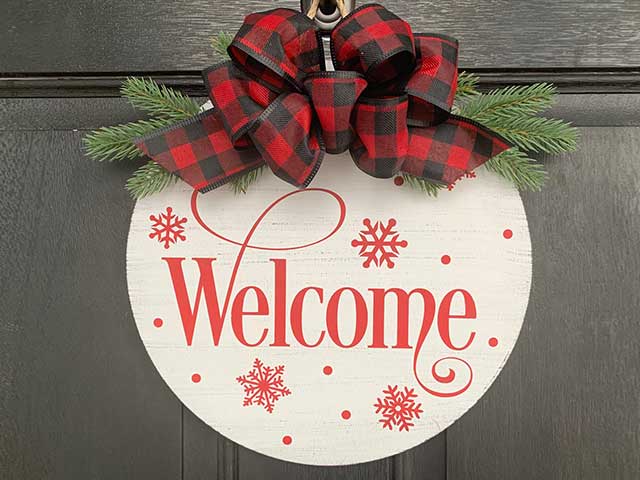 This pretty sign is made with glitter heat transfer vinyl. Did you know you can put glitter heat transfer vinyl on wood? Well, you can and it looks amazing.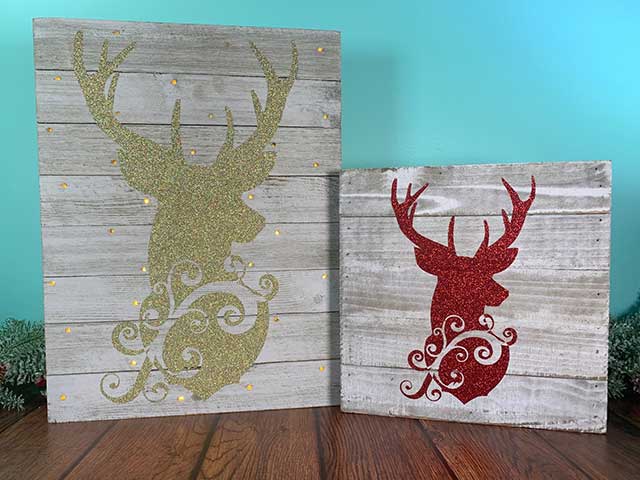 This Christmas shadow box is easy to make and turned out so pretty!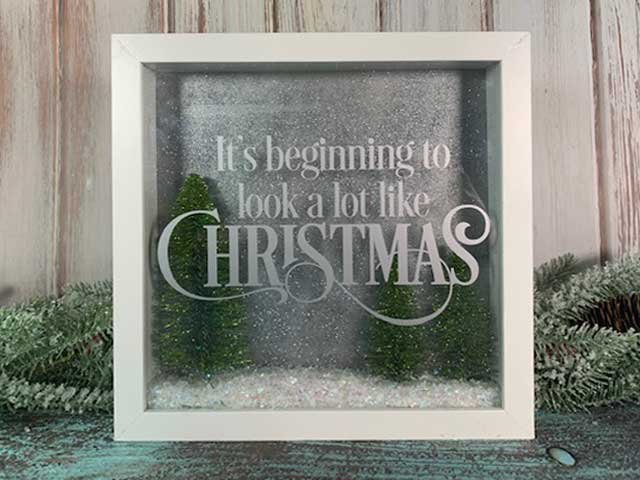 This is a great project if you love weeding vinyl. It takes a bit of time to make, but the results are totally worth it!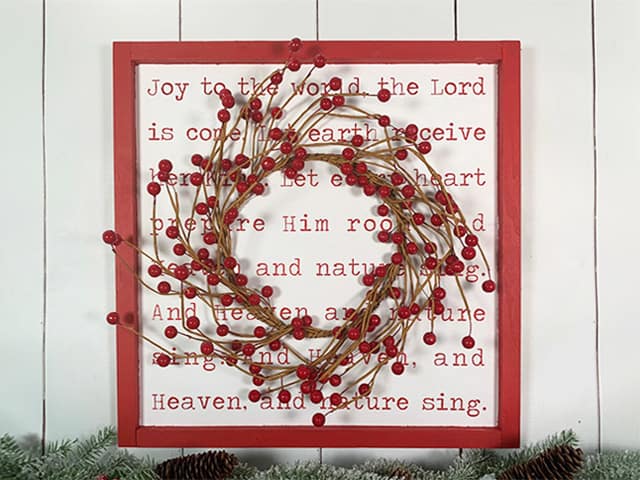 These tree farm signs are so popular right now and such a fun decoration to have for Christmas, especially when you can personalize it with your own family name.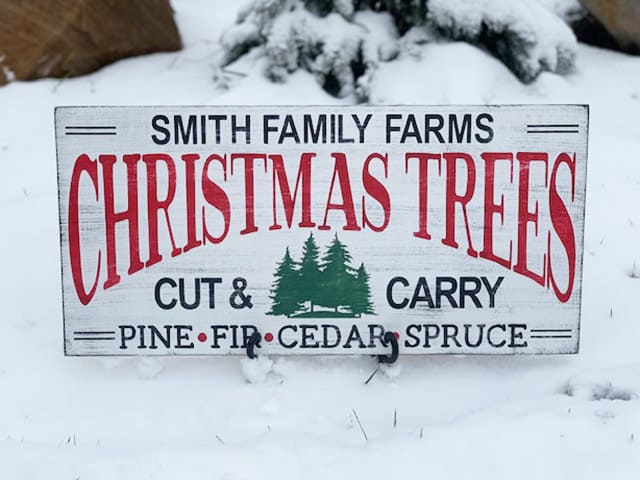 Here is another quick and easy project to make with your Cricut. That hanging jingle bell is just too cute.
The rustic frame and the mini wreath complete this sign so perfectly.  And the best part is that it is really easy to make!
Another customized holiday doormat!
 I like using canvas for projects because the canvas is already stretched and ready to use.  There's no cutting or sanding to be done before you can get started on the fun part!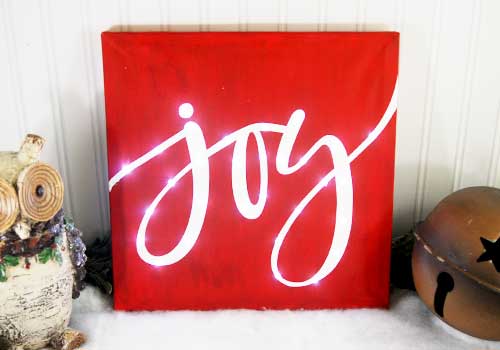 I'm loving how this Christmas decoration turned it.  It's so natural, but it looks so elegant!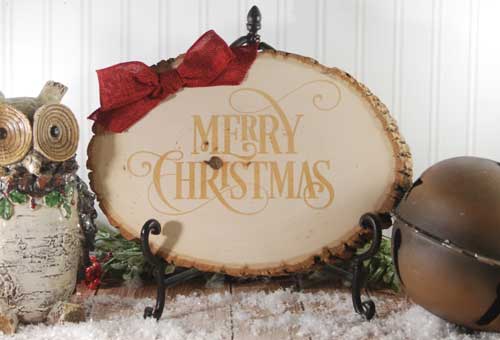 This is a great project because not only is it functional (it displays your Christmas cards & photos), but it also makes a cute decoration for the holidays.
This hinged Christmas block sign is a unique spin on a tradition wood sign. It turned out so cute!
Shadow boxes are great for vinyl.  They allow you to create a 3-dimensional design by adding vinyl to the glass and then placing other items (like ornaments, bells, etc) behind the glass.
These mini signs are so cute and so easy to make. Skip the hassle of painting wood signs and use mini canvases and heat transfer vinyl (HTV) instead.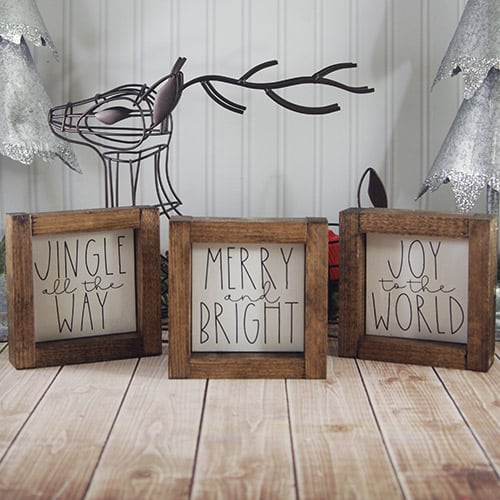 These Christmas dish towels are easy to make and are great for your own home and they make great gifts for family, friends, and neighbors.
Have you ever used etching cream before? If you haven't, you need to try it! You can use it with vinyl stencils and create all kinds of awesome projects!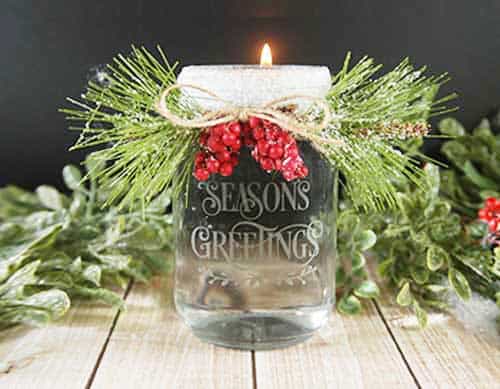 Learn how to make a lighted Christmas glass block.  Glass blocks are so pretty.  If you add vinyl and lights, you've got a gorgeous decoration that only takes a few minutes to create.
This cute reindeer pillow takes just minutes to make, but looks so amazing!
Learn how to make this Christmas wood tray.  It's a cute decoration but also functions as a cute tray for cookies or drinks.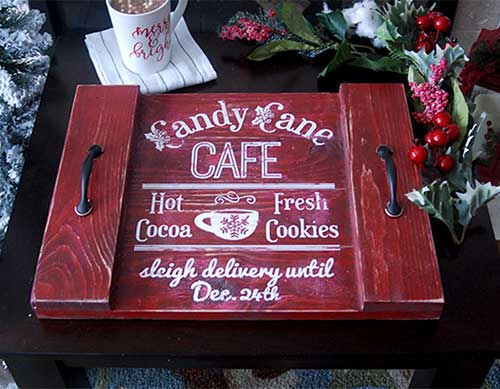 Use your Cricut to cut out a stencil to use with embossing powder to create this one of a kind Christmas Apron.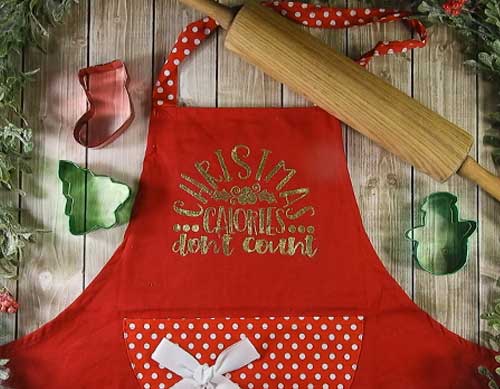 Make your own custom Christmas t-shirt with Heat Transfer Vinyl (HTV).  I love using HTV.  It's easy to cut, easy to peel, and it makes the finished project look so professional!
Use your Cricut to dress up a plain mug and turn it into a super cute holiday gift!
Porch sign are super popular right now and are a great way to dress up your holiday porch.

This Countdown project is cute and little so it can go just about anywhere in your house.
Since it's a dry erase countdown, you can actually make it on a variety of surfaces.  I chose to use a plate, but you could also make one with an empty picture frame, a mirror, a whiteboard, or any other surface that can use dry erase markers.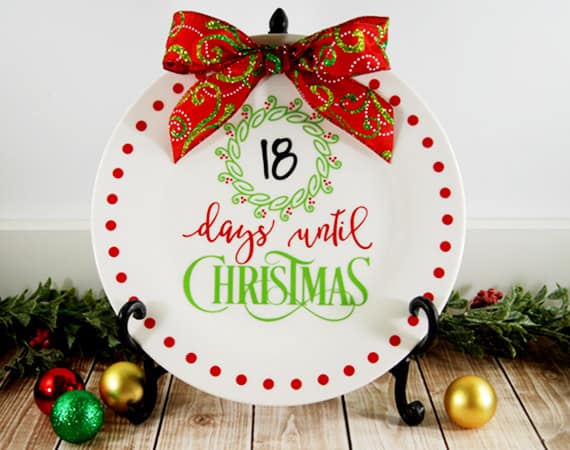 Make a vinyl stencil with your Cricut. Then, use chalk markers to create the fun countdown design!

 Learn how to use a vinyl stencil and a wood burning tool make your own wood burned Christmas spoons.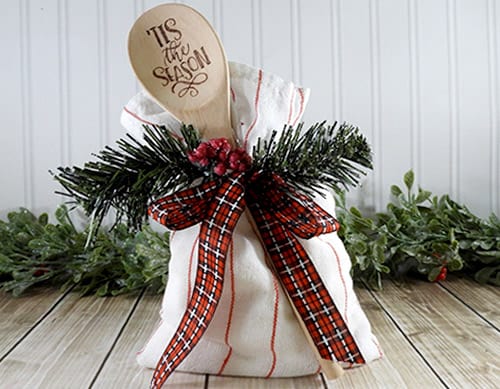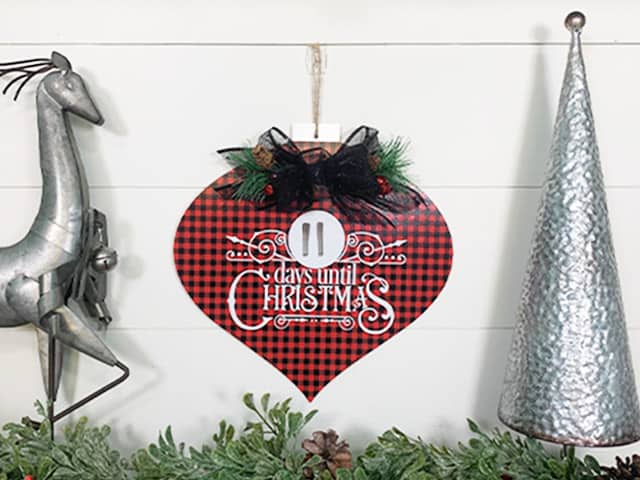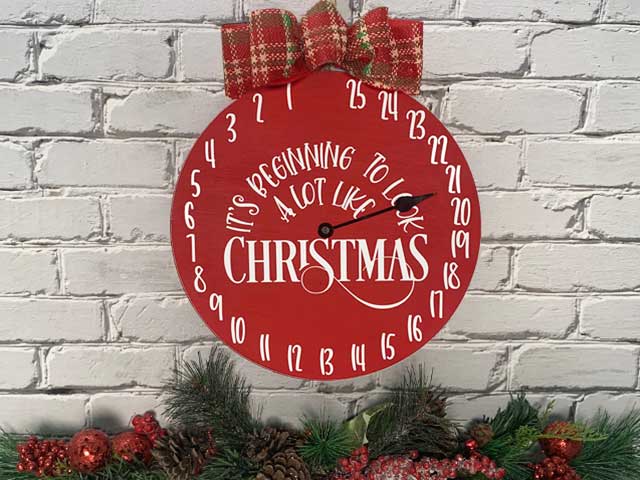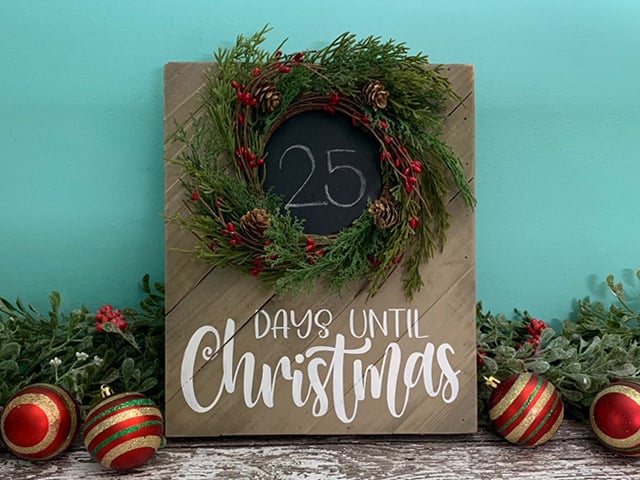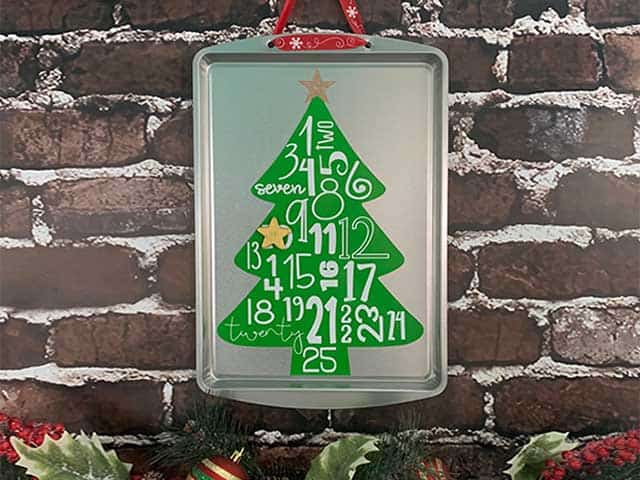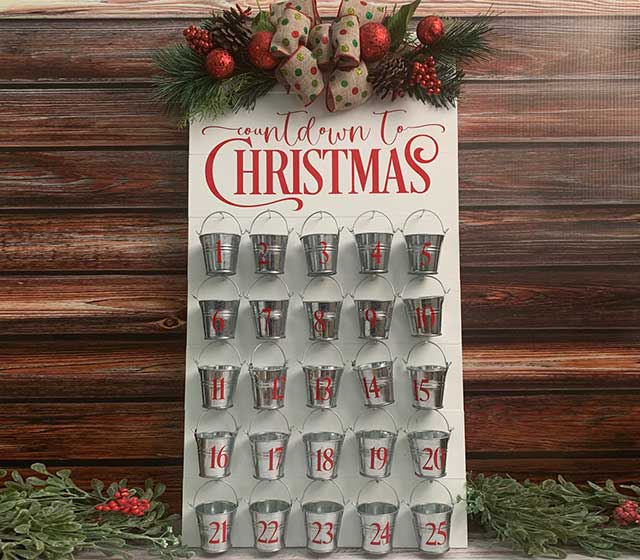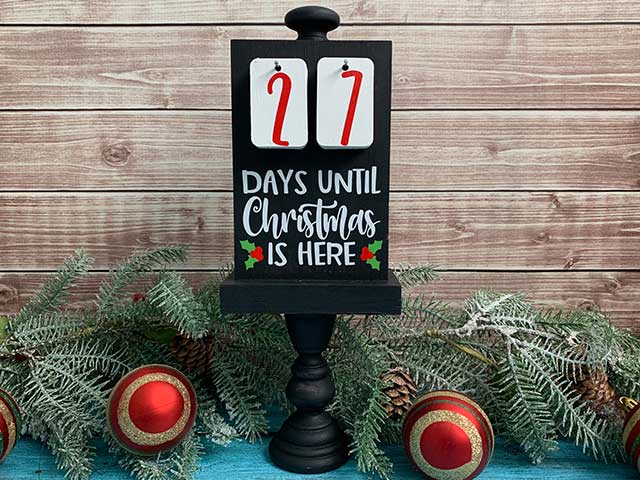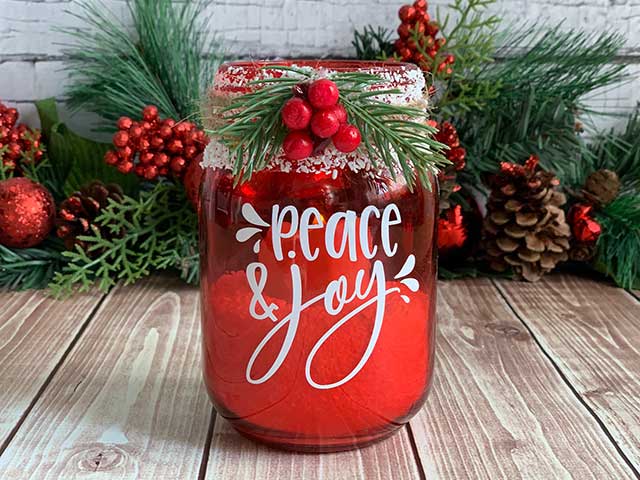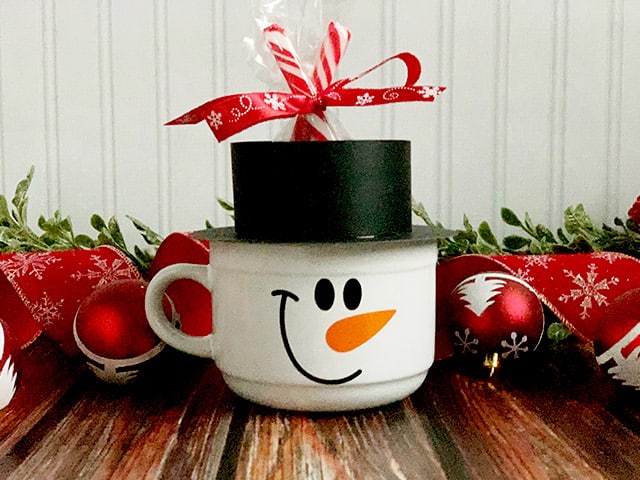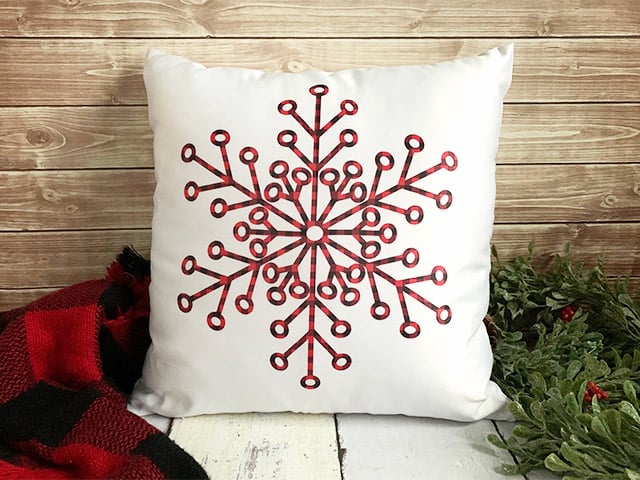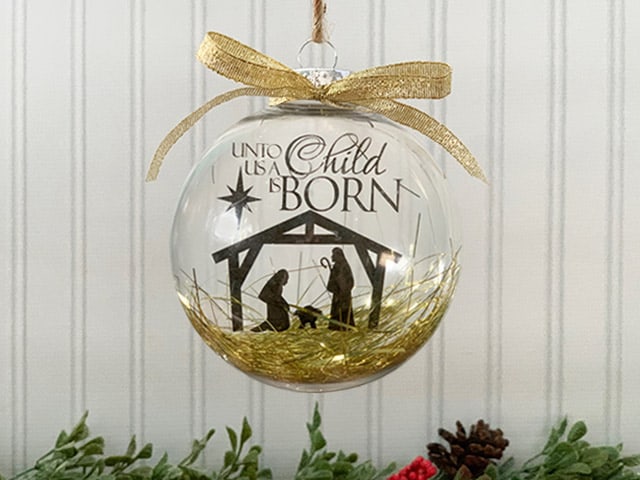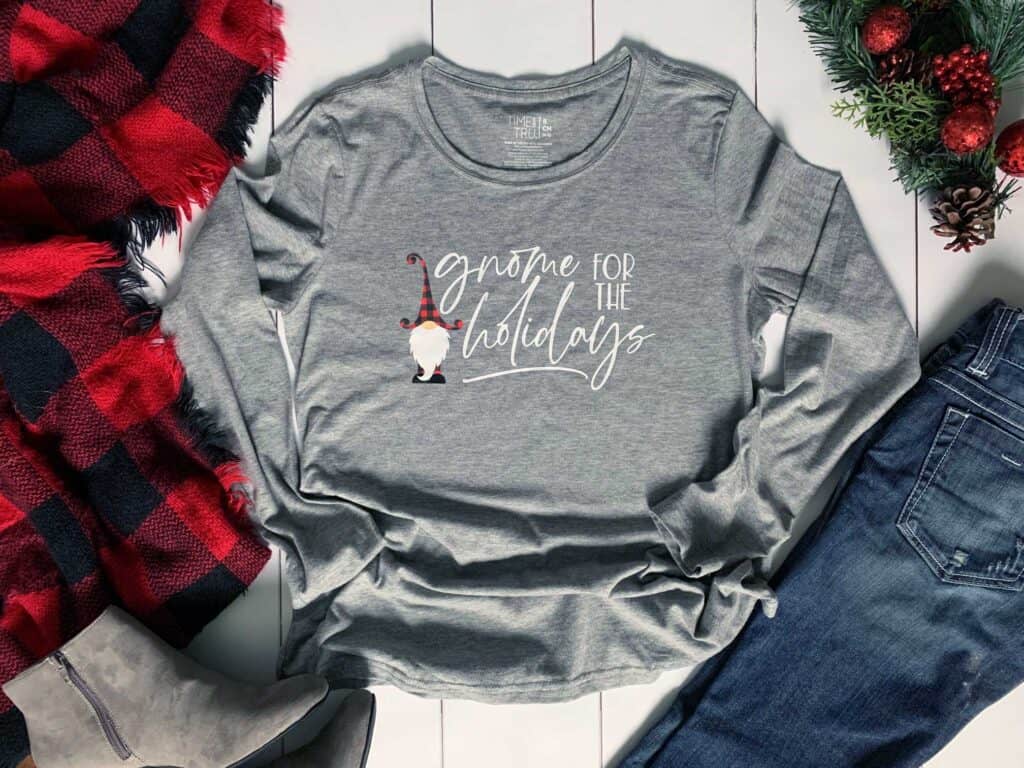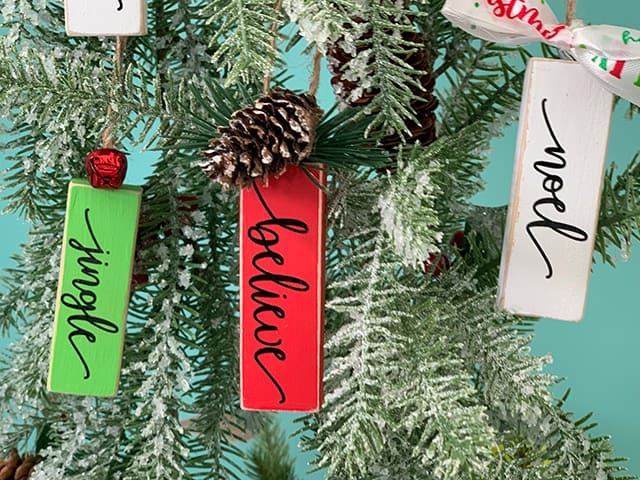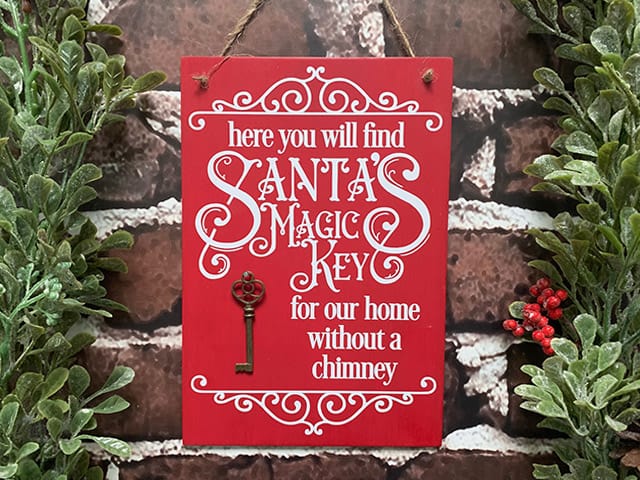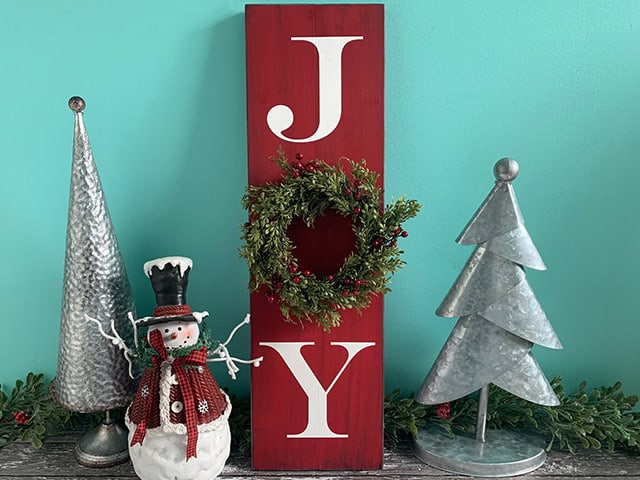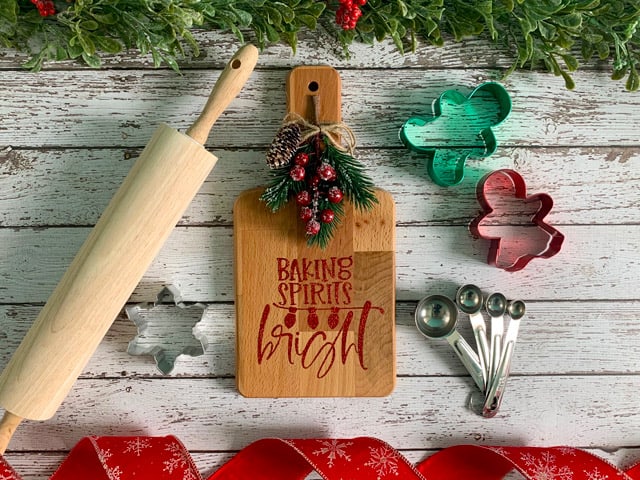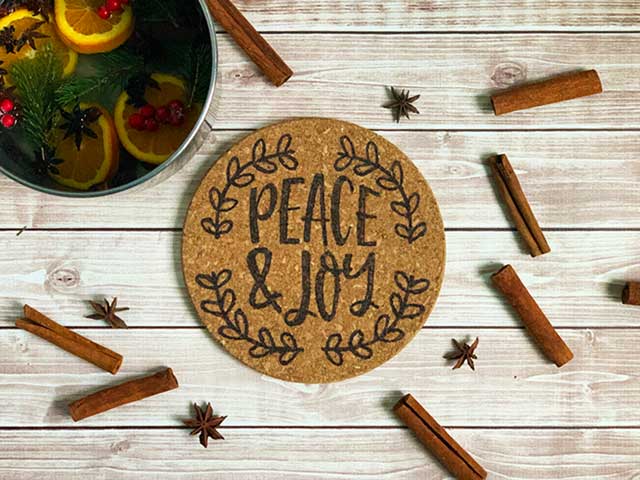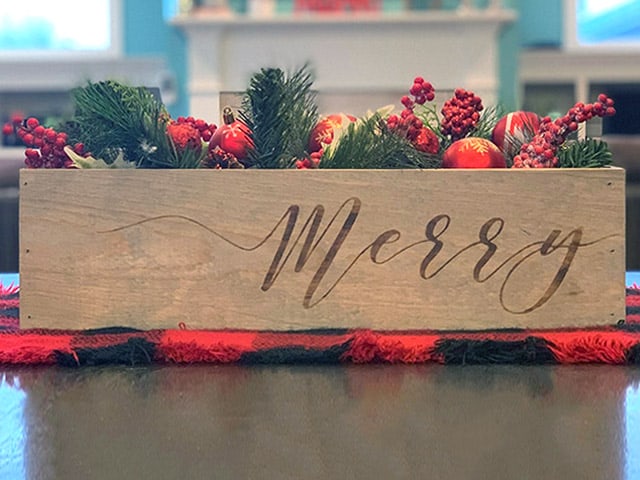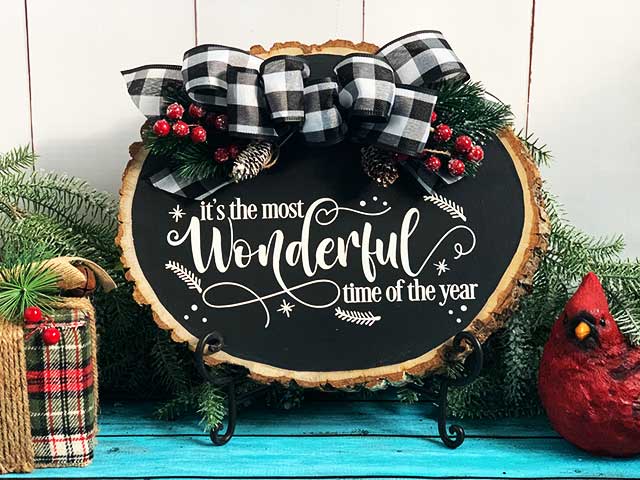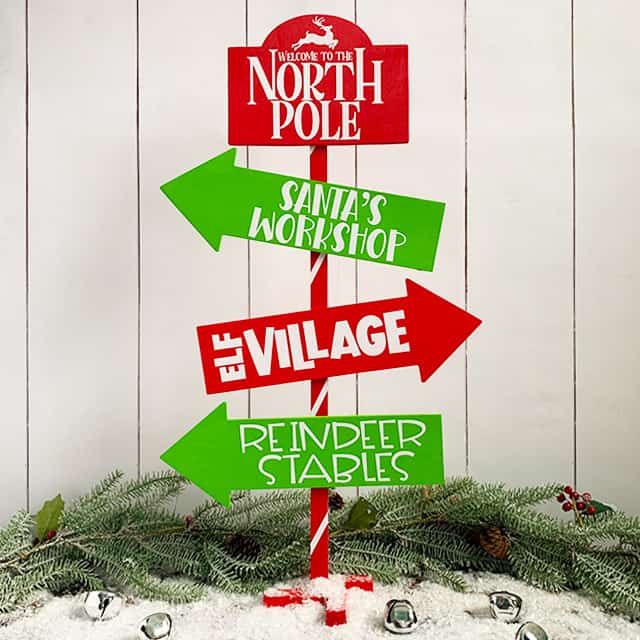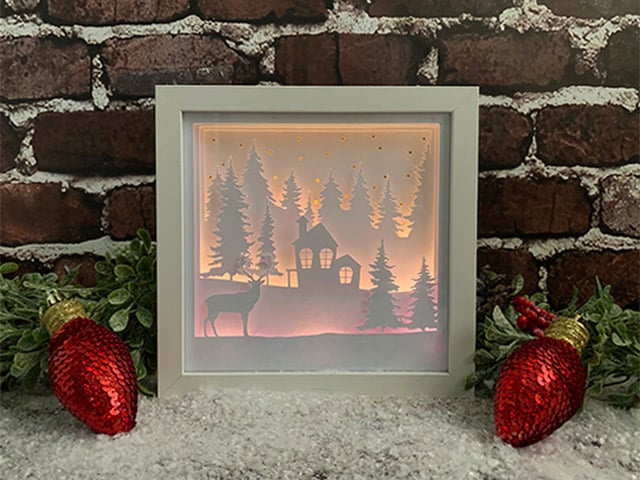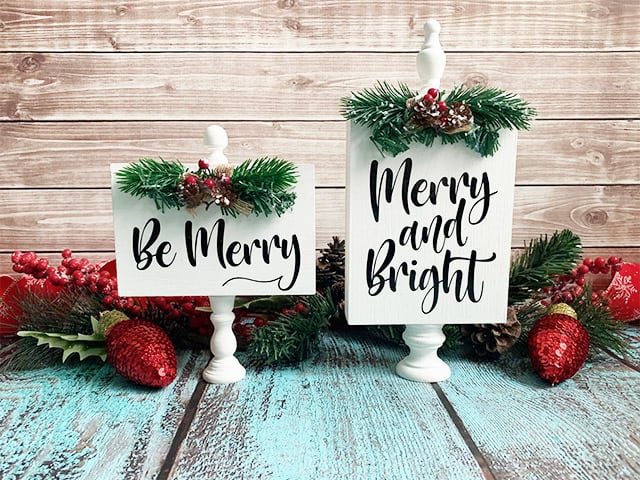 Enjoy my free files? Help spread the word!  I would LOVE it if you would share this post on your favorite Pinterest board. Thanks!