Today we're talking about where to find amazing fonts for your Silhouette or Cricut!  I LOVE fonts!  I use them all the time in nearly every file or project I make. Sometimes, finding the right font for a design can take forever. Needless to say, I'm always on the lookout for new, popular, and trendy fonts. There are so many incredible fonts out there and I'm always finding new ones to add to my collection. There are some great sites out there with tons of choices and most of them even give away great fonts for free!  Today, I'm going to share with you my list of sites I go to when I'm looking for a new font.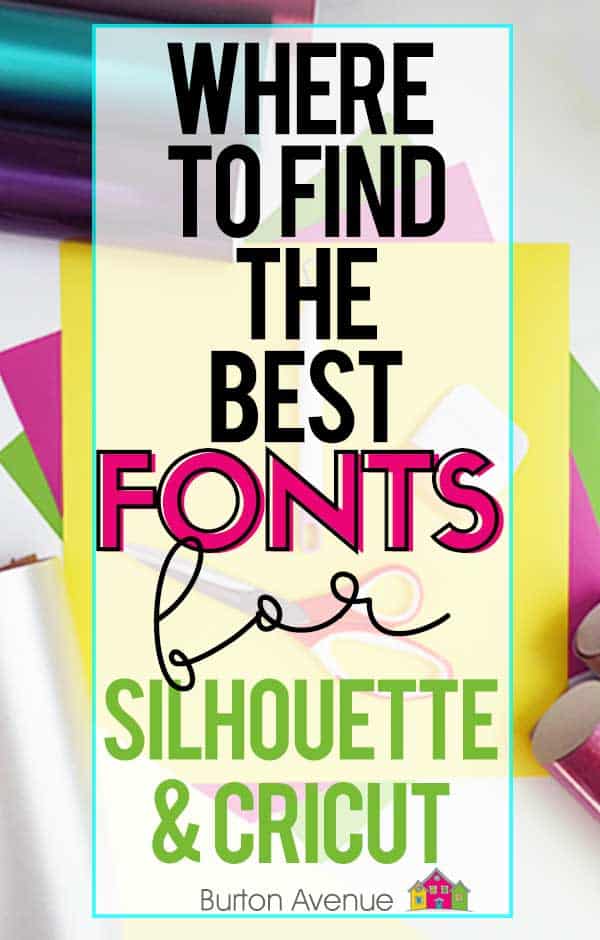 This post contains affiliate links for your convenience (which means if you make a purchase after clicking a link I will earn a small commission but it won't cost you a penny more)!  Read my full disclosure policy.
Font Bundles: Font Bundles is my go-to spot for new fonts.  The newest and trendiest fonts are always available on Font Bundles and I love that every font includes a commercial-use license.  My favorite thing about Font Bundles is their $1 event.  During this event, which happens every 3 weeks or so, they offer a small selection of popular fonts for just $1. They also release a new free font every Wednesday. Sign up to be on their list so you never miss it.
Creative Fabrica: What I really like about Creative Fabrica is their subscription program.  For one monthly fee, you get commercial-use access to all of their fonts.  They are always adding new fonts and have nearly 15,000 available.  Creative Fabrica also has a free weekly font, that includes a commercial-use license.  Be sure to sign up for their email list to get notified when they post a new freebie.
Creative Market:  This is another great site for popular and trendy fonts.  They have lots of great font bundles at discounted prices.  Like many other sites, they offer weekly freebies, which feature both fonts and graphics.
Font Squirrel:  If I'm looking for a basic, simple, or older font, I'll usually check out Font Squirrel.  The fonts listed on Font Squirrel are free and are for commercial or personal use.  They have some great filters to help you find exactly what you're looking for.
Dafont: Finally, there's Dafont.  This is one of the oldest font sites I can think of.  I started finding fonts on Dafont long before I was designing. They have thousands of fonts and some good filters to fine-tune your searches, so you can find the exact look you're going for.  The only downside of Dafont is that lots of their fonts are for personal use only. I don't use this site much anymore because I only want commercial-use fonts on my computer.
So, there you have it!  A list of great places to find awesome fonts.  Even if you're not looking to purchase fonts right now, be sure to sign up for their email lists, so you can snag the freebies when they're available.