Are you wondering what equipment I use to make the projects featured on the blog?  You've come to the right place. I love to create quick and easy projects that can be made by crafters of all skill levels. Here is a list of the equipment I used most often in my projects.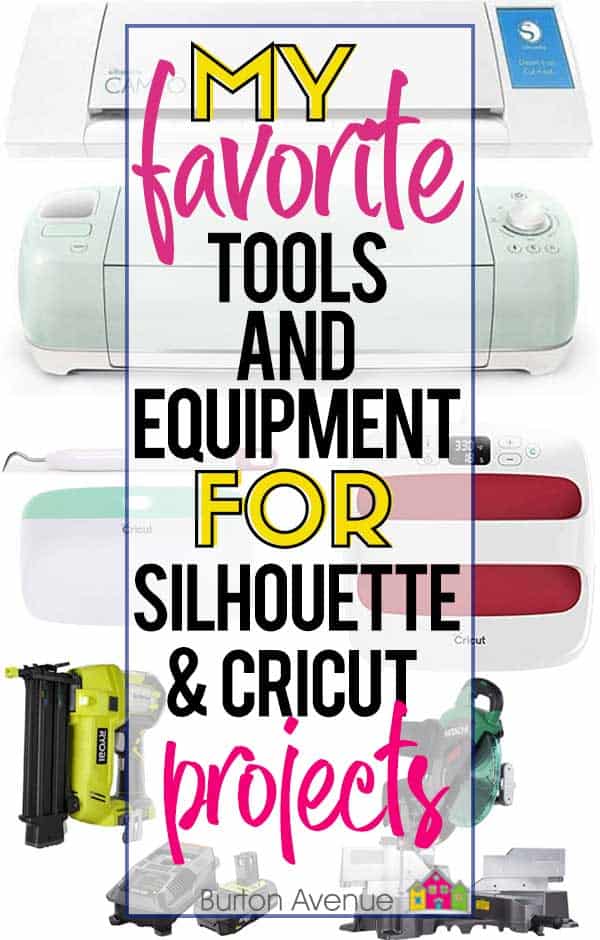 Vinyl Cutting Machines:  I use a cutting machine for every project I make and share on this blog.  There are a few things you could cut with scissors, but for the majority of projects, you'll definitely need a cutter. The two most popular brands of personal cutting machines are Silhouette and Cricut.  There are lots of other brands out there, but as of now, I offer tutorials for those two specific brands.  I have one of each and like them both for different reasons. If you're considering getting a cutting machine and are still deciding between a Cricut or Silhouette, I would recommend trying out their software. I feel like the machines cut pretty close to the same, but there's a huge difference in their software programs.  Luckily, you can try out both for free and decide which you like best.  You can download the Silhouette software here and you can access the Cricut software here.  Just a little note, a huge complaint from Cricut users is that you need the internet to run their software. But soon, that will change.  Cricut announced there will be an offline version of their software by the end of the year.
Heat Press/Iron/Easy Press:  I use heat transfer vinyl (HTV) for lots of projects.  HTV is great for fabrics and other surfaces where adhesive vinyl might not work.  As its name implies, you need heat to make HTV work.  For the longest time, I just used an iron.  Many of those items I made lasted years. So, if all you have is an iron, no worries, you can make all the HTV projects. Last year, I invested in a Cricut Easy Press and I really love it.  It's like a large square iron, but better.  Unlike an iron, the Easy Press has a temperature control setting, so you can set the exact temperature you want it to heat to.  It also has a timer, which is super helpful.  There aren't any holes on the bottom, like most irons, so you get a nice even press all around.  It's also very portable, so I can take it wherever I need to go.  If you are considering larger quantities of HTV items, you might want to look into a heat press. There are lots of choices available, so be sure to read reviews and check out the ratings to help you decide.
Weeding Hook – I LOVE my weeding hooks and use them all the time.  I think I have 4 different hooks (because I'm always losing them).  I'm currently using one from this set, but I also love the Siser and Cricut weeding tools.
Application Tool (Scraper): I also like having an application tool.  I have several different styles, but I recently bought this XL scraper from Cricut.  The extra large size is awesome.  These tools are great for burnishing both adhesive vinyl and transfer tape.
Miter Saw I really love making projects with wood.  Wood signs are one of the easiest projects to make, not to mention way less money than buying them.  I started off with an inexpensive miter saw like this. I used it for years and it worked great.  Last year, I upgraded to a bigger saw and I couldn't be happier.  I love it.
Brad Nailer: I use this brad nailer to attach the wood frames to my signs.  I used to use a brad nailer that attached to an air compressor.  It worked fine but it was a pain to use. It was loud, heavy, and the air hose was hard to work with.  This cordless brad nailer is amazing. If you're wanting to get into wood signs, I highly recommend this tool.
So, there you have it…my list of my most used tools. There are other tools I use here and there, but these are the tools I use the most.  Do you have any favorite tools you'd add to the list? I'd love to know.
This post contains affiliate links for your convenience (which means if you make a purchase after clicking a link I will earn a small commission but it won't cost you a penny more)!  Read my full disclosure policy.