If you're thinking about getting a Silhouette or Cricut or you already own one, chances are you've heard of SVG files.  Even though you may have heard of them, you might not know exactly what they are or what they do. These amazing files work with your machine and software and will help you to create all your awesome craft projects! I use an SVG file for every project I share here on Burton Avenue.  Do you know you can access those files for free in my FREE SVG Library? But, let's go back to the basics and talk about what SVG files are, where to find them, and how to use them with your machine.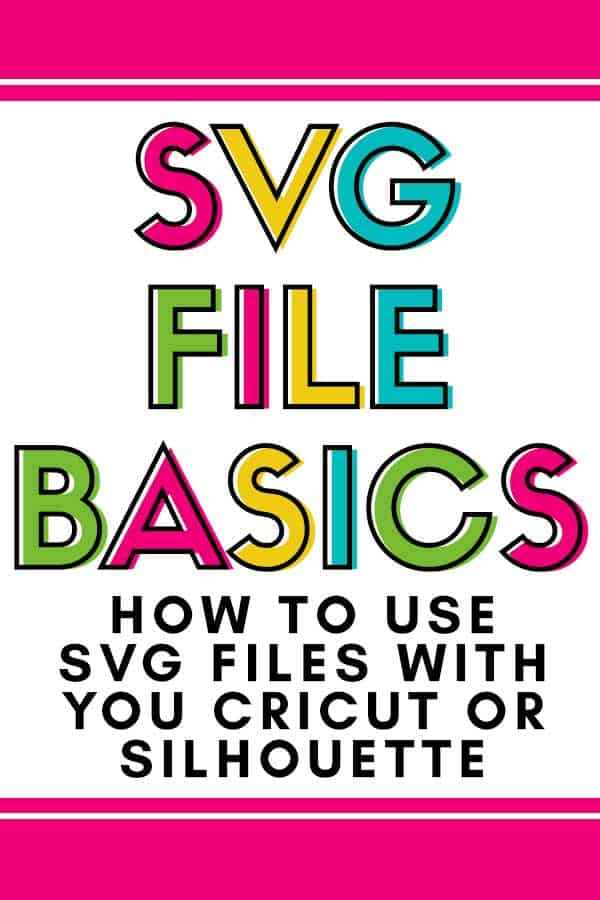 This post contains affiliate links for your convenience (which means if you make a purchase after clicking a link I will earn a small commission but it won't cost you a penny more)!  Read my full disclosure policy.
What is an SVG file?
SVG, also referred to as a cut file in the cutter world, stands for Scalable Vector Graphic.  It's a vector based image, which means it can be sized up or down without losing any quality.  This is super important because we like to cut things in all different sizes and we want a nice clean cut every time.
Where can I find SVG files?
There are so many places to find SVG files, the list would be endless.  But, here are some places I love.  Many of these sites also offer limited time freebies, which is always a bonus.
Burton Avenue
Design Bundles
Creative Market
Creative Fabrica
The Hungry JPG
SVG and Font Market
What programs can open SVG files?
There are lots of software programs that will open SVG files, but since we are talking about cutting machines, I'll focus on some of the most popular software for the machines.
Cricut Design Space – This is the software that the Cricut machines use.  It is an online software program and is free for anyone to use and will open SVG files.
Silhouette Studio – This is the software that the Silhouette machines use.  There is a free version that anyone can download to their computer and use, but the free version will not open SVG files.  The only vector type the free version will open is DXF files.  DXF files are a pain to use, but with a little tweaking, you can get them to do what you need to. In order to open SVG files in Silhouette Studio, you need to purchase an upgrade to the Designer or Business Edition.  I totally recommend this.  SVG files are a breeze compared to DXF files and it's worth the investment to upgrade.
There are a few other software programs that open SVG files like Adobe Illustrator, Make the Cut, SCAL, Inkscape, & CorelDRAW.  Some other brands of cutting machines use programs like these instead of creating their own machine-specific software.
What other types of Vector files can I use?
There might be a few cutting machine programs that don't use SVG files, but don't worry, there are usually alternatives.  Like I mentioned above, the basic version of Silhouette Studio will not open SVG files.  It uses DXF files, instead.  Other common types of vector formats are EPS and Ai.  Many designers will include some or all of these files in their download folder, even if they are advertised as an SVG file.  It will usually say which types are included in the description.  So, keep that in mind as you are looking for new files.
How do I download SVG files?
SVG files usually come in a zipped folder and need to be extracted before you can use the files.  Lots of times, this zipped folder will include several different files types (like SVG, PNG, EPS, Ai, and/or DXF)  Usually, when you download a file, it will go to your downloads folder.  Sometimes it happens so quick, you don't even notice anything happened.  Once you download a file, you'll need to unzip (or extract it) before you can import it into your software program.  To extract (or unzip), double-click the folder and then choose extract all.  You'll probably be asked where you want the extracted files to go on your computer.  Make sure you pay attention so you'll know where to find the unzipped files.
How do I import SVG files into Silhouette Studio or Cricut Design Space?
Since so many of us own a Cricut or Silhouette, I created a step by step tutorial that walks you through the process of downloading and SVG file and importing it into your software program.
If you don't have the Designer Edition of Silhouette Studio, you'll need to use the DXF files.