Custom doormats are one of my most favorite projects to make with my cutter.  They are fun to make, can be personalized or customized for any holiday, and they just look great on the front porch.  There are so many questions when it comes to making these custom doormat with your Cricut or Silhouette. What material did you use for your stencil? What kind of paint did you use? Where did you find your mat?  I see these questions asked over and over again, so I thought I'd put together a post and try to answer as many of these questions as I could.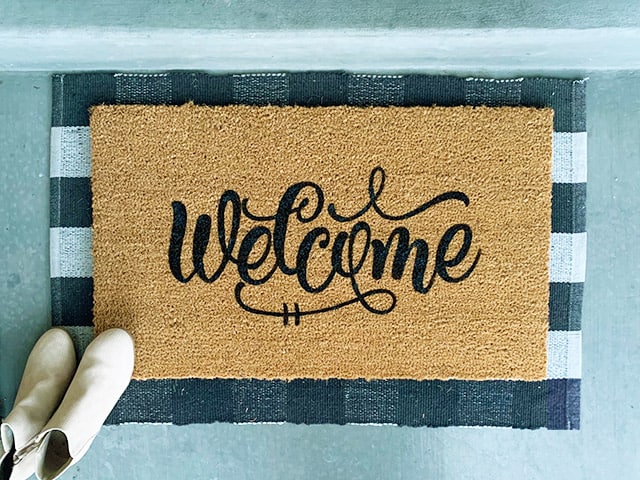 There are 3 types of stencil materials I found that others were using: vinyl, freezer paper, and posterboard/cardstock.  I decided to try all three to see which gave the best results.  The end result for all three materials was pretty much the same.  I was able to get nice, clean lines with all of them.
The biggest difference for me was getting the stencil to stay in place on the mat. It is a challenge to get anything to stick to these coir mats.  All three stencil materials required extra work and creativity to get them to stay in place.  In the end,  I decided to do my final design using a vinyl stencil.  Here is my pro/con list for each of the materials.
Freezer Paper
Pros: Inexpensive
Nice clean lines
Cons: Even after ironing at the hottest temperature on my iron, I had a hard time getting the freezer paper to stick.  I had to use pins to keep the small pieces in place.
Can only be cut as big as the mat.
Tricky to transfer from cutting mat to doormat
Vinyl
Pros: Can be cut up to 24″ with a Cricut and as long as you need with a Silhouette
Once I ironed it lightly, I felt it stayed in place the best
Nice clean lines
Cons: You need transfer tape or contact paper to transfer the design to the mat
Most expensive of the three stencil materials
Tricky to transfer from transfer tape to doormat
Cardstock/Posterboard
Pros: Inexpensive
Nice clean lines
Cons: I only had 12″ x 12″ cardstock (not sure if it comes bigger) so I had to piece together the design.  Posterboard comes in bigger sizes, but I feel like it's harder to get clean cuts and detailed designs.
Tricky to transfer from cutting mat to doormat – I used spray adhesive and pins to keep the stencil from shifting.
In the end, it's a personal choice of which material works best for you.  If you take the time to make sure your stencil won't move around and if you use a good painting technique, you will get great results, too.  Now, let's get onto the tutorial.
This post contains affiliate links for your convenience (which means if you make a purchase after clicking a link I will earn a small commission but it won't cost you a penny more)!  Read my full disclosure policy.
HERE'S WHAT YOU NEED
HERE'S WHAT YOU DO
STEP 1: DOWNLOAD THE FREE SVG FILE
The first thing you'll need to do is get the free SVG file you'll use for this project.  I keep all the SVG files I use for the projects I make in my SVG Library.  These SVG files work with Cricut and Silhouette machines, as well as many others.  This library is open to everyone and is free! You can access the library here.
STEP 2: PREPARE VINYL STENCIL
Open the design in your software program.  I sized my design to about 10.5″ high and left the width proportional. Most Cricut and Silhouette machines can cut this size.  If you have a Silhouette portrait, you'll need to piece together the design.
When everything is sized correctly, you can cut the stencil with your Cricut or Silhouette.  Once it has finished cutting, weed away the excess vinyl.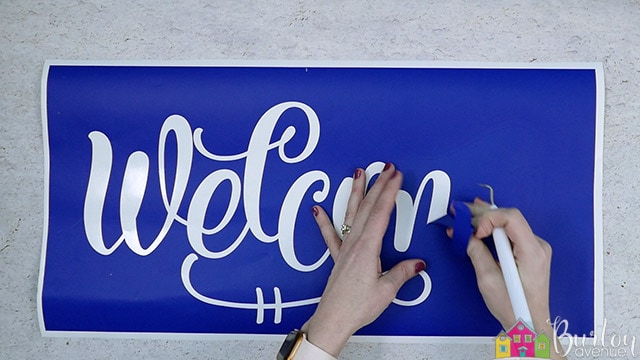 Cut a piece of transfer tape a little larger than the design.  Before you put the vinyl on the tape, rub a t-shirt or towel over it. This will remove some of the tackiness, which will make transferring the vinyl to the doormat a little easier.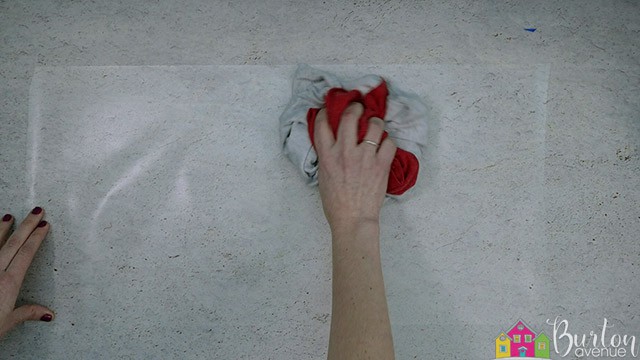 Place the vinyl on the transfer tape. Use an application tool to rub over the design. Then, trim off the excess transfer tape.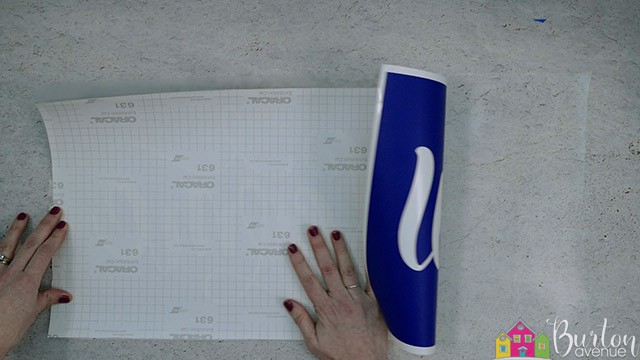 Pull off the vinyl backing. Because we removed some of the tackiness of the transfer tape, it might take a little extra work to get the backing off.  Go slow and use your fingers to get the vinyl to stay on the transfer tape.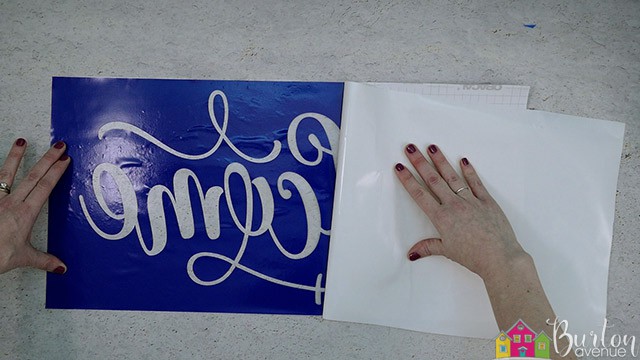 STEP 3: APPLY STENCIL TO DOOR MAT
Place the vinyl on the doormat and use a ruler to center the design.  The vinyl won't really stick, so you can move it around until it's centered.  Just a note, sometimes these doormats aren't cut evenly.  If that's the case with yours, just center as much as possible.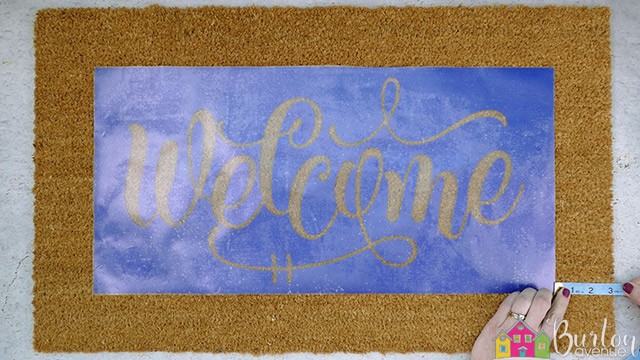 I just want to warn you…this part can be a bit tedious and frustrating.  But, it only took me a couple of minutes, so it's totally doable, just be patient.:)
Carefully pull back about 2″ of the transfer tape.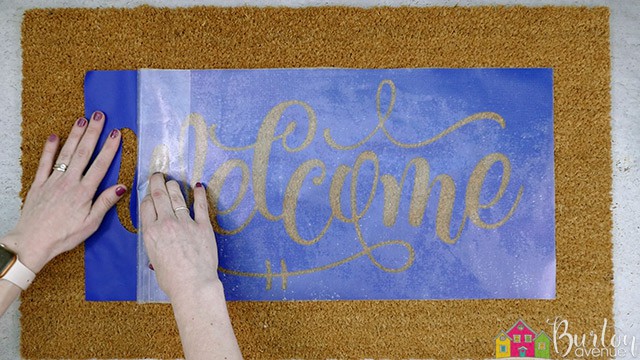 Place a piece of tape over the edge of vinyl and doormat.  This will help keep the vinyl in place while you remove the rest of the transfer tape.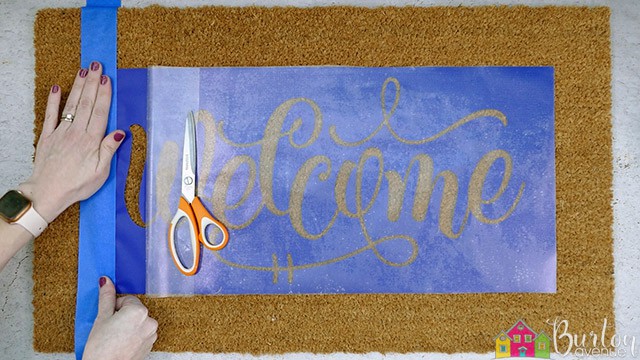 Use one hand to hold the vinyl in place and the other hand to pull off the transfer tape. Keep track of the insides of the letters, they can get lost.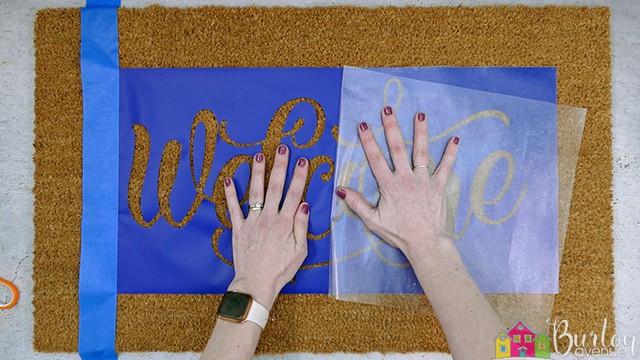 At this point, don't expect the vinyl to stick to the mat. All you're doing in this step is removing the transfer tape from the vinyl.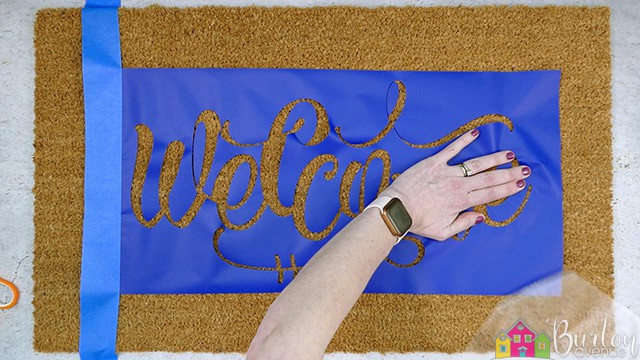 If you've made it to this step, give yourself a pat on the back.  The rest of the process is pretty simple from here on out.
Once the transfer tape is removed, go back over the design and straighten it out. Make sure all the insides of the letters are in place. Once again, you're still just placing the pieces on the mat, nothing will actually stick to it.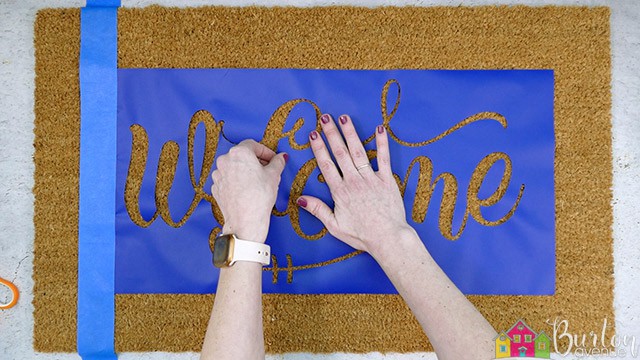 This next step is my secret to making a great looking doormat.  Applying heat makes the vinyl shrink, helps it adhere to the doormat, and helps create a really nice stencil.
You can use an iron or an easy press. Place copy paper or a teflon sheet over the design and iron for just a few seconds.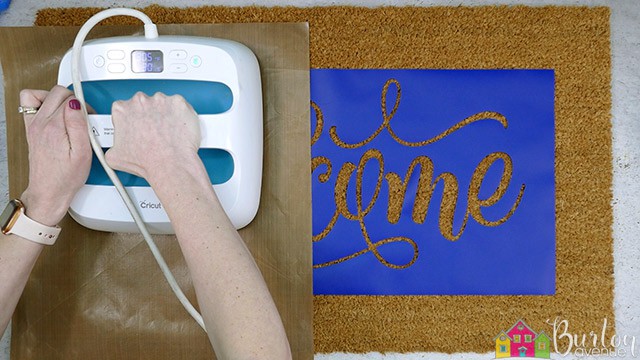 You'll know it's worked if the vinyl is tight and you can see the texture of the doormat through the vinyl.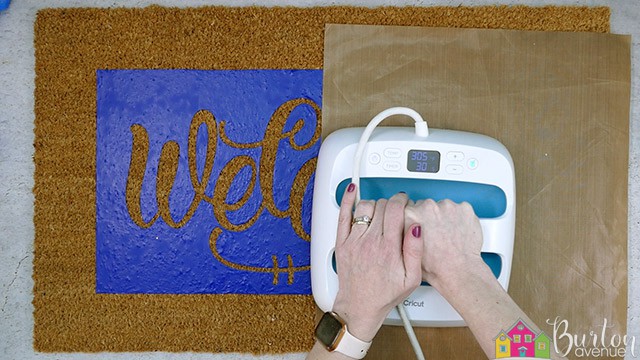 STEP 4: FILL IN THE STENCIL
Start filling in the design with paint.
I used Behr interior/exterior paint from home depot and had them tint it black.
Use a stencil brush and an up and down motion to apply the paint.  Try not to brush back and forth.  This will help minimize bleeding.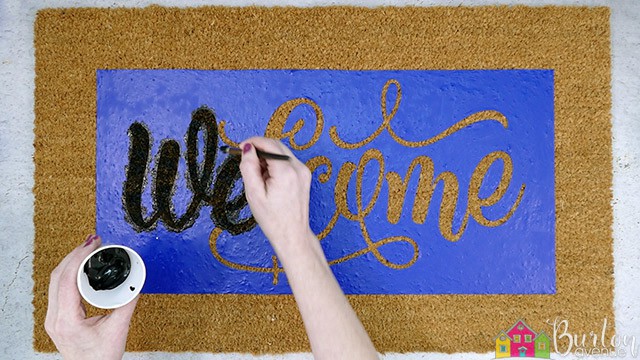 I did two coats just to make sure I didn't miss any spots.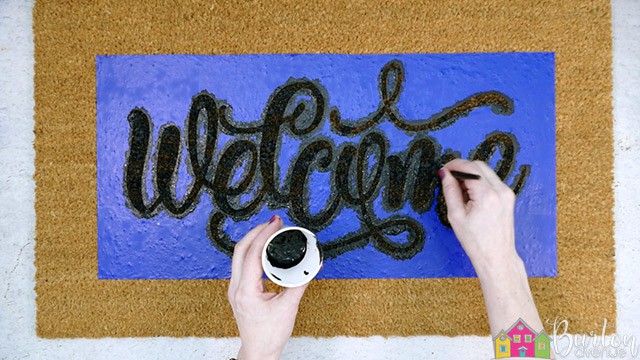 To protect the paint, you can spray on a protective finish.
Let the paint dry and leave the stencil in place.  Use copy paper or something similar to protect the rest of the mat from overspray.  Then, just spray on a couple of coats of the finish.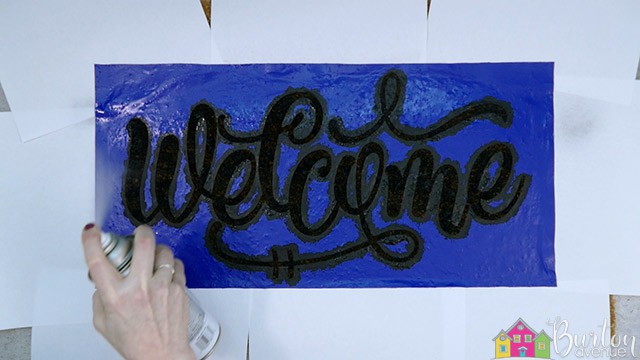 Once everything is dry, carefully pull off the stencil.  You can use a craft knife or weeding tool to pull out the centers of the letters.
Look at those nice clean lines!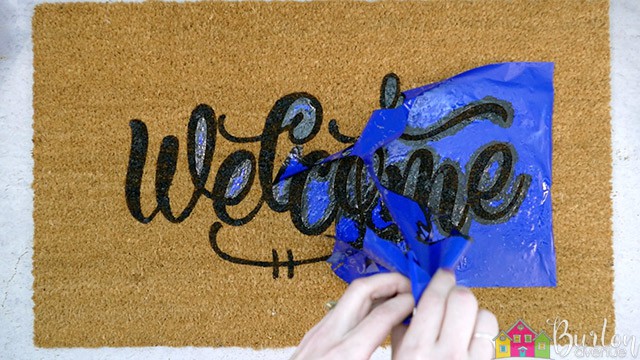 Even though it takes a bit of time to get the stencil in place, I think the end results are totally worth it.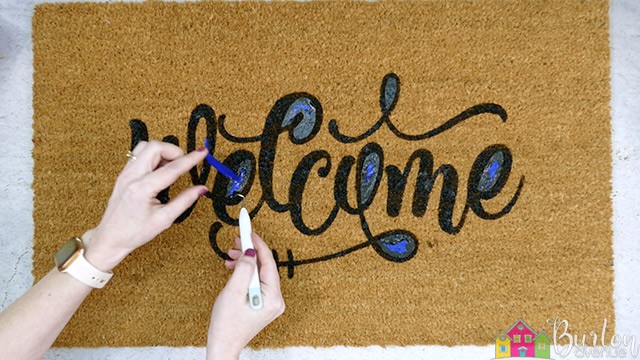 Now you've got a super cute doormat you've made with your Silhouette or Cricut!
You're gonna love how it looks on your porch!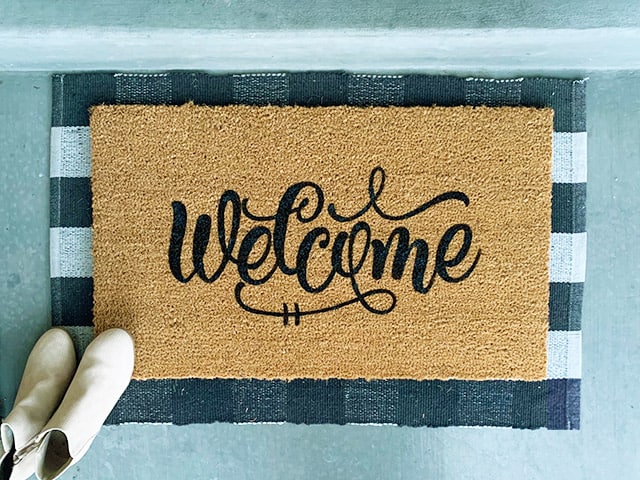 Here's a fun time-lapse of the project.
Did you enjoy this post? Help spread the word!  Share this post on your favorite Pinterest board.  Thanks!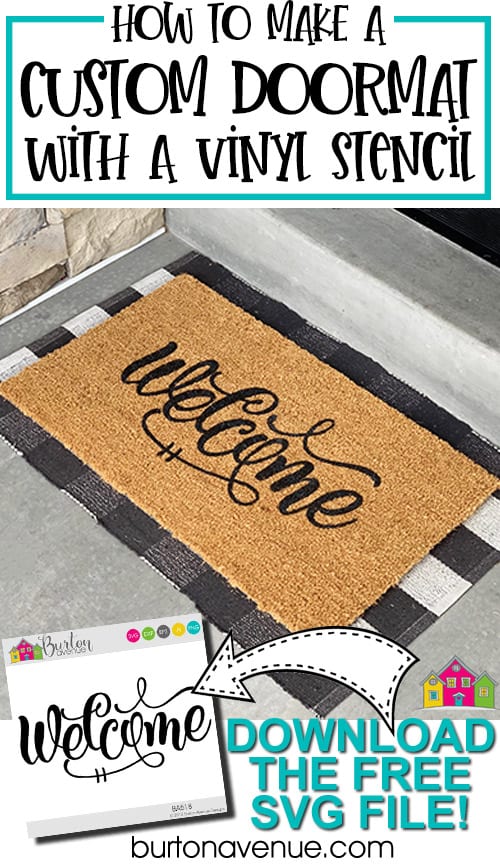 Want to make your own? Get the free cut file for this project in the Resource Library.