Lately, I've been seeing custom stenciled doormats all over the internet.  But, it seems like the same questions are getting asked over and over.  What did you use for your stencil? What kind of paint did you use? Where did you find your mat?  After reading these questions again and again, I decided to find out the answers myself.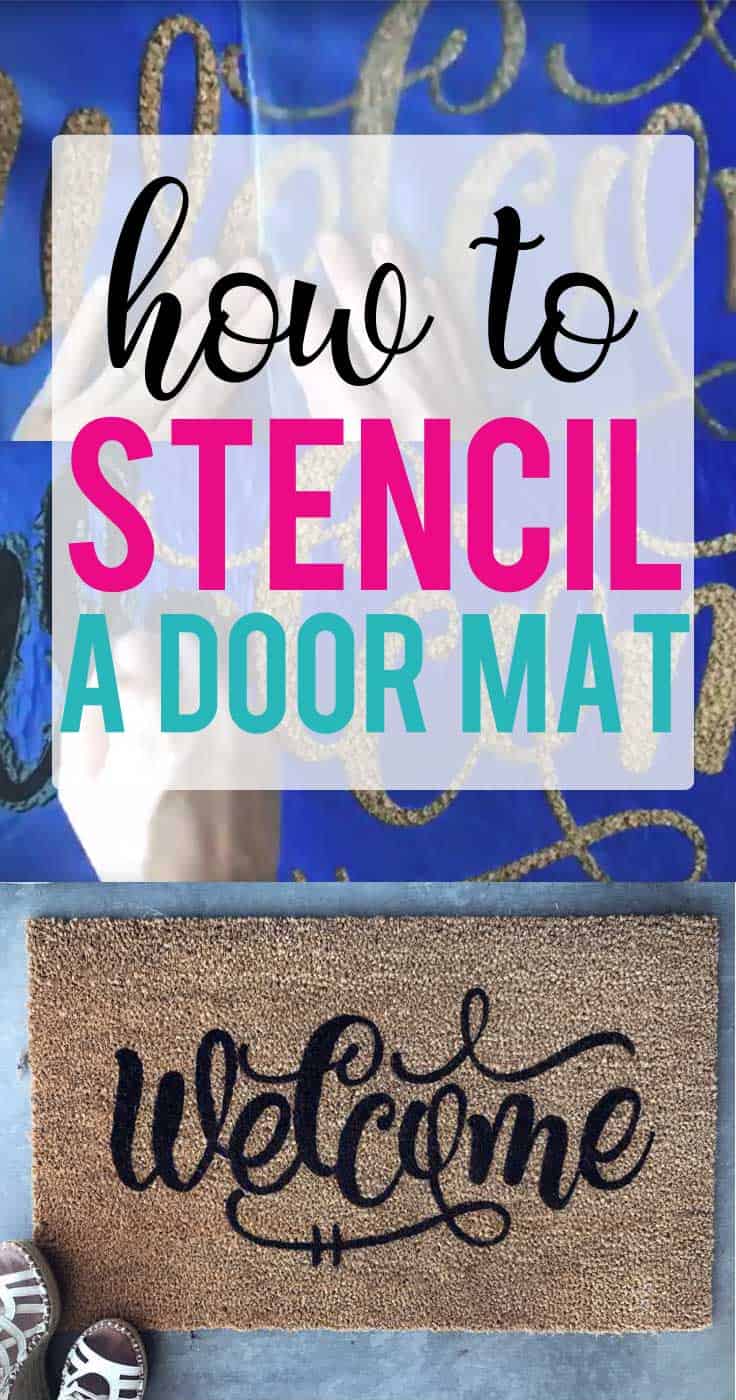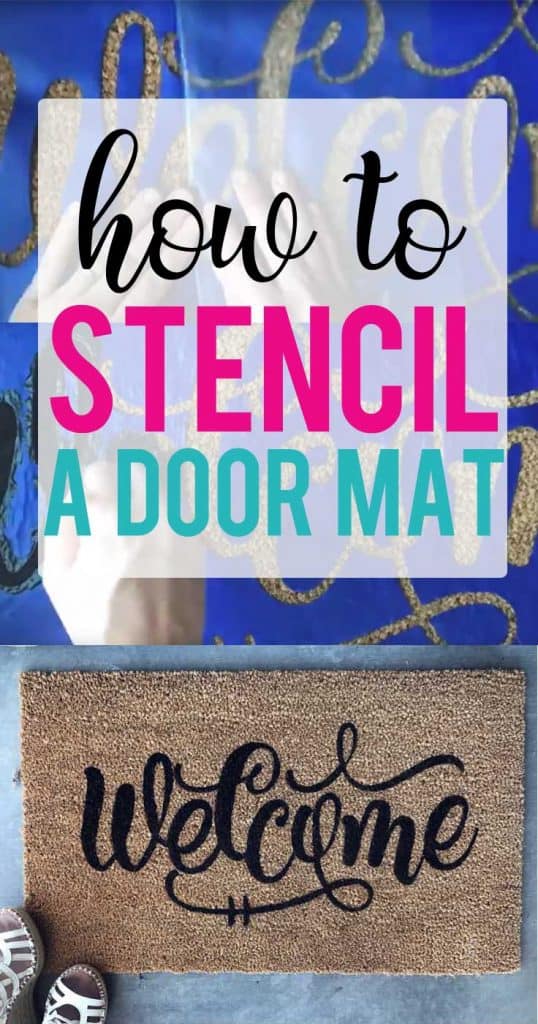 There are 3 types of stencil materials I found that others were using: vinyl, freezer paper, and posterboard/cardstock.  I decided to try all three to see which gave the best results.  The end result for all three materials was pretty much the same.  I was able to get nice, clean lines with all of them.
The biggest difference for me was getting the stencil to stay in place on the mat. It is a challenge to get anything to stick to these coir mats.  All three stencil materials required extra work and creativity to get them to stay in place.  In the end,  I decided to do my final design using a vinyl stencil.  Here is my pro/con list for each of the materials.
Freezer Paper
Pros: Inexpensive
Nice clean lines
Cons: Even after ironing at the hottest temperature on my iron, I had a hard time getting the freezer paper to stick.  I had to use pins to keep the small pieces in place.
Can only be cut as big as the mat.
Tricky to transfer from cutting mat to doormat
Vinyl
Pros: Can be cut as long as you need (if you don't use a mat)
Once I ironed it lightly, I felt it stayed in place the best
Nice clean lines
Cons: You need transfer tape or contact paper to transfer the design to the mat
Most expensive of the three stencil materials
Tricky to transfer from cutting mat to doormat
Cardstock/Posterboard
Pros: Inexpensive
Nice clean lines
Cons: I only had 12″ x 12″ cardstock (not sure if it comes bigger) so I had to piece together the design.  Posterboard comes in bigger sizes, but I feel like it's harder to get clean cuts and detailed designs.
Tricky to transfer from cutting mat to doormat – I used spray adhesive and pins to keep the stencil from shifting.
In the end, it's a personal choice of which material works best for you.  If you take the time to make sure your stencil won't move around and if you use a good painting technique, you will get great results, too.  Now, let's get onto the tutorial.
This post contains affiliate links for your convenience (which means if you make a purchase after clicking a link I will earn a small commission but it won't cost you a penny more)!  Read my full disclosure policy.
HERE'S WHAT YOU NEED
Packing tape or painters tape
HERE'S WHAT YOU DO
1. Cut out a vinyl stencil.  I used oracal 631 matte finish.  I recommend the 631 because the matte finish doesn't stick to the contact paper as well as the oracal 651, which means it also releases from the contact paper much easier. I usually use transfer tape for my vinyl projects, but it was just too sticky.  I picked up some contact paper from the Dollar Tree and it worked perfectly. After the design is cut and weeded, apply the contact paper, and remove the vinyl backing.
2.  Place the vinyl/contact paper over the doormat and measure to be sure the design is centered.  Start to separate the vinyl from the contact paper.  You're gonna have to hold the vinyl down with your hands because it won't stick to the mat.  Once you have separated a small section, place a piece of tape along the edge of the vinyl to keep it from moving while you finish removing the contact paper.
3.  Once you have finished removing the contact paper, the vinyl will kind-of just be sitting on the mat.  It could also look like a big mess.  Just take your time and straighten the design out and put all the pieces where they belong. Another advantage of using 631 is that it's not as sticky and 651.  If your vinyl gets stuck to itself, it should be pretty easy to pull it apart.
4. Apply heat to help the vinyl stick to the mat. I turned on my iron to the lowest setting, covered the vinyl with parchment paper, and ironed each spot for about one second.  This pulled the vinyl tight and helped it to stick to the mat.  I did this over the entire design until everything looked good.
5. Use a stencil brush and an up and down motion to apply the paint. This should help minimize bleeding. I painted the design a second time to be sure all areas were covered (not shown in video below)
6.  Once the paint is dry (or until you can't wait any longer), remove the stencil.
7. Spray on a polyurethane finish for extra protection.
Since this was such a long tutorial, I thought it would be fun to do a time-lapse video of the entire process.  It's my first video, I hope you enjoy it!
.
Want to make your own? Get the free cut file for this project in the resource library