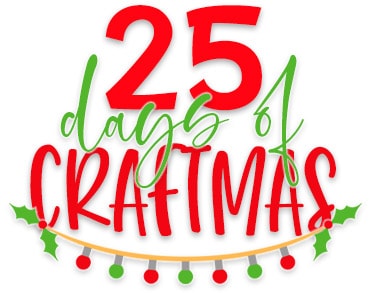 Welcome to day 15 of my 25 days of Craftmas series. Today, I'm showing you how to make this easy wood sign for Christmas with a Cricut or Silhouette. This sign is easy to make and I'm just loving how it turned out.  It's simple but elegant and it's perfect for a quick gift for family and friends. Read on for the full tutorial!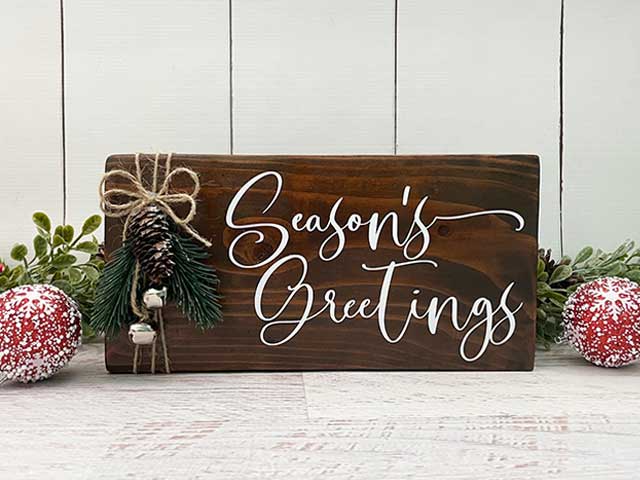 This post contains affiliate links for your convenience (which means if you make a purchase after clicking a link I will earn a small commission but it won't cost you a penny more)!  Read my full disclosure policy.
HERE'S WHAT YOU NEED
HERE'S WHAT YOU DO
STEP 1: DOWNLOAD THE FREE SVG FILE
The first thing you'll need to do is get the free SVG file you'll use for this project.  I keep all the SVG files I use for the projects I make in my SVG Library.  These SVG files work with Cricut and Silhouette machines, as well as many others.  This library is open to everyone and is free!  You can access the library here. Look for the file called Season's Greetings BA2115. It will be listed under the Craftmas 2022 Category-Day 15.
STEP 2: CUT THE VINYL DESIGN
Open the design in your software program.  Resize the design to fit on your piece of wood.  Remember, we will be putting some Christmas embellishments on the left side of the wood, so make sure your design is sized accordingly.  The wood I used measures 11″ x 5.5″, so I resized the design to about 8″ wide.
When everything is sized correctly, cut the design with your Cricut or Silhouette.
Once everything is cut, weed away the excess vinyl.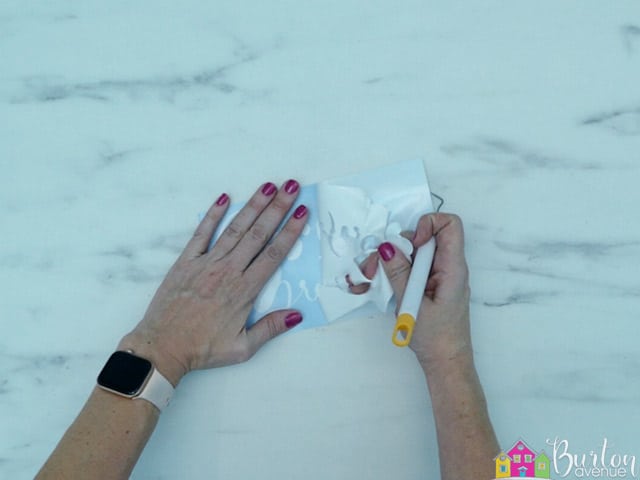 Use your weeding tool to pull out the pieces inside of the letters.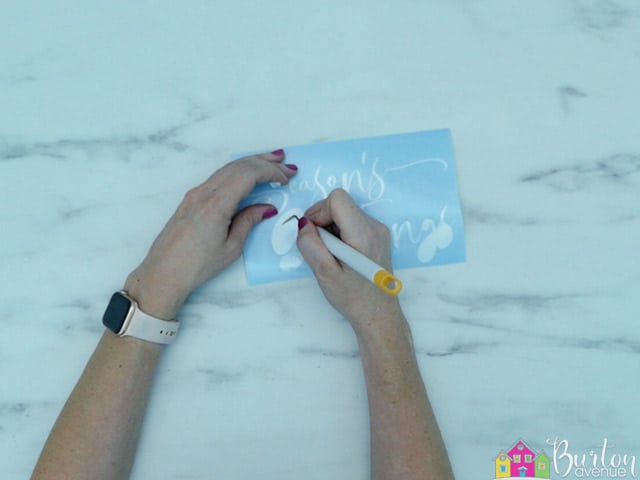 Cut a piece of transfer tape a little larger than your design and place the vinyl on top of it.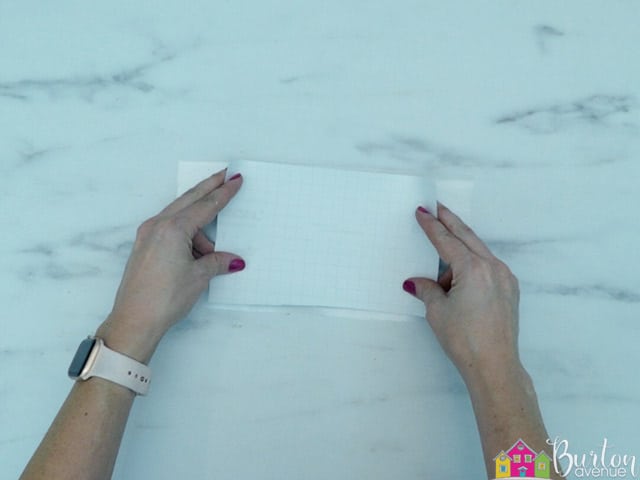 Rub over the design with your scraper.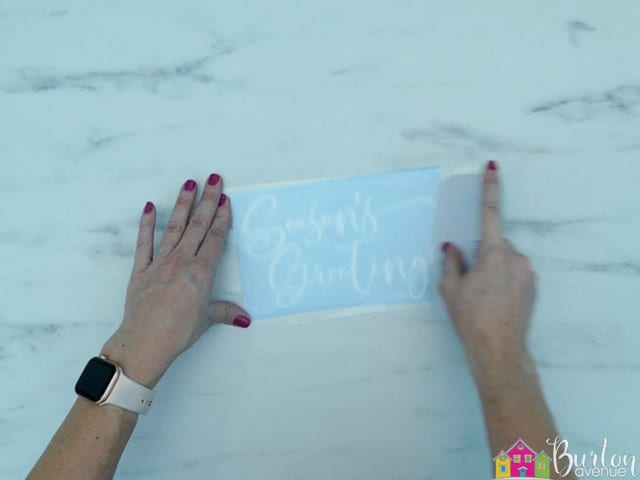 Trim off the excess transfer tape.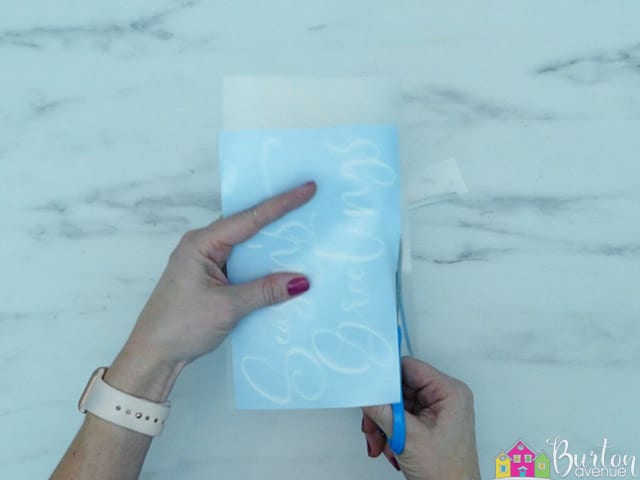 STEP 3: PREPARE THE WOOD SIGN
Next, let's work on staining the wood piece. You can use any color you want. I used dark walnut. You can also use paint instead of stain.
I like to use a foam brush to apply the stain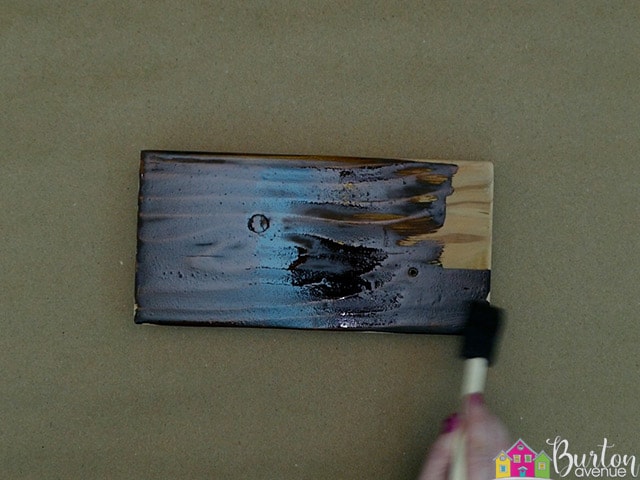 Then, wipe off the excess stain with an old towel or paper towel. I applied the stain and let it sit for just a minute or so and then wiped it off. If you'd like a darker color, you can let it sit longer before you wipe it off. Let the stain dry for several hours.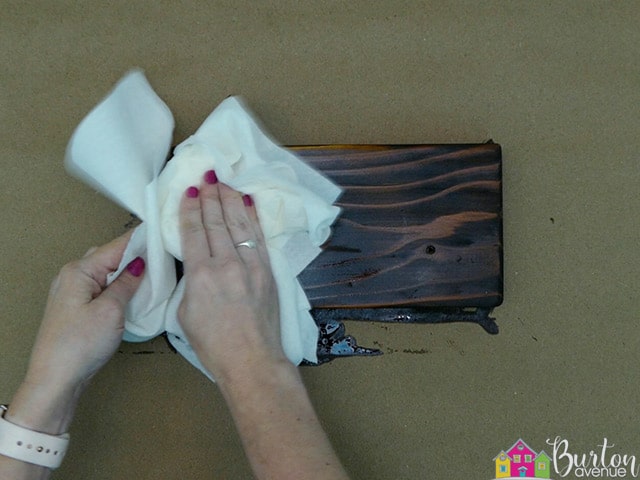 Apply a clear sealer. You can use either a brush-on finish or a spray. I used a brush on polyacrylic.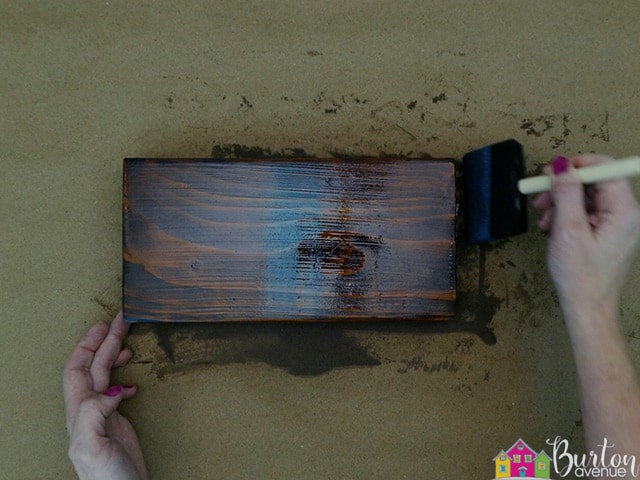 STEP 4: APPLY THE VINYL DESIGN
Once the sealer is dry, it's time to apply the vinyl.  So, grab the vinyl design and pull off the vinyl backing.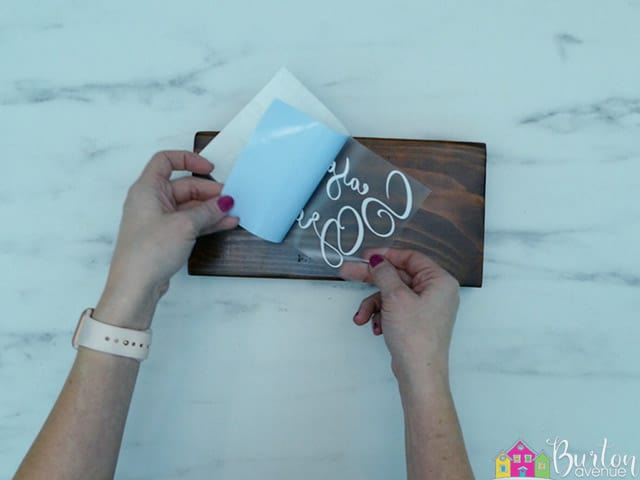 Position the design on the right side of the sign, so you'll have room on the left to add some embellishments. Center it from top to bottom.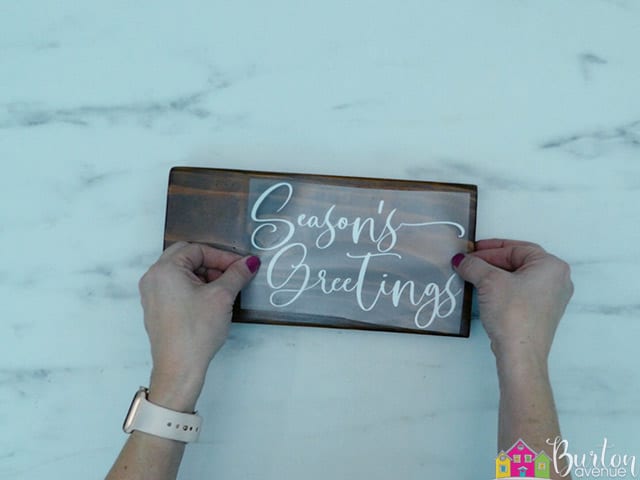 Once it's in place, you can rub over it again with your scraper.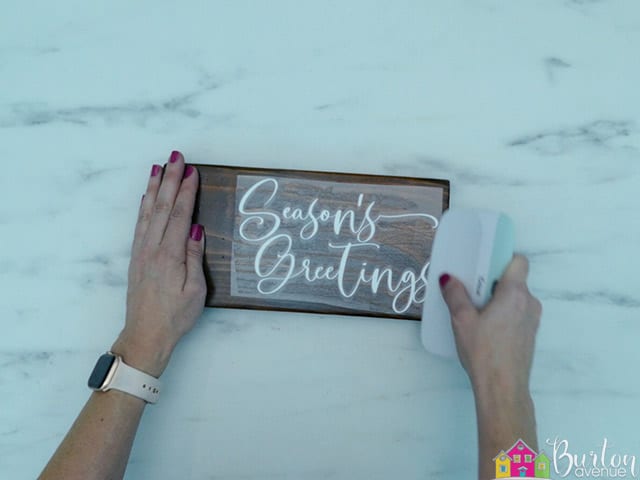 Then, carefully pull off the transfer tape.
STEP 5: FINISH THE SIGN
To finish off the sign, wrap some jute twine around the left side about 3 or 4 times. Tie it in a knot of trim off the ends. Adjust the spacing on the twine so it looks good.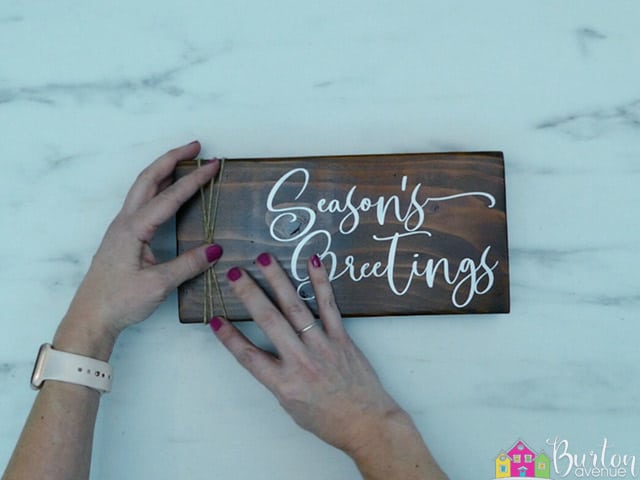 Next, grab your Christmas embellishments. I used some pine, a pine cone, a bow tied with the jute twine, and a couple of jingle bells.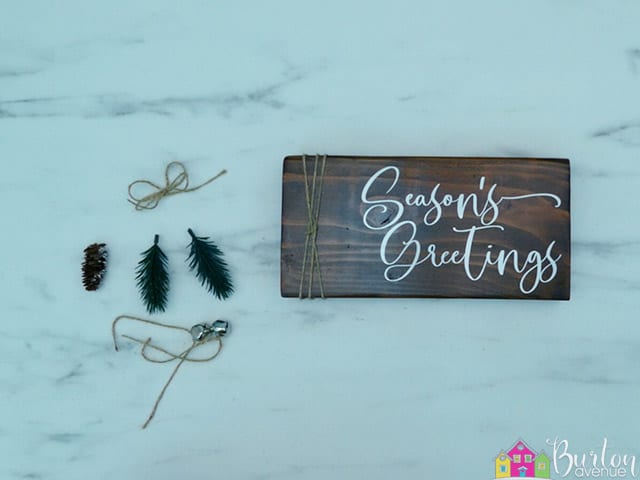 Use some glue to attach the embellishments to the sign.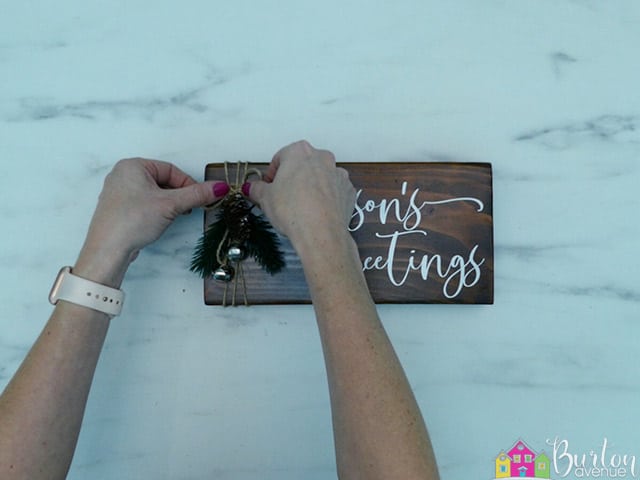 And that's it, this project is finished and it's so cute! I just love how it turned out.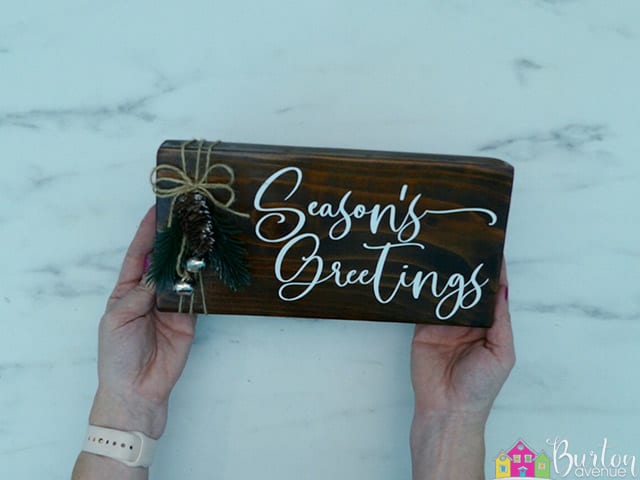 Did you enjoy this post? Help spread the word!  Share this post on your favorite Pinterest board.  Thanks!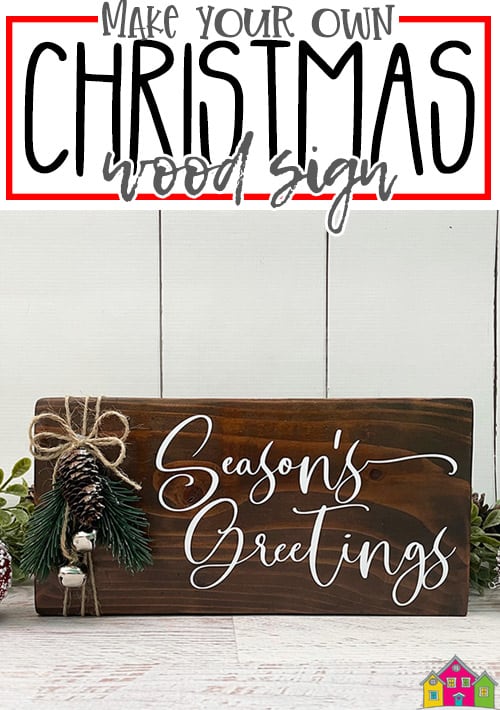 Want to make your own? Get the free cut file for this project in the resource library