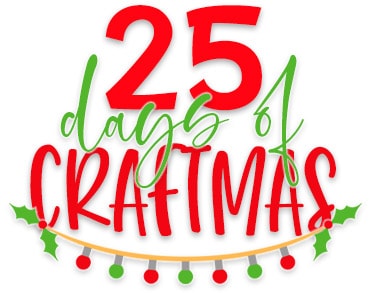 Welcome to day 2 of my 25 days of Craftmas series. Today, I'm showing you how to make these easy Christmas gift card holders.  Gift cards are a quick and easy gift, especially when you're not exactly sure what to buy someone.  But, giving just a plain gift card is kind of boring.  You can make giving a gift card a little more exciting by making this easy Christmas gift card holder.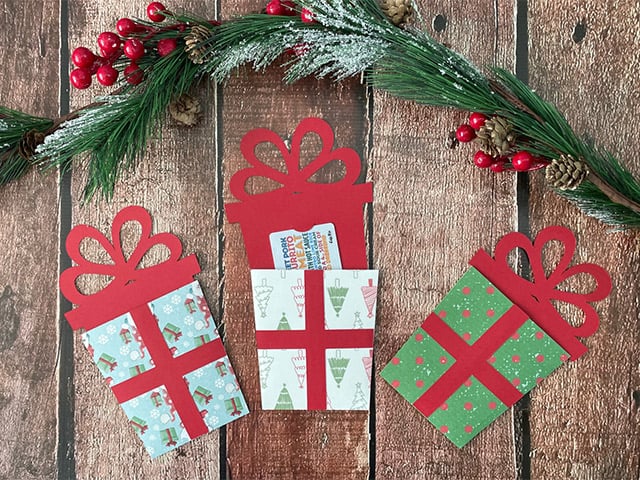 This post contains affiliate links for your convenience (which means if you make a purchase after clicking a link I will earn a small commission but it won't cost you a penny more)!  Read my full disclosure policy.
HERE'S WHAT YOU NEED
HERE'S WHAT YOU DO
STEP 1: DOWNLOAD THE FREE SVG FILE
The first thing you'll need to do is get the free SVG file you'll use for this project.  I keep all the SVG files I use for the projects I make in my SVG Library.  These SVG files work with Cricut and Silhouette machines, as well as many others.  This library is open to everyone and is free!  You can access the library here. Look for the file called Gift Card Holder BA2102. It will be listed under the Craftmas 2022 Category-Day 2.
STEP 2: CUT THE CARDSTOCK PIECES
Open the designs in your software program.  Keep everything grouped together and resize the design to 12″ high, let the width adjust proportionally. If you're using Cricut Design Space, you'll need to ungroup the design and then attach the perforation lines to each shape.  Then, you can cut the different shapes with your cutting machine.  For the present shape, I printed a Christmas design onto white cardstock and cut it out. Then, I used a coordinating color for the ribbon and insert.
Once the cardstock is finished cutting, remove it from the cutting mat.  You'll want to slightly bend the cutting mat and carefully pull off the cardstock.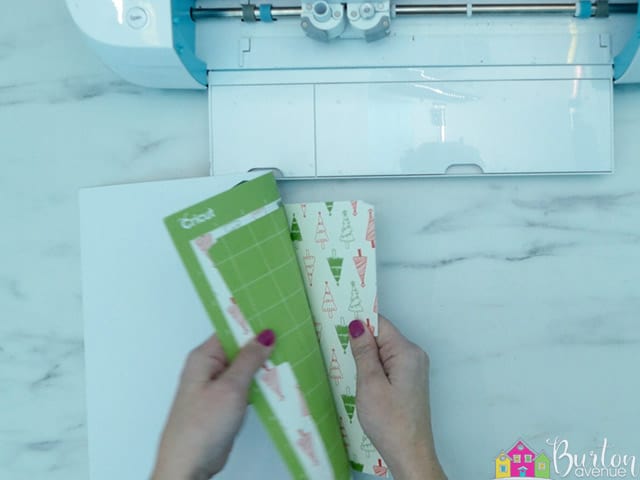 STEP 3: ASSEMBLE THE CARDHOLDER
For each gift card holder you make, you'll need three pieces, the outside layer (which resembles wrapping paper), the insert with the bow at the top, and the plus sign-shaped piece.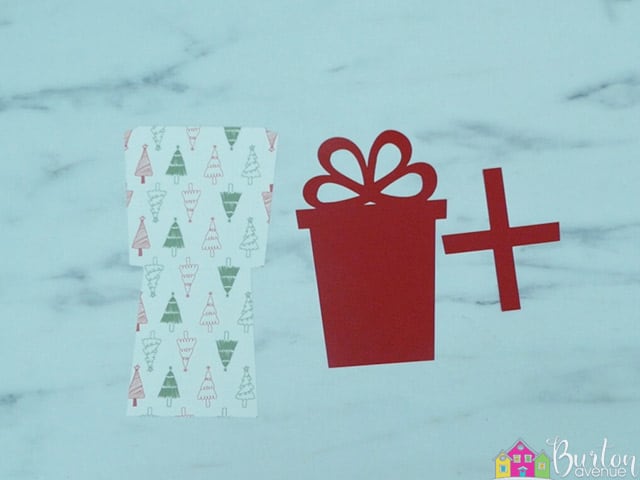 Start by folding the tabs back along the perforation lines on the outside piece.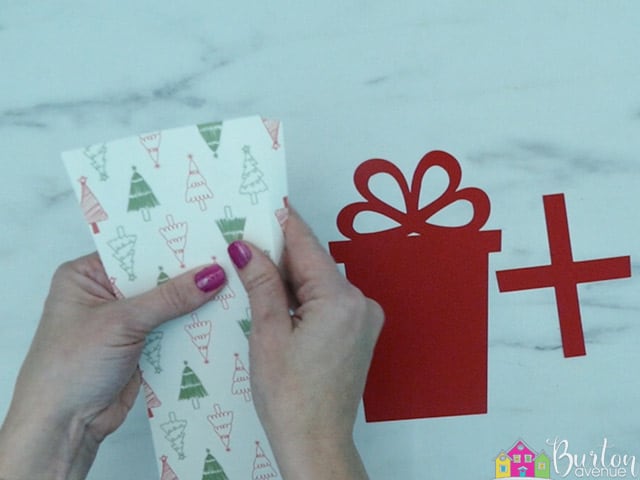 Add a line of glue to each of the tabs.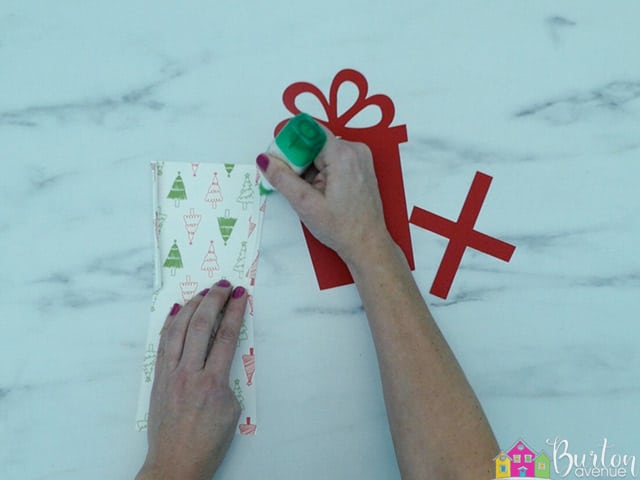 Fold the piece in half and hold for a few seconds until the glue keeps it in place.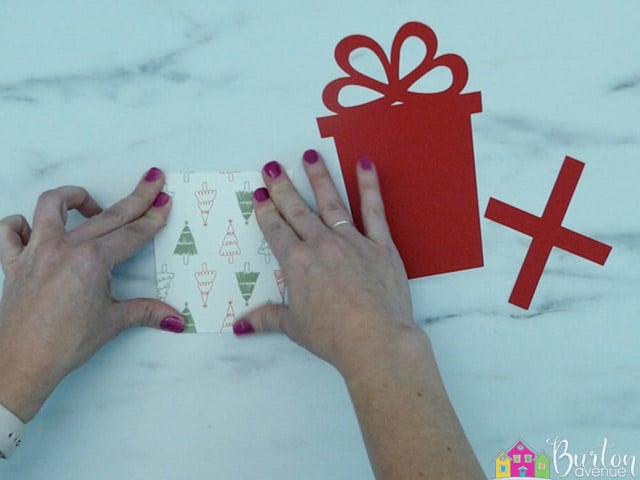 Next, add some glue onto the back of the plus sign-shaped piece.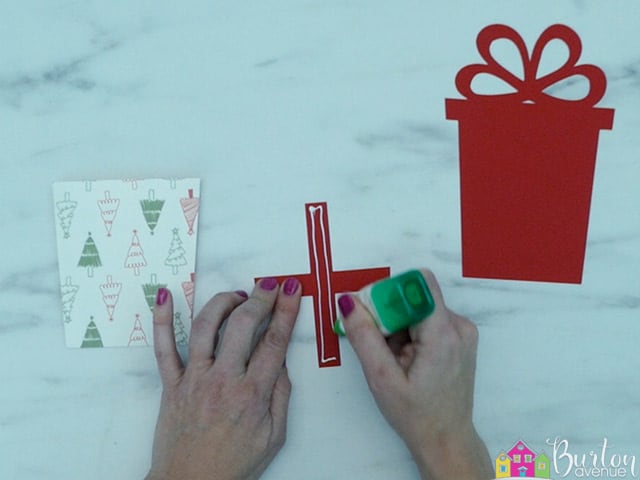 Glue that onto the outside layer.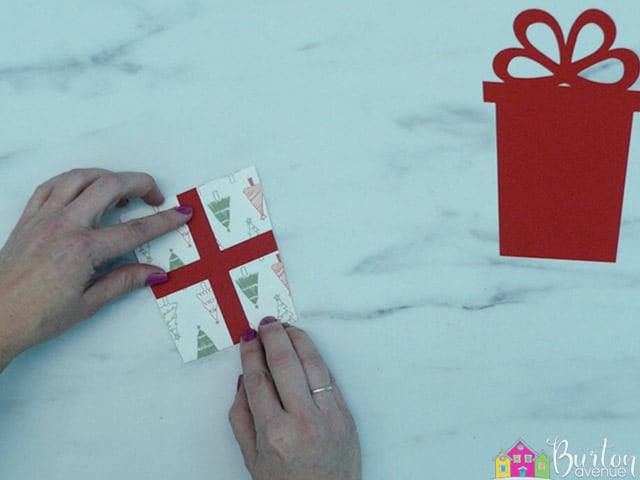 Grab the inside layer and fold back on the cut lines to expose the tabs.
Slide your gift card between the two tabs.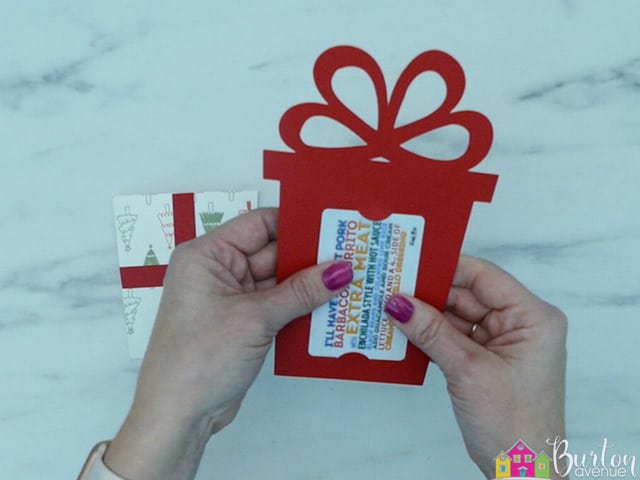 Insert the inside layer into the outside layer.
And that's it.  Now you have a super cute way to give away gift cards!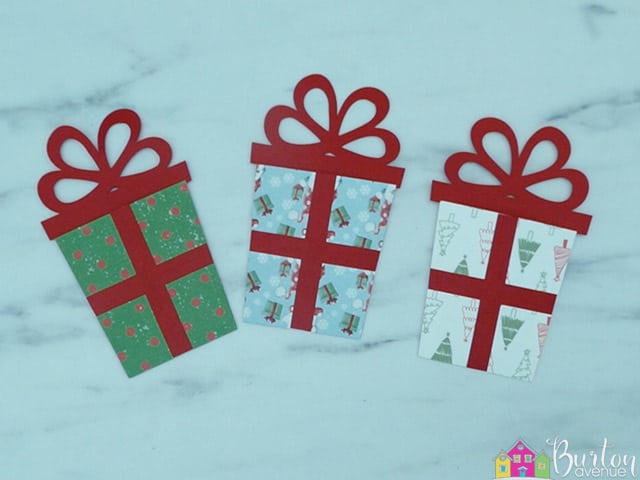 Did you enjoy this post? Help spread the word!  Share this post on your favorite Pinterest board.  Thanks!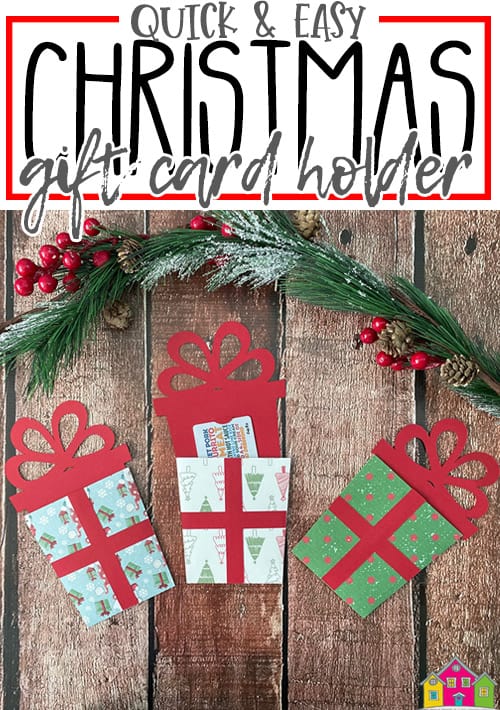 Want to make your own? Get the free cut file for this project in the resource library