If you're new to the world of heat transfer vinyl and aren't quite sure where to start, then you've come to the right place!  Heat transfer vinyl (aka HTV) is amazing!  It's one of my favorite types of vinyl.  You can make customized gifts that look 100% professional.  This guide will walk you through the basics of heat transfer vinyl.  By the end, you'll be applying HTV to everything you can get your hands on!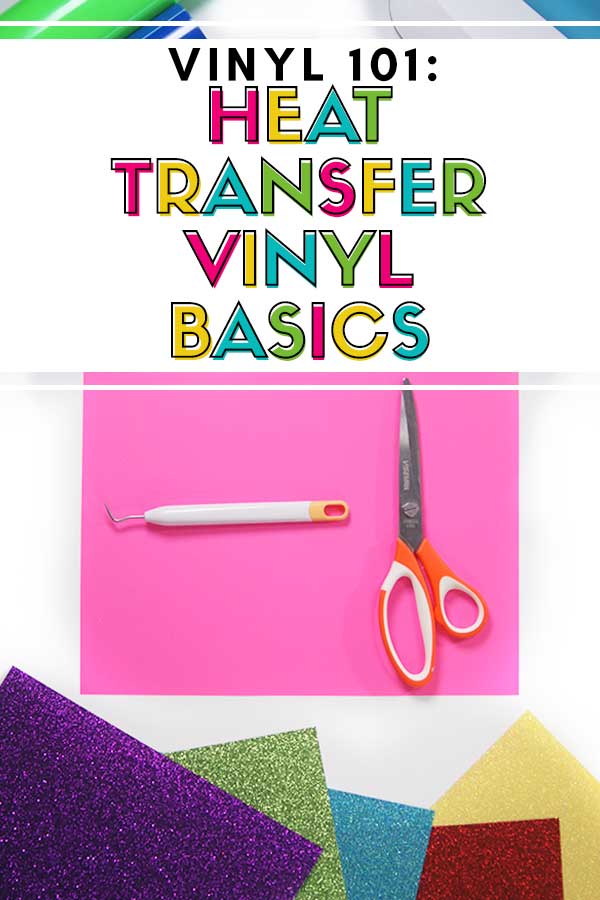 This post contains affiliate links for your convenience (which means if you make a purchase after clicking a link I will earn a small commission but it won't cost you a penny more)!  Read my full disclosure policy.
What is Heat Transfer Vinyl
In the world of electronic cutters, heat transfer vinyl, also referred to as Iron On or HTV,  is one of the most popular materials that we cut. Heat transfer vinyl is vinyl that has a heat sensitive adhesive on one side. It is flexible and super versatile and can be used in all kinds of projects like t-shirts, pillows, tote bags, leather, and even wood. Heat Transfer Vinyl comes in sheets or rolls and is available in lots of different sizes.
Types of Heat Transfer Vinyl
Heat Transfer Vinyl comes in several different finishes.  There's smooth, glitter, flocked, and lots of other specialty types.  The most popular type is smooth Heat Transfer Vinyl.  It has a smooth texture and comes in a wide variety of colors. Smooth HTV is very thin and is great for small detailed cuts.  Glitter Heat Transfer Vinyl is much thicker than the smooth HTV.  Because of its thickness, it's a bit harder to get the small detailed cuts you get with smooth HTV.  It has a beautiful glittery finish and the best part is that the glitter does not rub off.  Glitter HTV is my FAVORITE!  Flock Heat Transfer Vinyl is also thick like glitter HTV.  It has a fuzzy feel to it and is slightly raised when applied.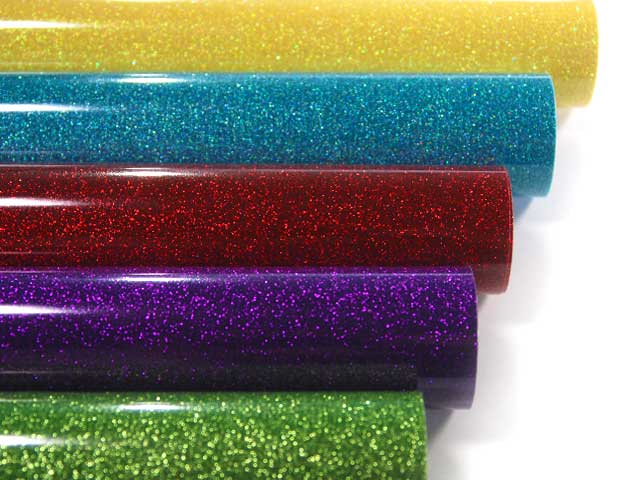 Heat Transfer Vinyl comes on a clear carrier sheet.  The vinyl stays on this sheet while it is cut and weeded.  Once the adhesive is applied to the final surface with heat and pressure, the carrier sheet is removed.  The carrier sheet is clear plastic and is usually referred to as the shiny side of the heat transfer vinyl.
In addition to the three types of heat transfer vinyl mentioned above, there are several special types of vinyl.  There are so many choices, including:
The type of heat transfer vinyl you use will depend on the finish you are going for.  There are hundreds of brands of vinyl to choose from, but I typically stick with the Siser Brand.  I've used it for years and it never disappoints.  It's easy to cut, easy to weed, and they have a wide variety of colors to choose.
Where Can I Purchase Heat Transfer Vinyl?
I see this question almost every day!  There are many different suppliers of vinyl, but these are my favorites.  I love their selection and quick shipping.
What Do I Need for a Heat Transfer Vinyl Project?
Once you've gathered all your supplies, you'll be all set to start making some amazing things with adhesive vinyl.  You'll find all the details on how use HTV in this next tutorial!
You can also get step by step instructions for getting started using vinyl with your Silhouette or Cricut Machine.