If you are the lucky owner of a Silhouette or Cricut cutting machine, you will want to know all the things about adhesive vinyl!  If you're just getting started with vinyl, you might find it all a bit overwhelming.  Permanent, temporary, 651, 631, glossy, and matte…what?  These are all common words crafters use when talking about adhesive vinyl.  If you're a newbie and wondering what all this means, don't worry.  This guide will walk you through the basics of adhesive vinyl  By the end, you'll be talking the vinyl lingo, too!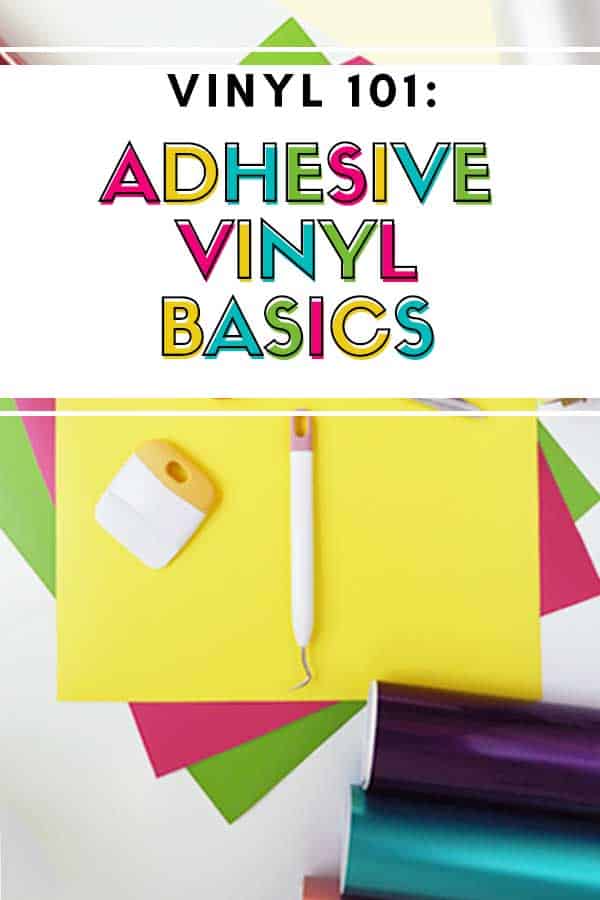 This post contains affiliate links for your convenience (which means if you make a purchase after clicking a link I will earn a small commission but it won't cost you a penny more)!  Read my full disclosure policy.
What is Adhesive Vinyl
In the world of electronic cutters, adhesive vinyl is one of the most popular materials that we cut. Adhesive vinyl is vinyl that is sticky on one side, like a sticker. It is flexible and super versatile and can be used in all kinds of projects.  It will stick to almost any smooth surface and can be used indoors or outdoors.  Adhesive vinyl comes in sheets or rolls and in several different sizes.  Adhesive vinyl comes on a paper backing. This backing holds the vinyl in place while it is being cut and is removed before the final application of the vinyl.
Types of Vinyl
The two most common types of adhesive vinyl you'll use with your cutter are permanent and temporary. Permanent Adhesive Vinyl, often referred to as outdoor, glossy, or 651 (651 is Oracal's number for outdoor vinyl) has a super sticky back and can be used for just about anything besides walls, including cups, windows, and wood signs. It can handle light hand washing and even changing weather elements.  It typically has a glossy finish (there are some colors that come in a matte finish).  Although it's called permanent vinyl, it isn't actually permanent.  It can be removed (it may be difficult) but it can leave behind a residue or cause damage to some surfaces.
Temporary Adhesive Vinyl, often referred to as indoor, matte, or 631 (like Oracal 631) is far less sticky and is great for indoor walls or other areas where the vinyl is meant only as a temporary decoration or where you don't want to cause damage upon removal.  Temporary Adhesive Vinyl typically has a matte finish.
In addition to the basic two types of vinyl, there are lots of special types of vinyl.  There are so many choices, including: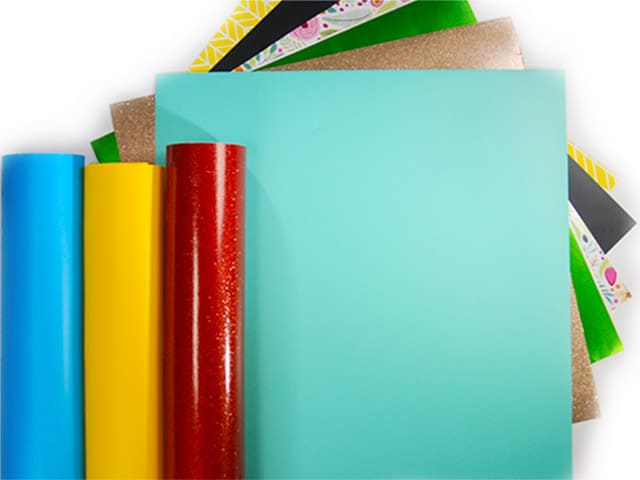 The type of vinyl you use will depend on the surface you're applying it to and the finish you are going for.  There are lots of brands of vinyl to choose from, but I like to stick with the Oracal Brand – no pun intended :).  I've used it for over ten years and it never disappoints.  It's easy to cut, easy to weed, and they have a wide variety of colors to choose.
*Please note that adhesive vinyl is not food safe, so it should not be placed in areas where it would come in direct contact with food.  For mugs and glasses, allow room at the top to allow the person to drink without coming in contact with it.
Transfer Tape
Transfer tape is used to transfer an adhesive vinyl design from the vinyl backing to the surface where it will be applied.  The transfer tape temporarily adheres to the non-sticky side of the vinyl and allows you to lift the vinyl off the backing and expose the sticky side of the vinyl.  It keeps everything in place so the entire design can be transferred from the backing to the surface. After the vinyl has been applied, the transfer tape is removed.  There are two basic types of transfer tape: paper tape (aka transfer paper) and clear or transparent transfer tape. I love using clear transfer tape because it makes lining up and applying your design easy. Paper tape is similar to masking tape but comes in much larger widths.  It is not see through and it can be dampened when applying the vinyl (know as the wet method).  Either material will work to transfer adhesive vinyl, you can use whichever you prefer. I almost always use clear transfer tape because I love being able to see my designs through the tape.
To learn more about transfer tape, check out my post on how to use transfer tape.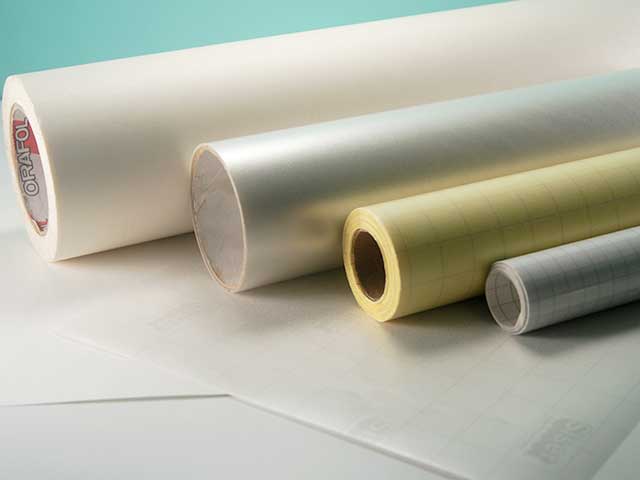 Where Can I Purchase Adhesive Vinyl?
I see this question almost every day!  There are hundreds of suppliers of vinyl, but these are my favorites.  I love their selection and quick shipping.
What Do I Need to make a Vinyl Decal?
Once you've gathered all your supplies, you'll be all set to start making some amazing things with adhesive vinyl.  You'll find all the details on how to create a vinyl decal in this next tutorial!
You can also get step by step instructions for getting started using vinyl with your Silhouette or Cricut Machine.