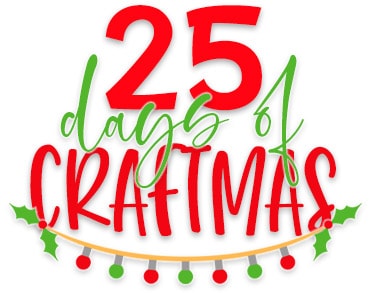 Welcome to day 8 of my 25 days of Craftmas series. Today I'm showing you how to make this quick and easy Christmas bunting sign. This is another super quick Christmas project and I think it turned out so cute. I used heat transfer vinyl for this project, which I love because the end result is always so professional looking.  Read on for the full tutorial.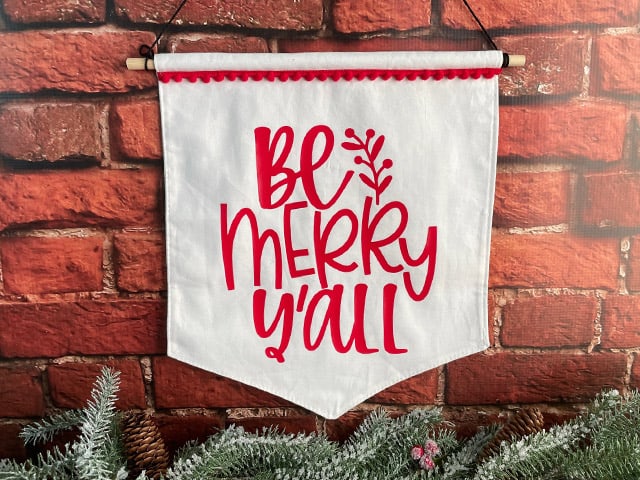 This post contains affiliate links for your convenience (which means if you make a purchase after clicking a link I will earn a small commission but it won't cost you a penny more)!  Read my full disclosure policy.
HERE'S WHAT YOU NEED
HERE'S WHAT YOU DO
STEP 1: DOWNLOAD THE FREE SVG FILE
The first thing you'll need to do is get the free SVG file you'll use for this project.  I keep all the SVG files I use for the projects I make in my SVG Library.  These SVG files work with Cricut and Silhouette machines, as well as many others.  This library is open to everyone and is free!  You can access the library here. Look for the file called Be Merry Y'all BA1809. It will be listed under the Craftmas 2021 Category-Day 8.
STEP 2: CUT AND WEED VINYL DESIGN
Open the design in your software program and resize it so it fits on your bunting sign.  I signed mine to about 8″ wide.
Since we are using heat transfer vinyl, you'll need to mirror the design before you send it to your machine to cut.
When everything is ready to cut,  load the heat transfer vinyl onto your cutting mat with the shiny side facing down. Then, cut out the design.  When everything is finished cutting, remove the vinyl from your cutting mat and trim off any unused vinyl.
Weed away the excess vinyl from around the design. Start in the corner and use a weeding tool to separate the vinyl from the clear carrier sheet. Keep pulling up on the vinyl until you've removed all the excess from around your design.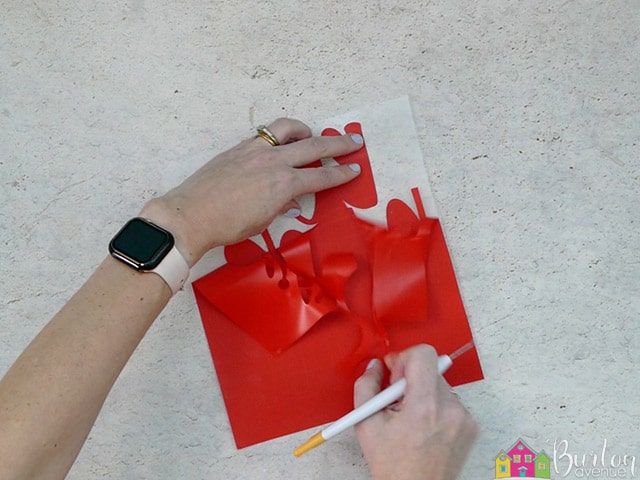 Use the weeding tool to help remove the excess vinyl from inside the letters and shapes.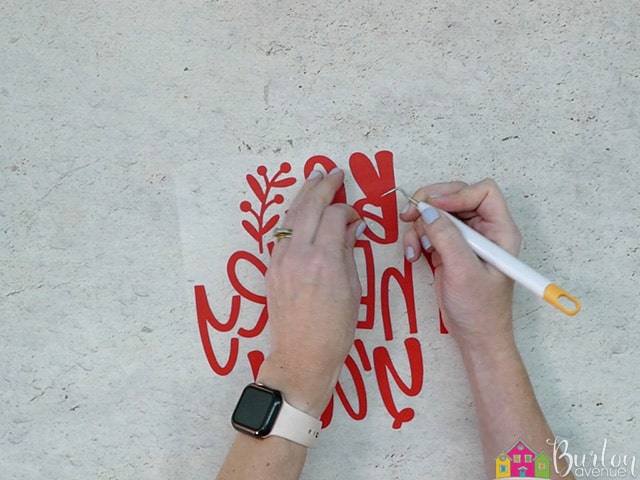 Once you've removed all the excess vinyl, you can flip over your design to see what it will look like.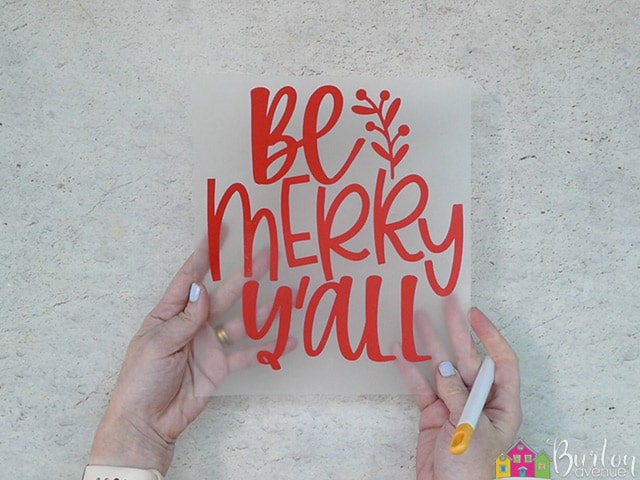 STEP 3: APPLY DESIGN TO BUNTING
Grab your bunting sign and iron out any wrinkles.
Grab the design and place it on the bunting.  Adjust the design so it's straight and centered.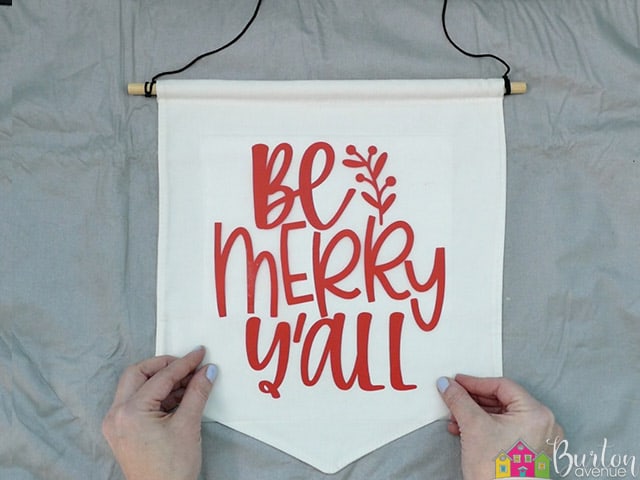 Next, we need to add heat and pressure. You can use an iron, heat press, or Easy Press. If you're using an iron, turn it to the cotton setting and make sure the steam is turned off. If you're using a heat press or easy press, set the temp according to the manufacturer's instructions. Use your heat source to apply pressure to each part of the design. You'll want to press each part of the design for about 15 seconds. You can place a Teflon sheet, towel, or even a piece of copy paper over the design before you iron.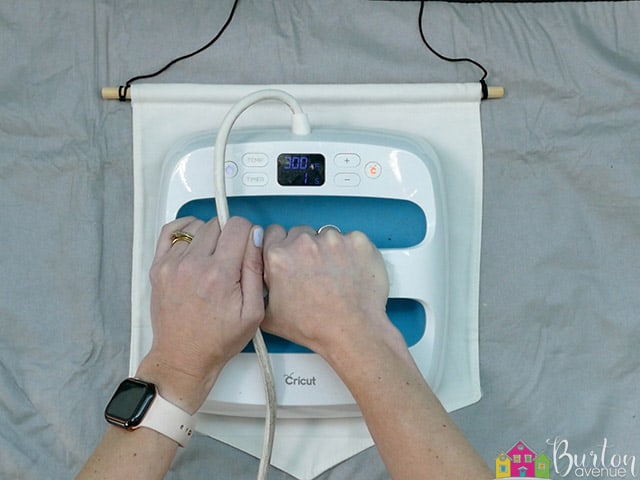 Once you've applied even pressure to the entire design, you can carefully remove the carrier sheet.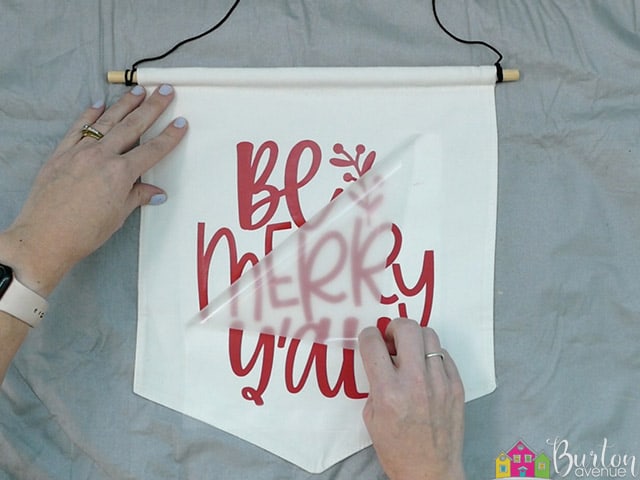 STEP 4: ADD EMBELLISHMENTS TO THE BUNTING
To dress up the bunting just a bit, I thought it would be cute to add some red pom-pom fringe to the top of the bunting.  This step is optional, but I think it makes the bunting look so cute!
All you need to do is add some hot glue under the dowel and press the trim into place.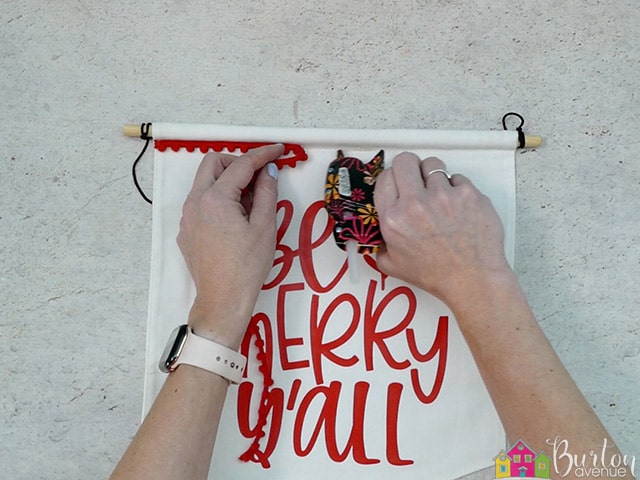 And that's it.  This project is finished!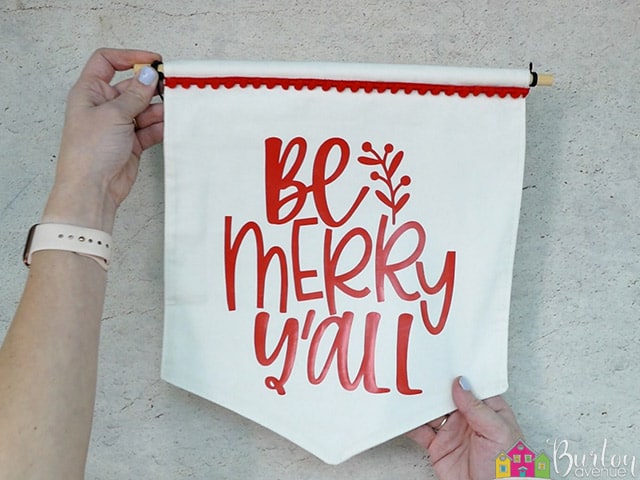 Did you enjoy this post? Help spread the word!  Share this post on your favorite Pinterest board.  Thanks!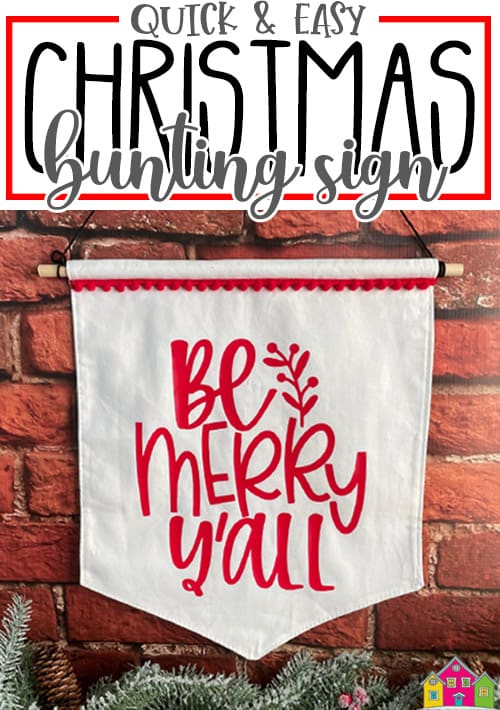 Want to make your own? Get the free cut file for this project in the resource library