I've had this project in my head since last year, but I never got around to making.  So, I put it on my to do list this year and finally got it done.  I think it's my favorite project of the season!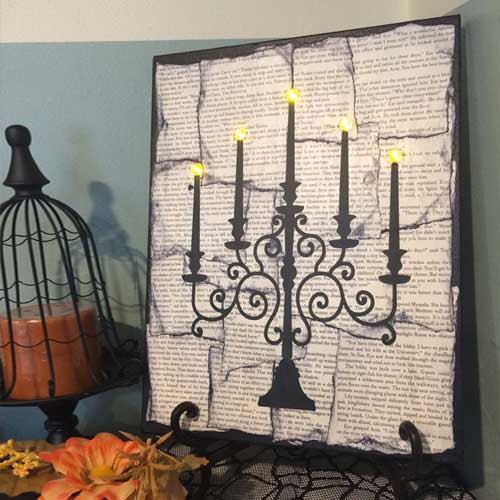 Here is what you need:
– Canvas (mine is 11″ x 14″)
– Black Paint
– Old Book
– Ink Pad
– Mod Podge
– Vinyl
Here is what you do:
1. Paint the sides and edges of the canvas black.
2. Tear some pages out of an old book and rip along the sides and top.
3. Distress the pages by rubbing the edges along the ink pad.
4. Use Mod Podge to glue the pages to the canvas.  Once they have all been glued down, apply a layer of Mod Podge over the top to seal everything.
5. Turn the canvas over and place the mini lights against the frame of the canvas.  Use a ruler to measure the distance between the two edges.  This will let you know the largest width you can make your vinyl decal (mine was about 7.5″ wide).
6. Cut, weed, and tape the vinyl candelabra.  Once the Mod Podge is completely dry, apply the vinyl to the canvas.
7. With a craft knife, cut an X through the flame of each candle.  Push the mini light through the slits to make a small hole.
8. Flip the canvas over and push down the flaps of the opening.
9. Insert the mini lights from the back of the canvas and glue in place.
10.  Turn on the lights and admire!
My kids loved how this turned out! What do you think?