I really love Dollar Tree. They've got great supplies for all kinds of craft projects. I'm always leave with lots of ideas (and lots of stuff in my bags)! I was there last week and was amazed at their selection of fall decor. Some of the decor is super cute. Some of it has great potential. These fall hanging signs are a great starting point for a new fall door hanger.  I love the shape and the hanging pumpkin.  I wanted to use the gold pumpkin, but the scarecrow image just wasn't my style.  So, I brought it home and did a quick make-over. The whole project took about 15 minutes! I used glitter adhesive vinyl to cover the inner pumpkin, so there was no paint mess and I didn't have to wait for anything to dry.  I really love how it turned out. Read on for the full tutorial!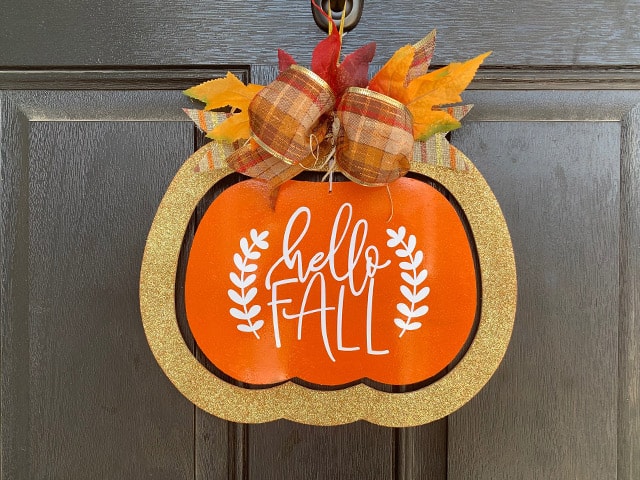 This post contains affiliate links for your convenience (which means if you make a purchase after clicking a link I will earn a small commission but it won't cost you a penny more)!  Read my full disclosure policy.
HERE'S WHAT YOU NEED
HERE'S WHAT YOU DO
STEP 1: DOWNLOAD THE FREE SVG FILE
The first thing you'll need to do is get the free SVG file you'll use for this project.  I keep all the SVG files I use for the projects I make in my SVG Library.  These SVG files work with Cricut and Silhouette machines, as well as many others.  This library is open to everyone and is free! You can access the library here.
STEP 2: REMOVE INNER PUMPKIN AND TRACE ONTO VINYL
Disconnect the inner pumpkin from the rest of the sign. Trace the shape of the pumpkin onto the back of your vinyl. I used glitter adhesive vinyl. It's not quite as sparkly as glitter HTV, but it's smooth, so it's easy to layer. with other adhesive vinyl.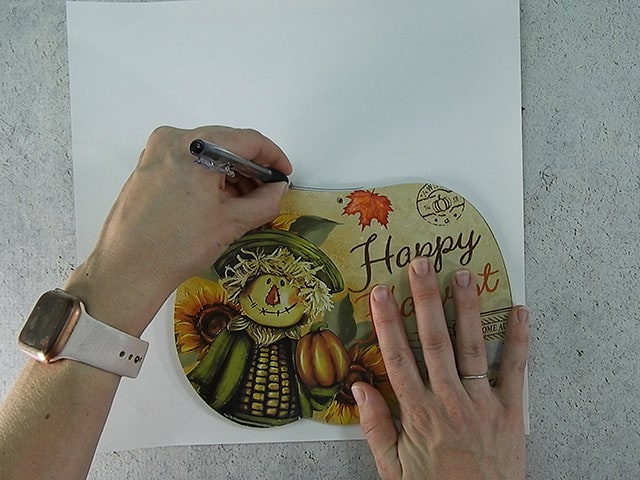 STEP 3: CUT OUT PUMPKIN
Cut out the pumpkin shape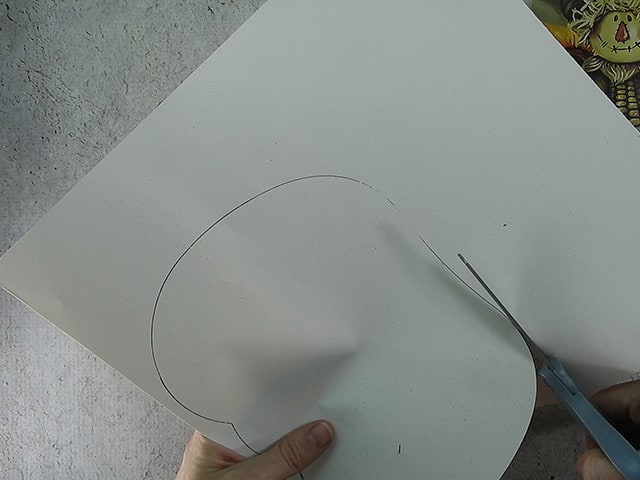 STEP 4: REMOVE VINYL BACKING AND APPLY VINYL TO PUMPKIN
Remove the vinyl backing from the pumpkin and center it over the pumpkin shape.  Use an application tool to smooth it down. You can use an Exacto knife to trim off any excess vinyl from the edges.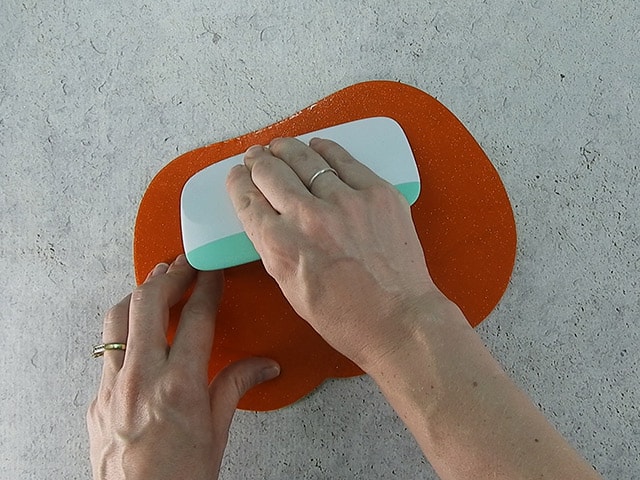 STEP 5: CUT AND WEED VINYL STENCIL
Open the design in your software program and size it to fit on your sign.  I sized my design to about 6.3″ x 5″.
When everything is sized correctly, you can cut the design with your Cricut or Silhouette.  Once it has finished cutting, weed away the excess vinyl.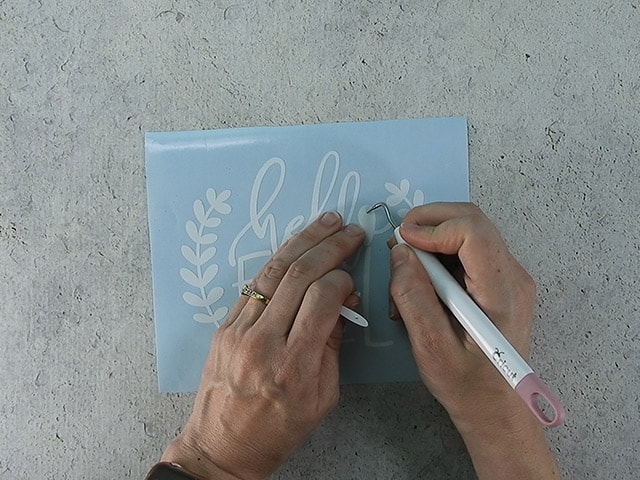 STEP 6: APPLY TRANSFER TAPE
Cut a piece of transfer tape a little bigger than the design. Place the vinyl on the transfer tape and smooth it down. Then, trim off the excess transfer tape.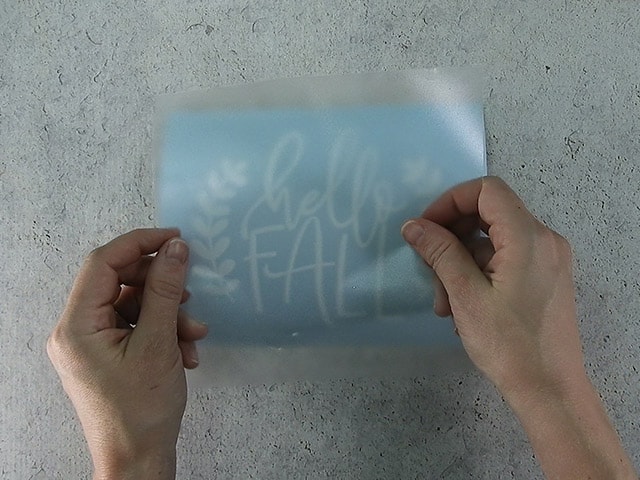 STEP 7: REMOVE VINYL BACKING
Rub over the design with an application tool to help the vinyl stick to the transfer tape.  Then, carefully pull off the vinyl backing.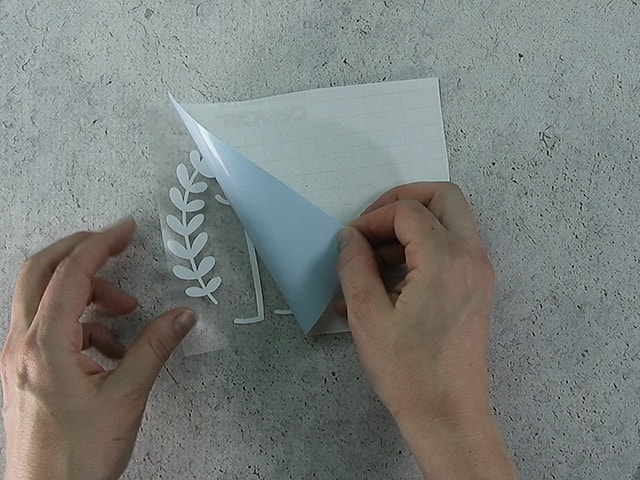 STEP 8: POSITION VINYL ON PUMPKIN
Position the design over the pumpkin. You can use a ruler to center it, but I just eyed it.  Once everything is centered and straight, press down on the design.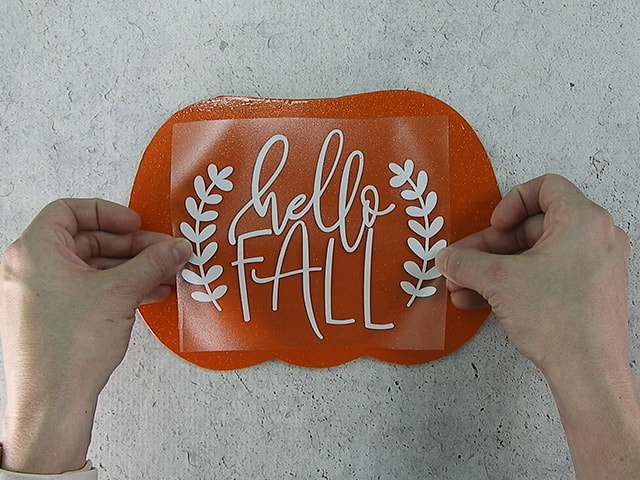 STEP 9: REMOVE TRANSFER TAPE
Rub over the design with an application tool.  Then, pull off the transfer tape.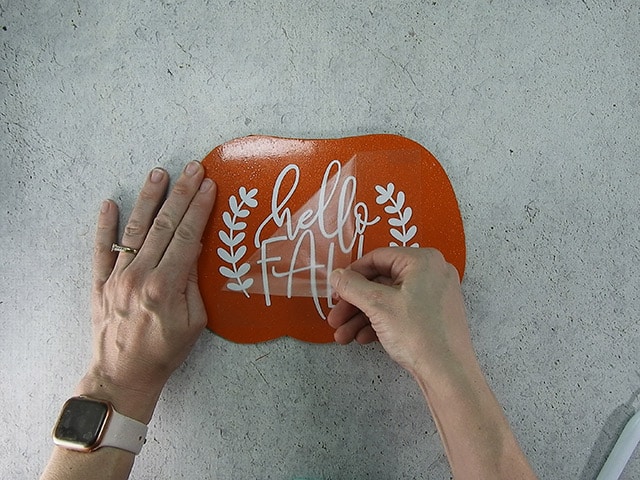 STEP 9: ATTACH PUMPKIN TO SIGN
Poke a small hole in the top of the pumpkin and attach it back to the original sign.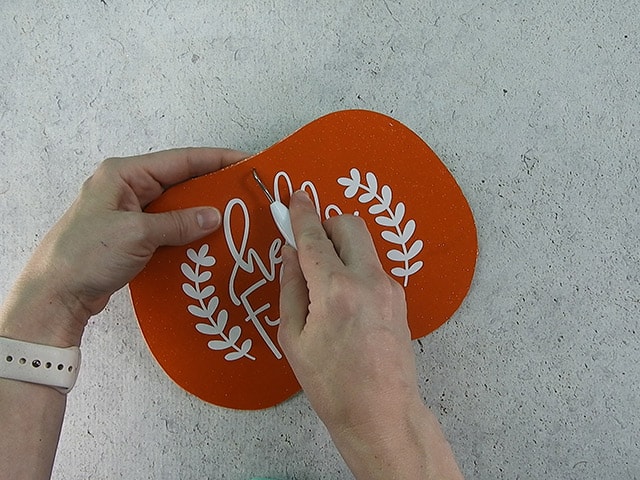 STEP 10: ADD A BOW AND OTHER DECORATIVE ITEMS
Use hot-glue to attach a bow to the stem of the pumpkin.  Then, add some fall leaves for a bit of extra color.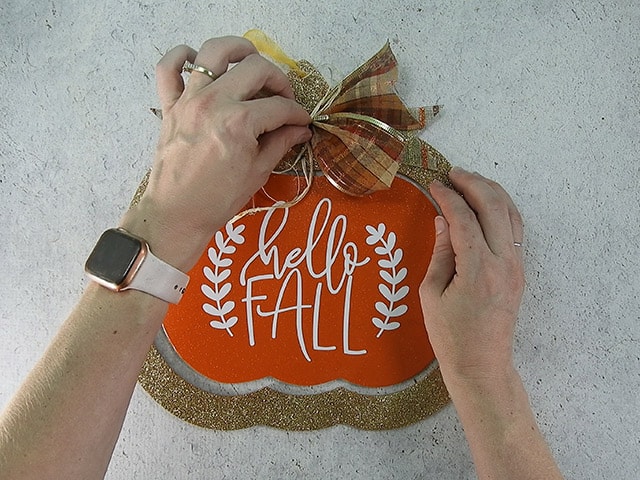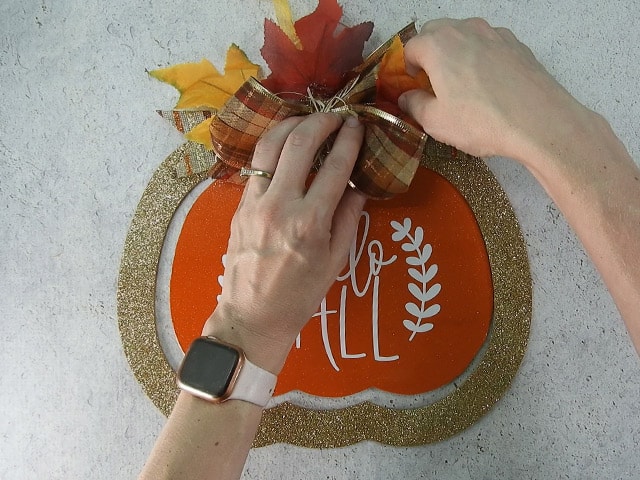 That's it! This sign is so easy to customize with your Silhouette or Cricut. I really love how it turned out!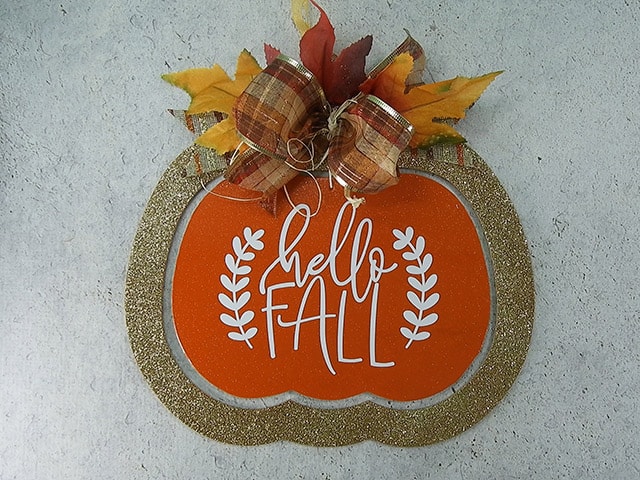 Did you enjoy this post? Help spread the word!  Share this post on your favorite Pinterest board.  Thanks!
Want to make your own? Get the free cut file for this project in the Resource Library.