Here is another quick and easy Valentine project to make with your Silhouette or Cricut.  Holiday pillows are fun to make and can save you a ton of cash over buying them. Today, I'll show you how I made this quick and easy pillow with a brushed look.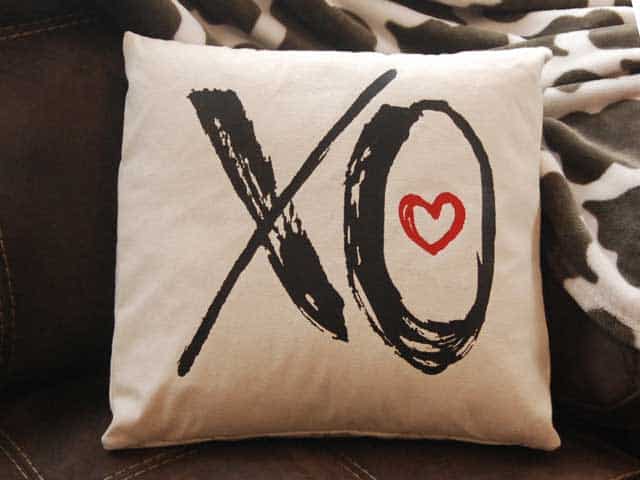 Disclosure: I was not compensated for this post, but will earn a small percentage for sales as an affiliate. As always, all opinions are 100% my own.
For this pillow, I used the brushed font 
start today
.  Lots of times, brushed fonts don't work so great with vinyl projects because they can make weeding a nightmare.  But, I took some time and edited this design to make
DOWNLOAD THE FREE SVG FILE
The first thing you'll need to do is get the free SVG file you'll use for this project.  I keep all the SVG files I use for the projects I make in my SVG Library.  These SVG files work with Cricut and Silhouette machines, as well as many others.  This library is open to everyone and is free! You can access the library here. Look for the file called XO Heart. It will be listed under the Valentine's category.
Here's what you do:
To start, upload your file into your cutting software.  Adjust the size to fit your pillow (mine is approx. 10″ x 10″).  Be sure to mirror your design.  Then load and cut with HTV vinyl.
Then, get to work weeding away the excess vinyl.  This step took me less than five minutes, so hopefully it's quick for you, too.  Next, cut out your fabric.  I followed
this tutorial
 for my pillow cover.  Iron all your fabric pieces, so they are flat and wrinkle free.  Then, follow the manufacturers instructions to apply the HTV to the front piece of the pillow cover.
I started with the black HTV.  I centered it on all sides and then used my iron to apply it.
Next, I did the red heart.  I just put it where I thought it looked good, no measuring there.
After your design is complete, finish sewing the pillow cover.  Envelope pillows are so easy to make!  This whole project can be done is less than 30 minutes.
What do you think? Do you like to look of brushed fonts?
Did you enjoy this post? Help spread the word!  Share this post on your favorite Pinterest board.  Thanks!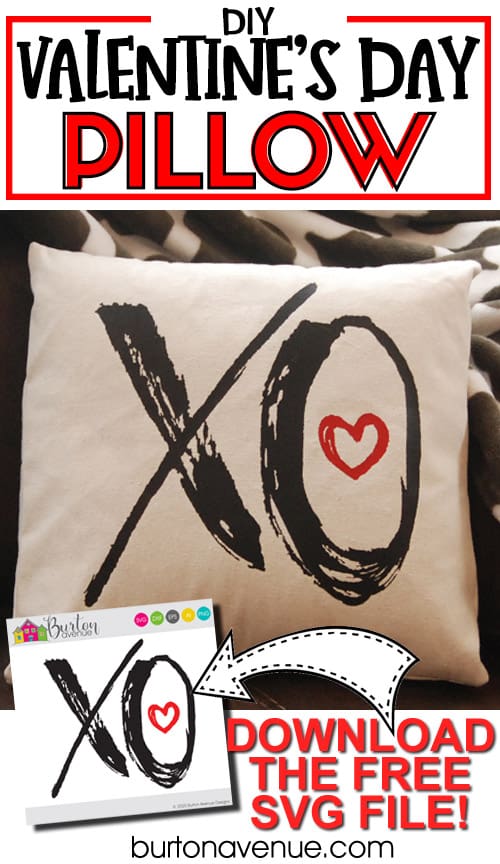 Want to make your own? Get the free cut file for this project in the Resource Library.