Send some luck to those you love on St. Patrick's Day with a special little treat!  Today, I'm showing you how to use your Cricut or Silhouette to make this St. Patrick's Day pot of gold. I'm not much of a paper crafter, but this project was too easy not to try.  Plus, it's always fun to try new things, right? Not only is this project easy, but it's also super quick and takes only a few minutes to make! Read on for the full tutorial.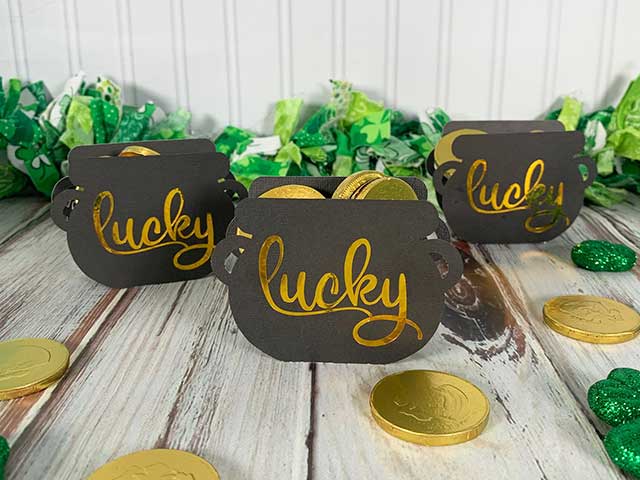 This post contains affiliate links for your convenience (which means if you make a purchase after clicking a link I will earn a small commission but it won't cost you a penny more)!  Read my full disclosure policy.
HERE'S WHAT YOU NEED
HERE'S WHAT YOU DO
STEP 1: DOWNLOAD THE FREE SVG FILE
The first thing you'll need to do is get the free SVG file you'll use for this project.  I keep all the SVG files I use for the projects I make in my SVG Library.  These SVG files work with Cricut and Silhouette machines, as well as many others.  This library is open to everyone and is free! You can access the library here. Look for the file called Pot of Gold. It will either be listed under the most recent projects/cut files or under the St. Patrick's Day category.
STEP 2: CUT CARDSTOCK AND VINYL
Open the design in your software program. You can make it bigger or smaller, depending on what you want to put inside the pot. The wonderful thing about SVG (vector files) is you can resize a design as big or as small as you like and it won't lose any quality.
I made mine about 6″ wide.  That way, I could fit 3 of them on a 12″ x 12″ piece of cardstock.  You could make them even smaller to fit 4 on a page or make them bigger so you can fit more candy inside.
You should see light perforation lines on the pot and also the word lucky.
After you resize the design, you'll want to ungroup the design and move the word off the pot. Also, if you're using a Cricut, you'll need to make sure you attach the perforation lines to the pot before sending the design to cut.
When everything is sized correctly, use your Silhouette or Cricut to cut the pot out of cardstock and the word lucky out of vinyl. If you're using this chrome vinyl, you might want to do a test cut first, just to be sure your machine cuts all the way through. Also, you'll want to remove the protective layer before you cut.
To remove the cardstock and vinyl from the mat, flip the mat upside down and pull it away from your material. This should prevent your materials from curling.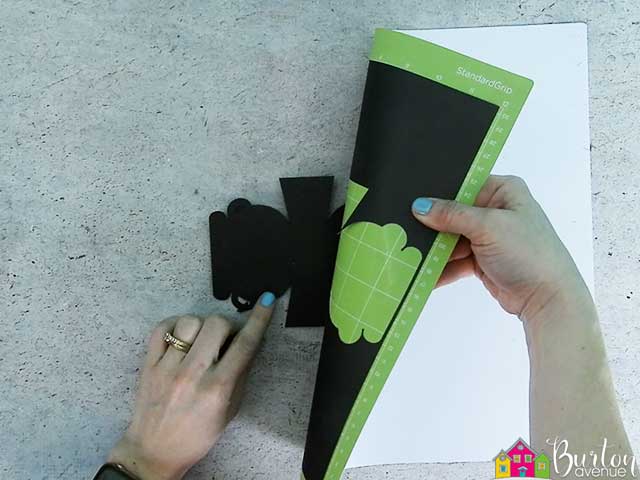 Weed away the excess vinyl.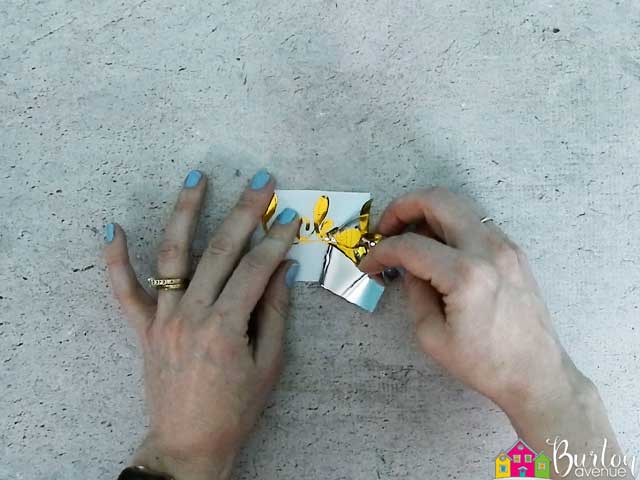 You can use a weeding tool to help you remove the vinyl from inside of the letters.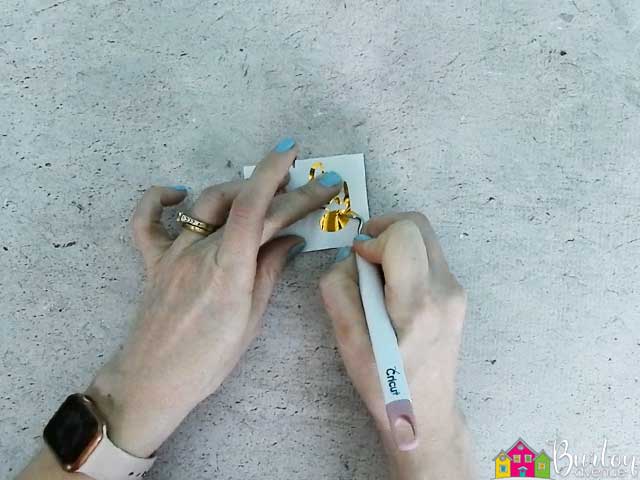 Cut a piece of transfer tape a little larger than the design and place it on the vinyl.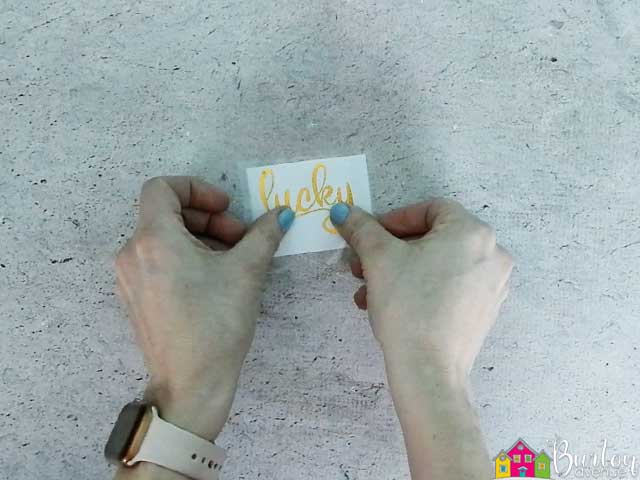 Rub over the vinyl with an application tool.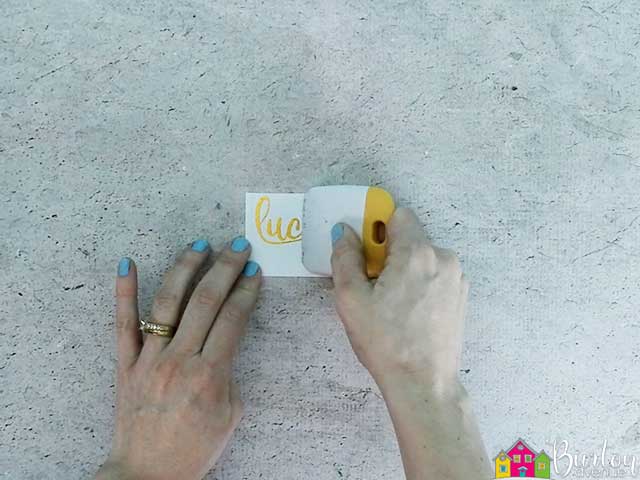 Flip the design over and pull off the vinyl backing.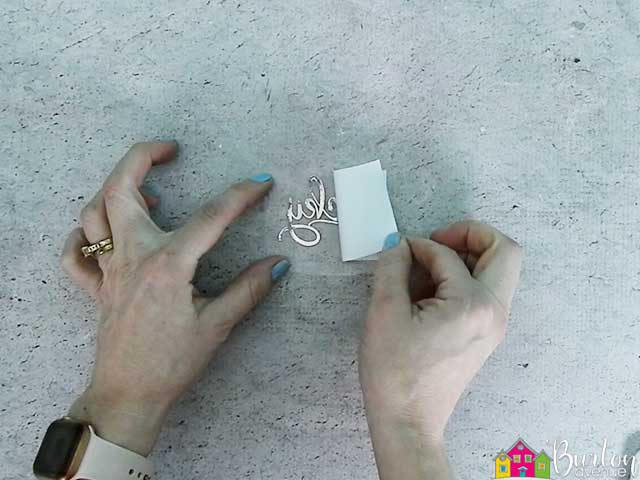 Position the vinyl on the cardstock pot.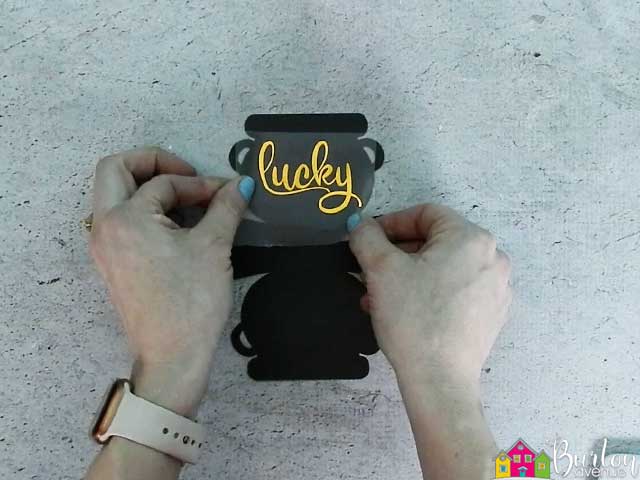 Rub over the design one last time.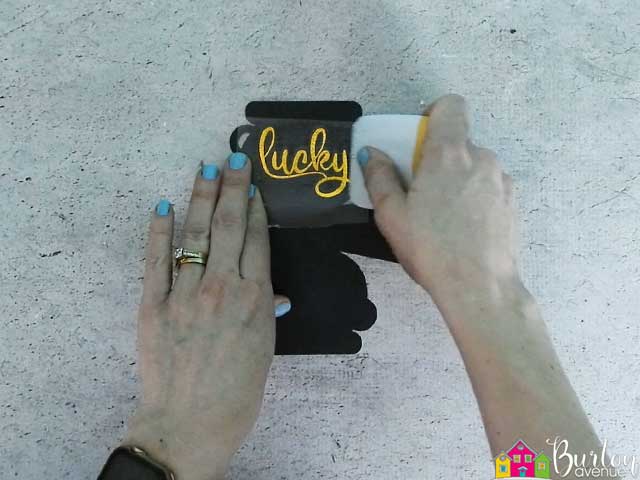 Carefully pull off the transfer tape.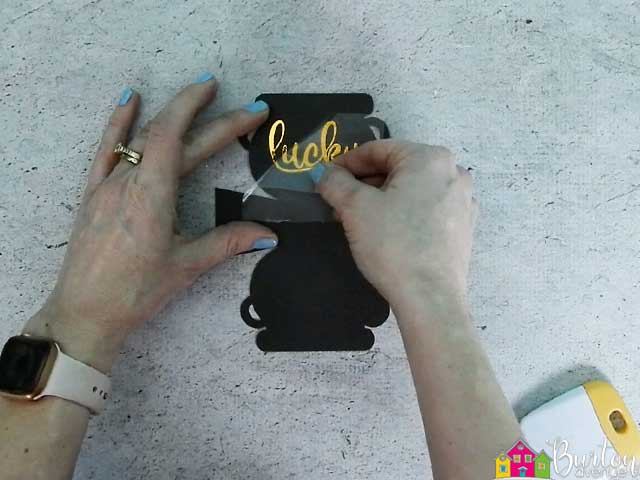 .
STEP 3: ASSEMBLE POT OF GOLD
To assemble to pot of gold, you'll first want to fold along all the perforation lines.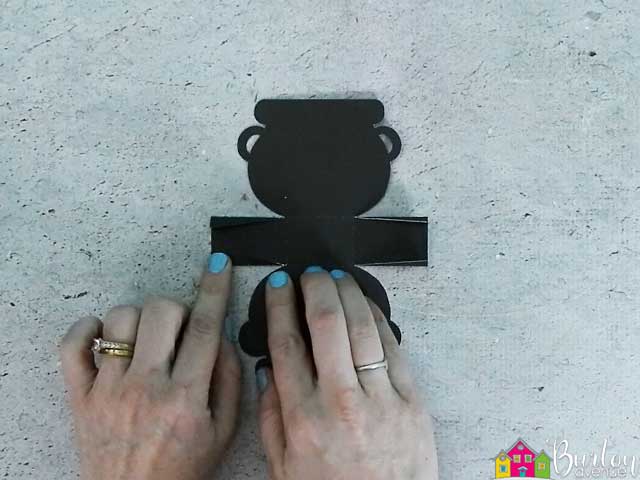 Add some glue to the four tabs.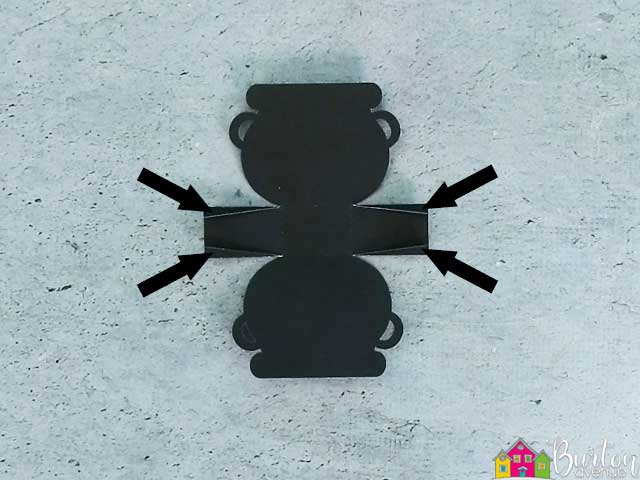 Attach one of the tabs to the inside of the pot just under the handle.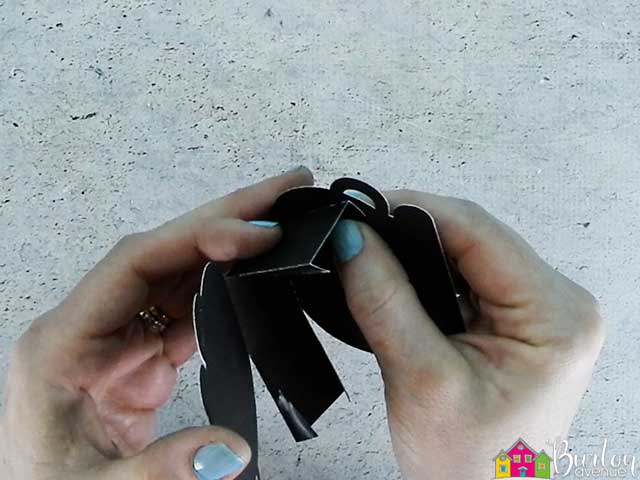 Repeat with the other 3 tabs.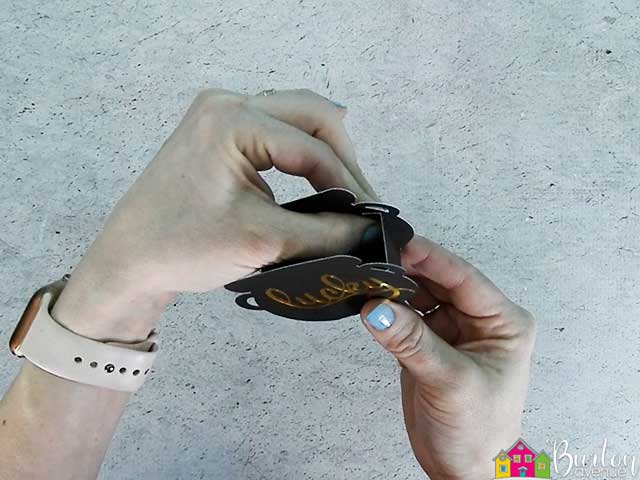 Fill the pot with gold coins, chocolate nuggets, or other gold foil-wrapped candy.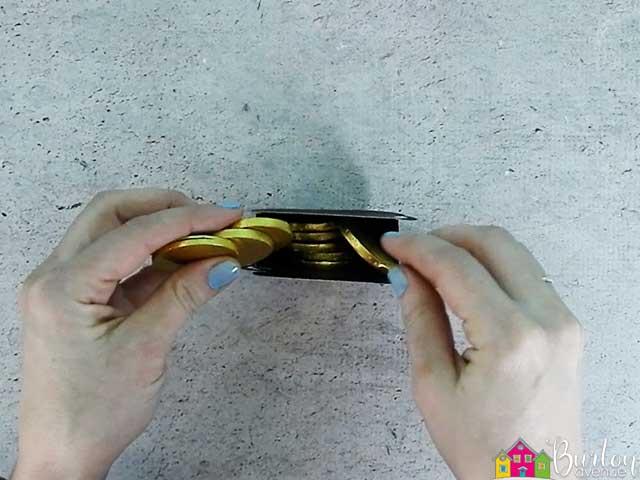 Now, wasn't that easy? It's such a fun way to give a little treat on St. Patrick's Day!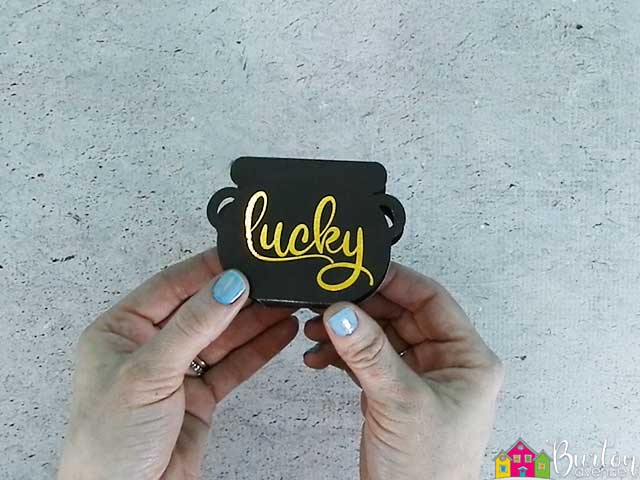 I just love that gold chrome vinyl! It's so pretty!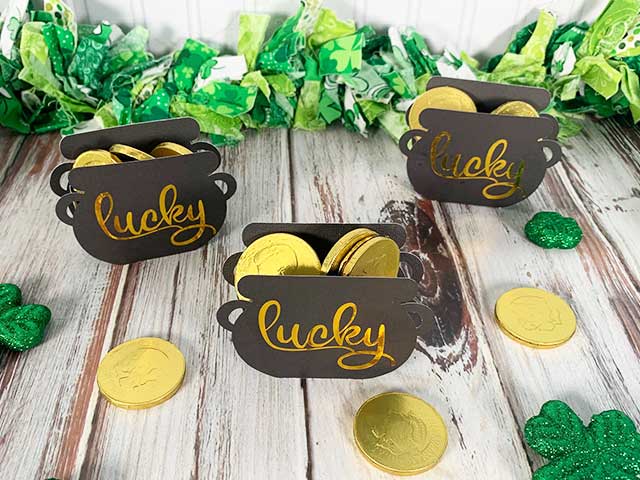 Did you enjoy this post? Help spread the word!  Share this post on your favorite Pinterest board.  Thanks!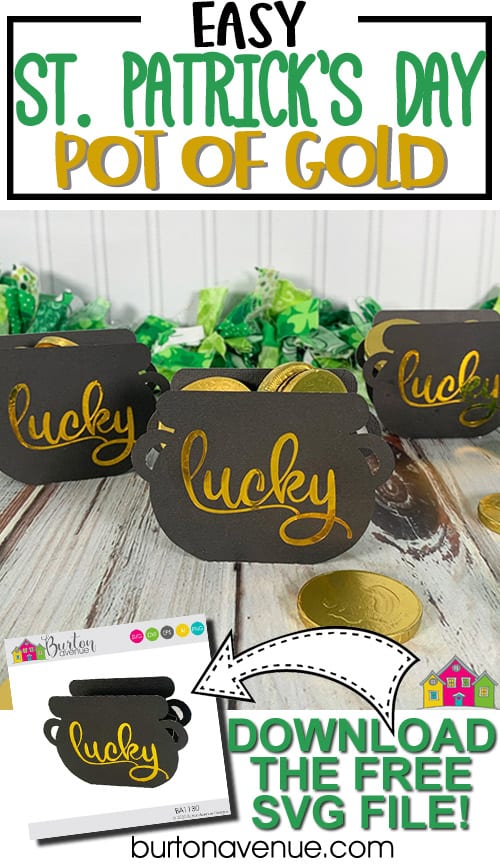 Want to make your own? Get the free cut file for this project in the resource library