Today, I'm showing you how to make these cute mason jar tissue holders with your Cricut or Silhouette.  These jars are great for your own home and they also make great gifts for family and friends!  This is an easy project and can be customized in any color to match your decor! Read on for the full tutorial!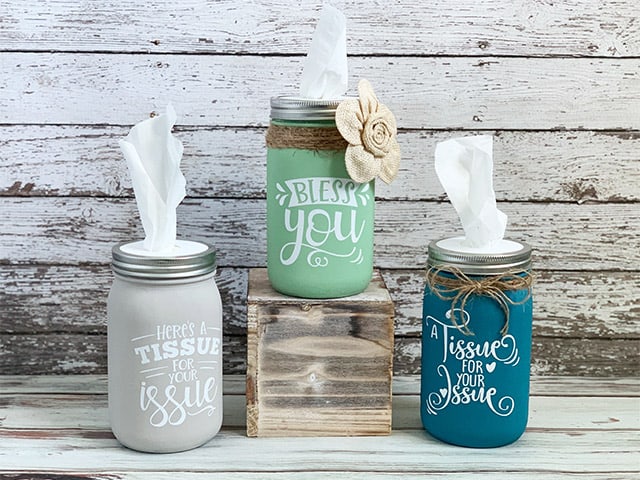 This post contains affiliate links for your convenience (which means if you make a purchase after clicking a link I will earn a small commission but it won't cost you a penny more)!  Read my full disclosure policy.
HERE'S WHAT YOU NEED
HERE'S WHAT YOU DO
STEP 1: DOWNLOAD THE FREE SVG FILE
The first thing you'll need to do is get the free SVG file you'll use for this project.  I keep all the SVG files I use for the projects I make in my SVG Library.  These SVG files work with Cricut and Silhouette machines, as well as many others.  This library is open to everyone and is free!  You can access the library here. Look for the file called Welcome BA1480. It will be listed under the Everyday category.
STEP 2: CUT AND TAPE VINYL DESIGN
Open the design in your software program.  Delete any sayings that you're not going to use and resize the remaining quotes to 3.5″ wide.  Resize the circle to 3.25″ and make a copy for each jar that you're making.
Cut the quotes out of white vinyl and the circles out of a heavy cardstock.
Remove the circles from your cutting mat and set aside for later.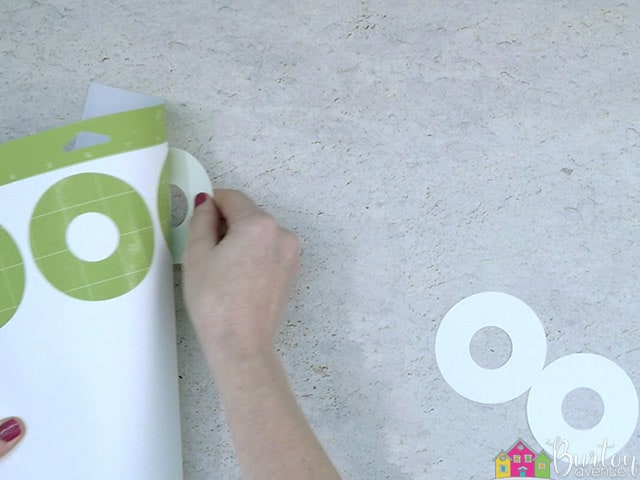 Weed away the excess vinyl from around the sayings.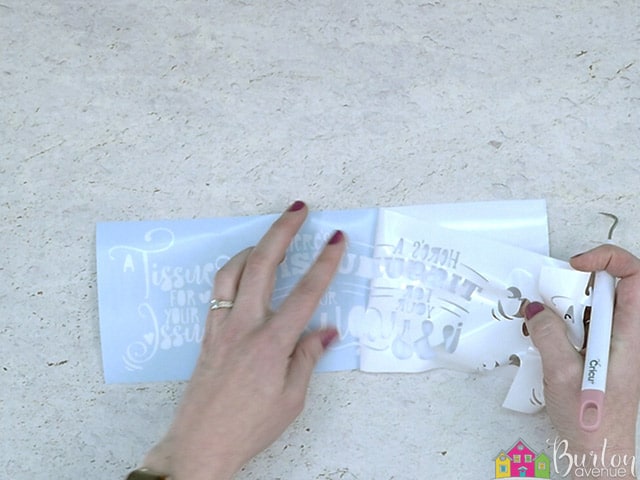 Use a weeding tool to pull out the tiny pieces inside of the letters..
Cut a piece of transfer tape a little bigger than the design. Place the transfer tape sticky side up on your surface, then place the vinyl on top of the transfer tape and smooth it down.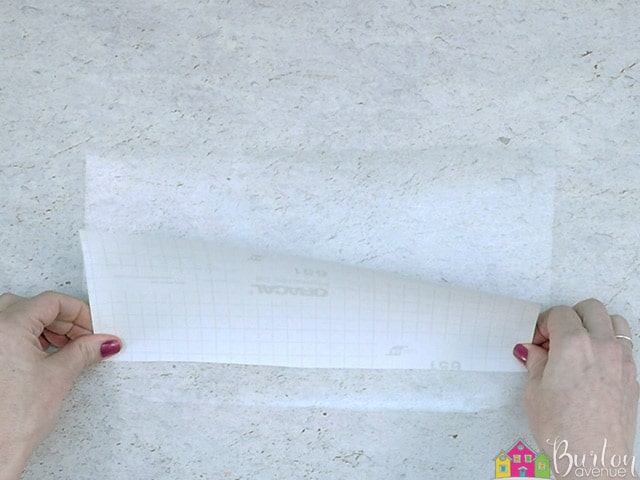 Rub over the design firmly with your scraper tool.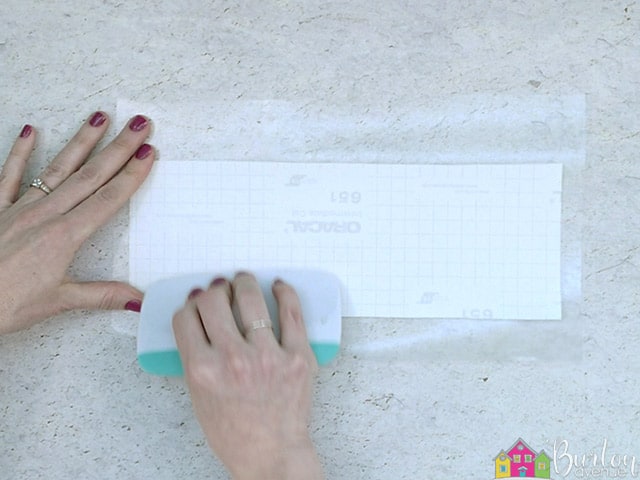 Then, trim off the excess transfer tape and vinyl backing and if you have more than one phrase, you can cut those apart.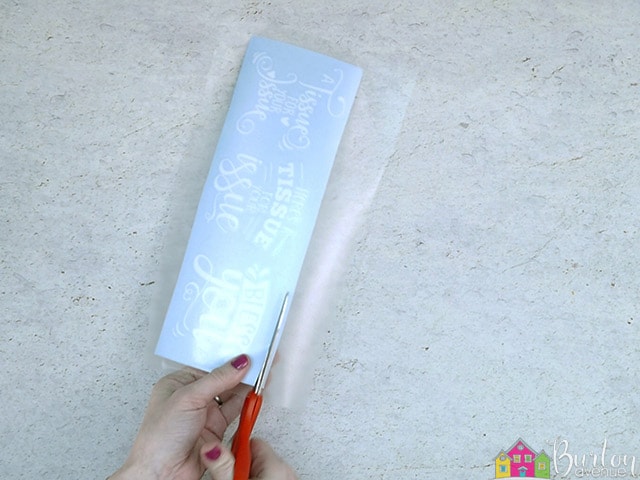 STEP 3: PREPARE THE MASON JAR
Remove the lids from your jar and clean it. You can use rubbing alcohol or just wipe it clean. To avoid getting fingerprints on the outside of the jar, I decided to wear gloves while painting.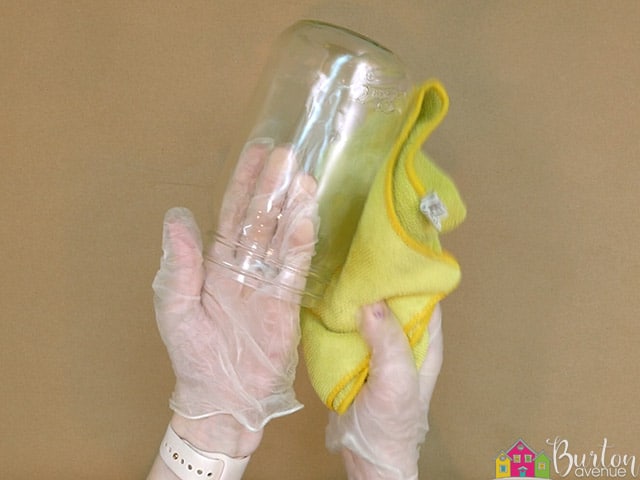 Paint the jar with a nice even layer of paint and allow it plenty of time to dry.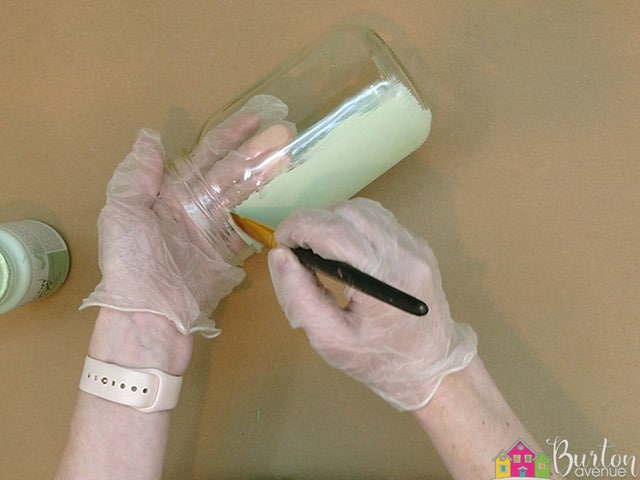 On the second layer, you'll want to make sure you do long even strokes with your paint and try to only go over each area a couple of times. If you keep brushing back and forth, you'll likely remove some of the paint.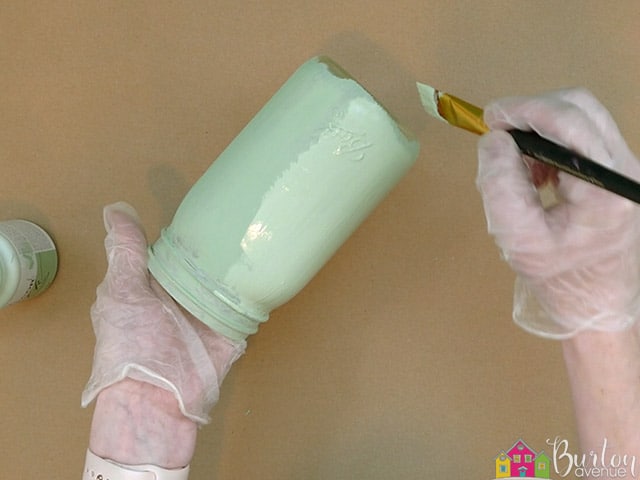 Once the paint is dry, you can add some cute embellishments to the jar. These jars look cute with twine wrapped around the top.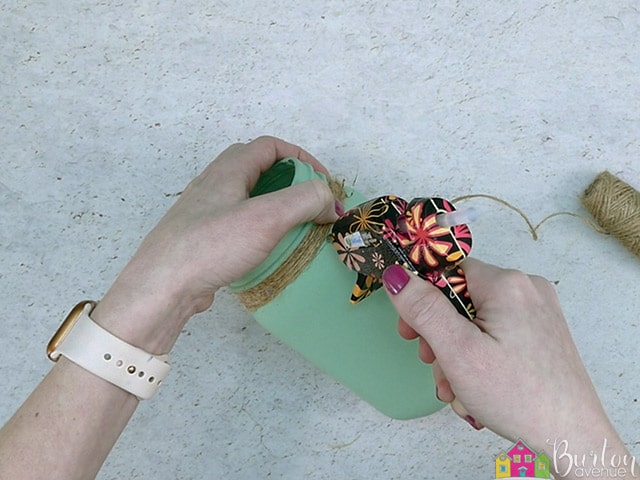 You can also add a cute flower or bow. But, these jars also look great with just the paint, so don't feel like you have to add embellishments.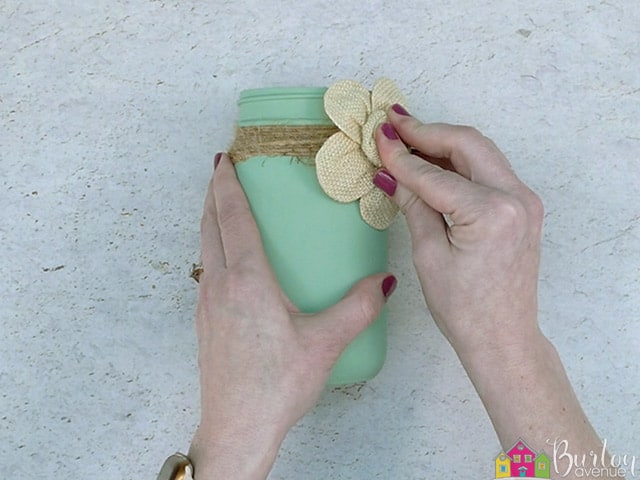 STEP 3: FINSH THE JAR
Remove the backing from your vinyl decal.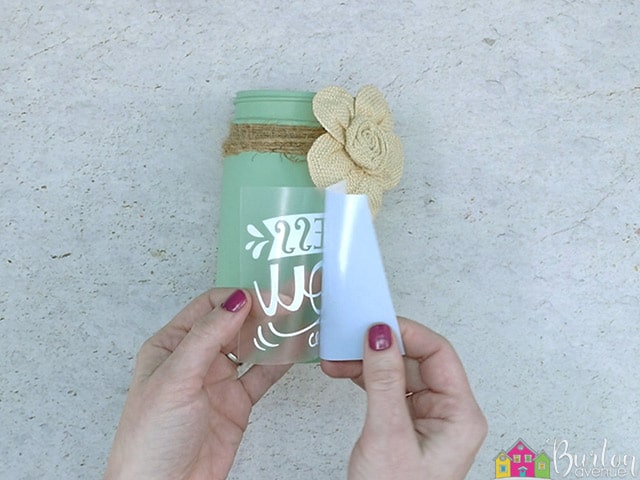 Position the quote on your mason jar.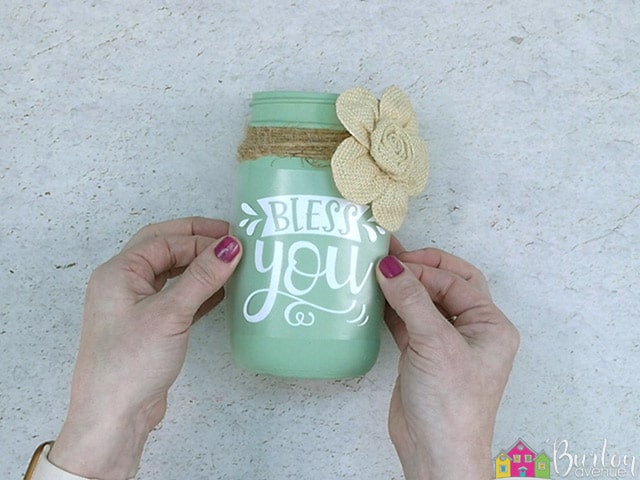 Once it's straight, rub over the vinyl with your scraper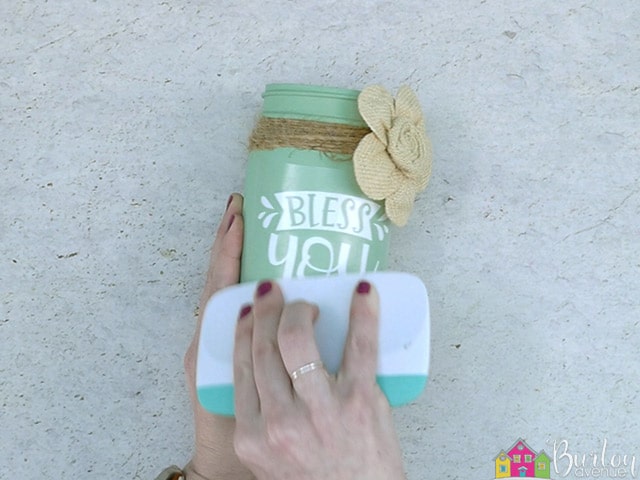 Then carefully pull off the transfer tape.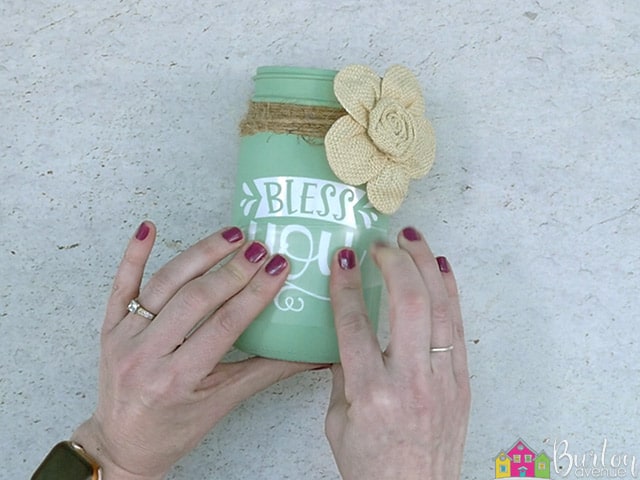 Remove the top from the original tissue container and then pull out the tissues.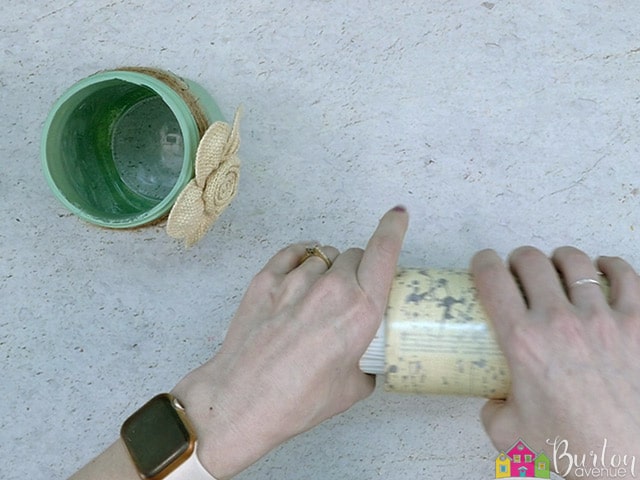 Keep them folded and then place them inside your mason jar.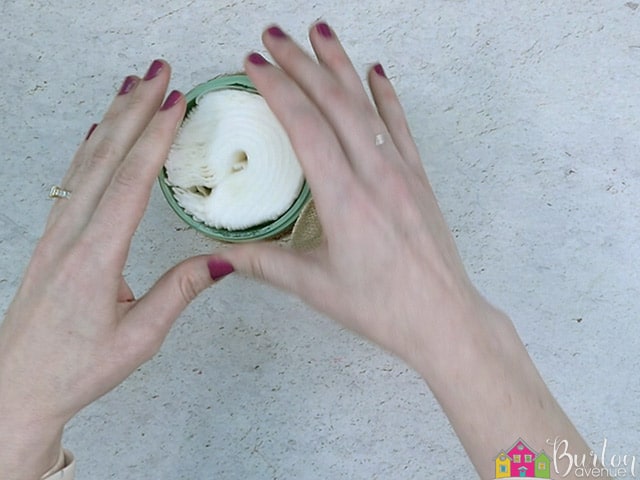 Feed a center tissue up through the hole of your cardstock cutout and then screw the lid into place.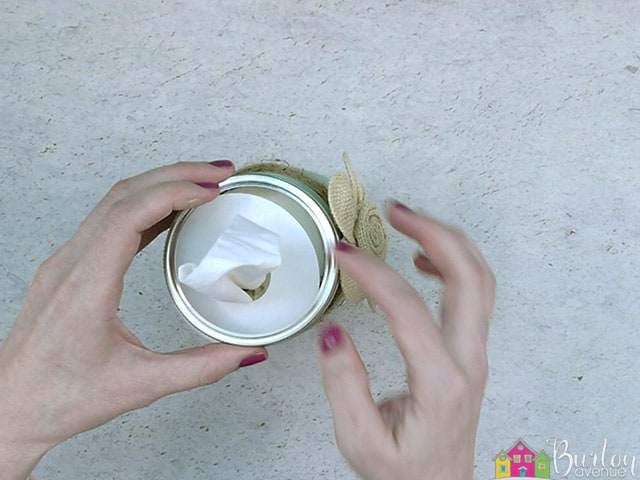 And that's all there is to it. This project is finished and turned out so cute!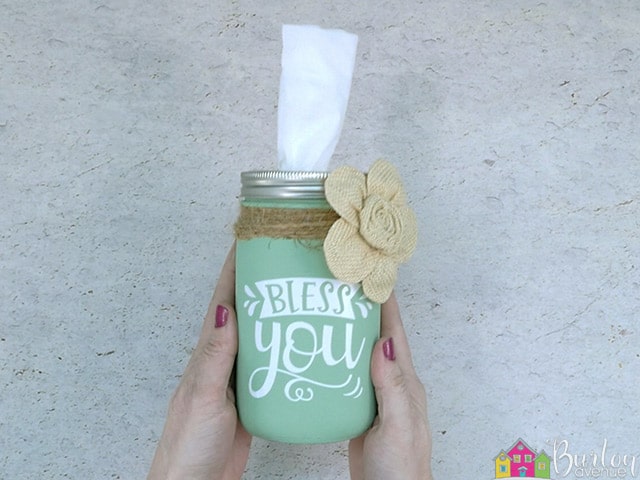 Did you enjoy this post? Help spread the word!  Share this post on your favorite Pinterest board.  Thanks!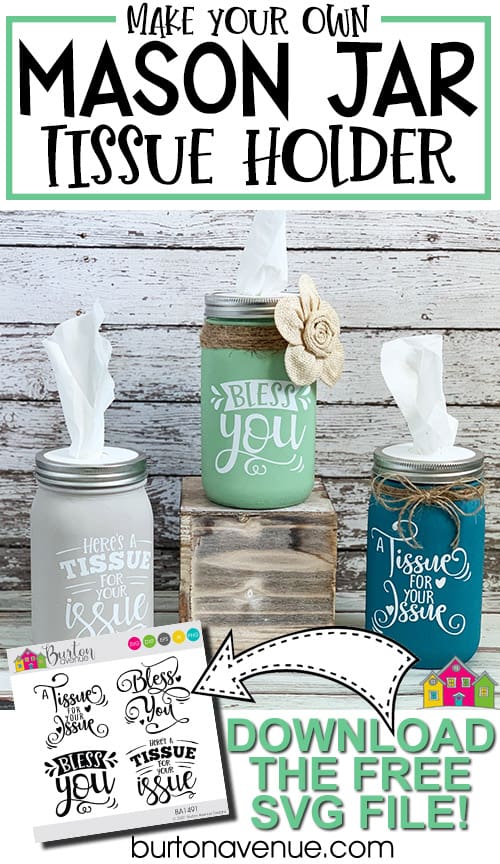 Want to make your own? Get the free cut file for this project in the resource library