Now that you've got your cutting machine, you're probably wondering what else you need to get started on your vinyl projects.  With all the supplies and tools that are out there, it can be a bit overwhelming to know what you actually need to begin crafting with your machine.  So, I'm going to break down the main supplies you will need to get started on your projects.   Whether you've been cutting for a while or are brand new, having these supplies will make your work so much easier.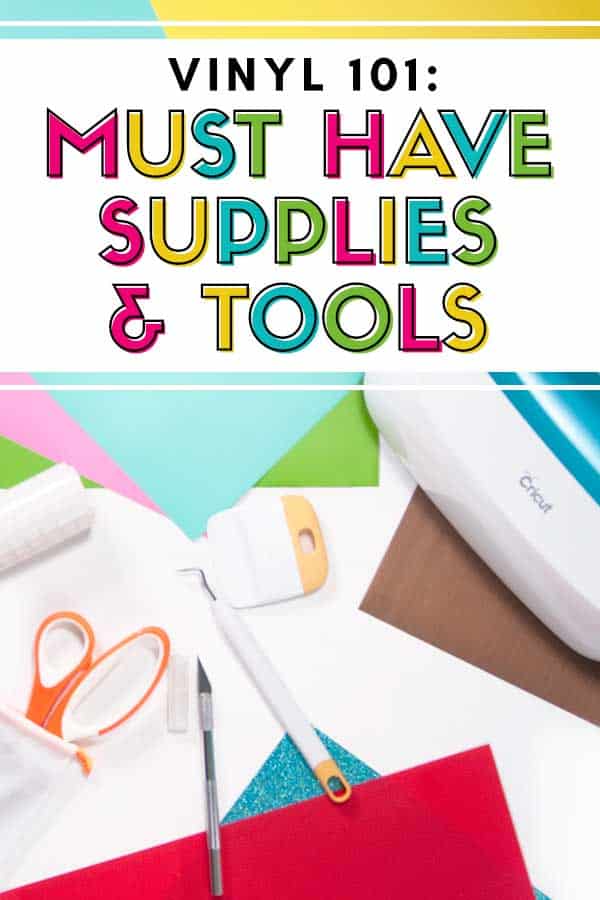 This post contains affiliate links for your convenience (which means if you make a purchase after clicking a link I will earn a small commission but it won't cost you a penny more)!  Read my full disclosure policy.
Some of these supplies are very basic, some come with your machine and others you might already have with your craft supplies. There are also lots of other fancy tools beyond this list, but I consider the following supplies & tools the staple items you need for vinyl crafting.
Supplies for Vinyl Crafting:
Electronic Cutting Machine (cricut explore, silhouette or other cutter)  I have both a Cricut and a Silhouette.  I like them both.  I'll be sharing my opinions about them in a later post.
Cutting Mats – You'll usually get a mat or two with your machine, but it's a good idea to have a few backup mats, because the adhesive can wear off.  The machines typically come with a 12″ x 12″ mat, but I like having a 12″ x 24″ on hand for larger projects. I use both Cricut mats and Silhouette mats with either machine.  They're both good and work pretty much the same.  I usually just buy whichever is cheaper.
Blades – It's always a good idea to have extra blades on hand.
Weeding Hook – I LOVE my weeding hooks.  I think I have 4 different hooks (because I'm always losing them).  I'm currently using one from this set, but I also love the Siser and Cricut weeding tools.
Craft Knife –  I like to have one of these on hand in case I need to make any extra detailed cuts in my vinyl.  They also work for weeding.
Scissors – It's always nice to have a pair or two (or ten) of scissors with your vinyl craft supplies.  I use them to cut my transfer tape and trim my vinyl decals down to size.
Ruler – Like scissors, it's nice to have ruler or two when working with vinyl.  You'll use rulers to measure your blank objects and you can also use them to help center your design.
Software – You're going to need a software program that will work with your cutting machine.  Most machines come with some form of software. If you're using a Cricut, you'll use Design Space.  Silhouette users will use Silhouette Studio.  If you have a Silhouette, I totally recommend upgrading your software to the Designer Edition or above so you can use SVG files instead of DXF files.
Supplies for Crafting with Adhesive Vinyl
Adhesive Vinyl – If you're just getting started with adhesive vinyl, I think a variety pack of vinyl sheets is the best way to go.  You'll get a ton of colors and the sheets are already cut to size for you. I recommend Oracal 651 or Oracal 631 for all your adhesive vinyl projects.
Transfer Tape – This is a must for all adhesive vinyl crafting.  I prefer to use clear transfer tape.  You can read all about it here.
Application Tool –  This tool helps to burnish the transfer tape onto the vinyl and then once you've transferred the design to your final surface, you'll burnish the vinyl to get it to stick to your blank.  You can also use an old credit card, but the application tools are a bit more sturdy.
Supplies for Crafting with Heat Transfer Vinyl
Do you have any other favorite tools or supplies?  I'd love to know.